Instant Thai Tea Mix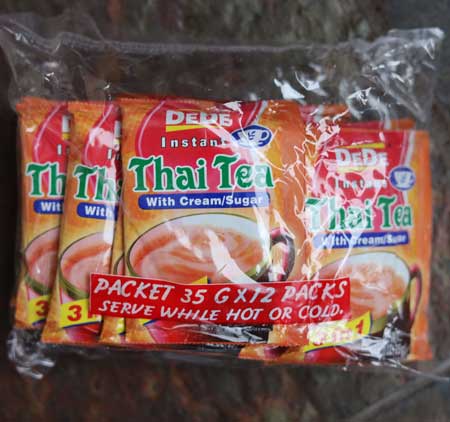 Add to cart
12 Packs - $6.89

Made by premium Por Kwan company in Thailand, and now packed in DeDe brand. This is a quick substitute if you do not have time to make original Thai Ice Tea.
The delicious formula can be enjoyed hot or iced. Put one pack into a cup and add 10 oz hot water, stir and enjoy hot or pour over ice. The final product is a nice amber/orangish color just like the original. A mix of Thai tea powder, sugar, and non-dairy creamer.
Ingredients: instant Thai tea, sugar, (glucose, palm kernel oil, casein), artificial color, vanilla flavor.
Product of Thailand.
We also offer instant Thai coffee.