Stir-Fried Brussels Sprouts with Garlic and Chile

Stir-Fried Brussels Sprouts with Garlic and Chile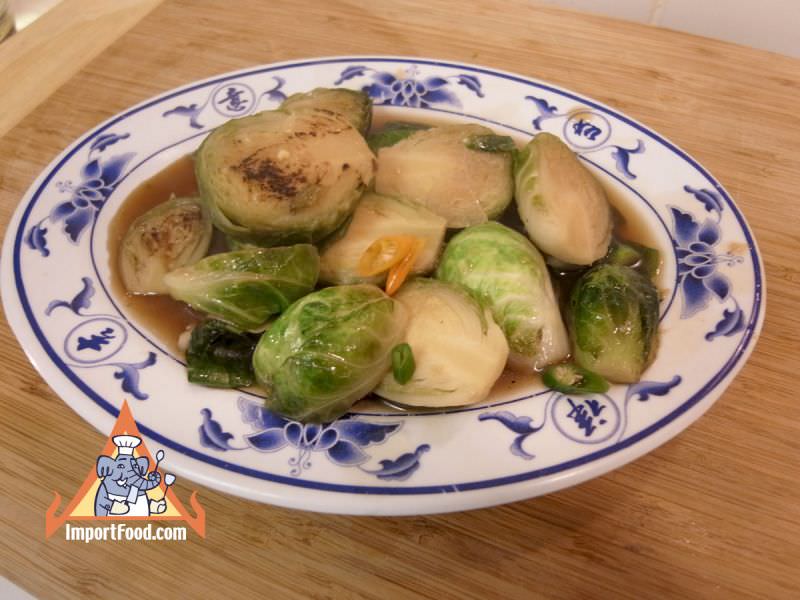 This recipe was featured in Bon Appétit magazine's "Thai Food 101" story in January 2012. We really enjoyed preparing this healthy meal at home. Highly nutritious, and because of the way it's prepared your kitchen won't be overwhelmed with smell of brussels sprouts.
According to Bon Appétit, the key to this dish's success is controlling the heat on the pan from beginning to end. You can increase the spiciness of your stir-fry by adding more chiles.
Ingredients
For 4 Person(s)
Ingredients
4

Cups

Halved Brussels Sprouts

Kosher Salt

1/4

Cup

Vegetable Oil

2

Tablespoons

Thinly Sliced Garlic

1/4

Cup

Oyster Sauce

4

Teaspoons

Fish Sauce

2

Teaspoons

Thin Soy Sauce

2

Teaspoons

Sugar

1/2

Teaspoon

1/8in thick slices of fresh Thai chiles

Pinch of Ground White Pepper
Buy ingredients for this Recipe
Method for Stir-Fried Brussels Sprouts with Garlic and Chile
Blanch brussels sprouts in a large pot of boiling salted water until bright green, about 15 seconds. Drain and set aside.
Heat oil in a wok or large skillet over medium heat. Add garlic and stir until light golden brown, about 30 seconds. Using a slotted spoon, transfer garlic to a small bowl.
Increase heat to high; add brussels sprouts. Stir-fry until they begin to soften, 2–3 minutes. Add oyster sauce and next 5 ingredients. Stir-fry for 30 seconds; add chicken broth. Bring to a boil; cook until liquid is reduced slightly, about 2 minutes; add more chiles, if desired. Stir in garlic. Transfer to serving plate. Serve immediately with steamed jasmine rice. Enjoy.
Source: Bon Appétit, January 2012
Stir fried brussels sprouts with garlic and chile
Simple healthy ingredients
Halve your brussels sprouts

Reviews