Thai Pork and Lemongrass Meatballs in Lettuce Cups

Thai Pork and Lemongrass Meatballs in Lettuce Cups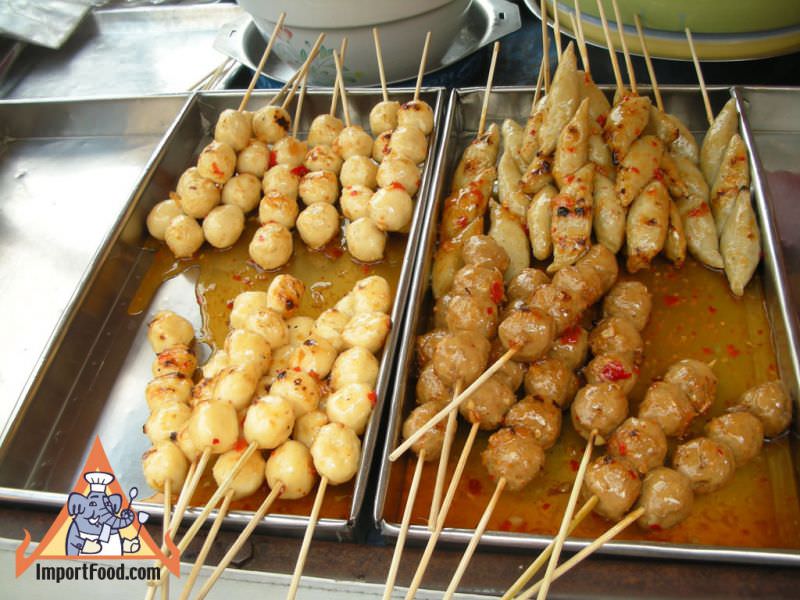 Ingredients
For 4 Person(s)
Ingredients For Meatballs
Ingredients For Dipping Sauce
1

Stalk Fresh Lemongrass

1/4

Cup Fresh Lime Juice

1/4

Cup Fish Sauce

2

Tablespoons

Chopped Fresh Cilantro

2

Tablespoons

Coarsely Grated Carrot

4

Teaspoons

(packed) Golden Brown Sugar

2

Teaspoons

Minced Green Thai Chile or serrano chile with seeds

2

Tablespoons

Vegetable Oil

1

Head of Butter Lettuce, leaves separated

1

Small Cucumber, thinly sliced
Buy ingredients for this Recipe
Method for Thai Pork and Lemongrass Meatballs in Lettuce Cups
Method - Meatballs
Chill pork in freezer while making lemongrass paste. Combine lemongrass, 1/2 teaspoon salt, and remaining ingredients in processor; pulse until paste forms. Add chilled pork; pulse to blend. Shape into 24 balls (each about 1 tablespoonful). Place on rimmed baking sheet. Cover; chill at least 1 hour and up to 1 day.
Method - Dipping Sauce
Cut bottom 3 inches from lemongrass. Smash with rolling pin, then mince. Measure 1 tablespoon and place in small bowl (reserve the rest for another use). Add lime juice, fish sauce, cilantro, carrot, sugar, and chile to bowl; whisk until sugar dissolves. Heat oil in large skillet over medium heat. Add meatballs; brown until cooked through, turning occasionally, about 15 minutes. Transfer to 1 side of large platter. Arrange lettuce leaves and cucumber on platter with meatballs. Allow guests to place meatballs in leaves, garnish with cucumber, and drizzle dipping sauce over.

Reviews