Fresh Betel Leaves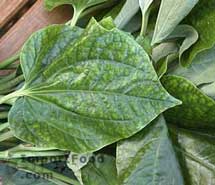 Add to cart
Not Currently in Season 

We can usually ship fresh betel about once every two weeks only, due to winter shortage. Every year February/March are really tight, sometimes this shortage stretches into April.
We are usually not more than 2 weeks behind in orders, so if you order today expect us to ship either right away, or withing the following two weeks. We wish we could give a more accurate schedule. We can provide more consistent weekly shipments starting in May/June.
ImportFood.com features these fresh, peppery, exotic betel leaves in the following delicious recipes:
Miang Kham
Crispy Rice Larb Pork, 'Yum Khao Tod Naem Moo Sod'
Betel Wrapped Beef and Pork, Bo La Lop
Betel Leaf Salad with Shredded Carrot
The leaves are known in Thai as bai cha-phloo. In some Asian supermarkets they may use the Vietnamese spelling of "La Lop" leaves. In English they're known as piper sarmentosum or "Betel" leaves. Somewhat bitter, the taste is perfectly suited for miang kham. Or you can wrap just about any Thai food in the leaves, such as fried rice with a peanut or two, and pop them into your mouth. We even wrap french fries with these leaves and dip in a variety of sauces. Delicious.
The leaves are sold in bunches (see photo below). Leaves are 3-4" wide. These leaves are commonly used in Thailand as a simulant, if mixed together with limestone paste.
ImportFood.com is a recommended supplier in Saveur Magazine in 2004 and again in 2010.
Our customer Malee in Miami FL sent us this email: "My sister is a miang khem addict. Every time she comes to Florida from NY she has to gather up as much bai chaploo (Thai betel) as she can carry back on the plane with her. I moved to another house and was having trouble transplanting and getting it to grow in the new soil, so when she asked me to bring her some on a recent trip, I was really hard-pressed, so I ordered it from Importfood.com and had it shipped to her! Thanks for saving the day!"
---
Related Recipes
---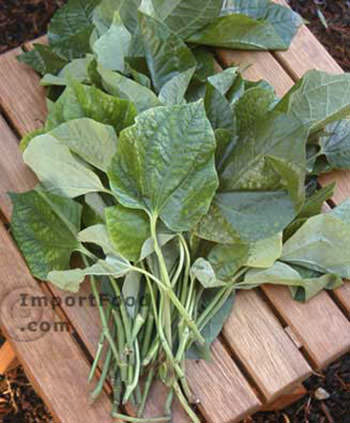 Fresh Betel Leaves
Order now and we'll send you three large bunches (one bunch seen to the right), packed carefully in a strong box to ensure good arrival. Priority Mail is a 2-3 day service, ship date specified below.
Please Note: if you order only fresh produce, select "$0.00" as shipping charge at checkout (because the price above includes shipping). If you order fresh produce and any other items, you must checkout with "UPS Ground" as the shipping method, and you will receive the other items separately. We pack the produce carefully and ship every Mon/Tues/Wed via USPS Priority Mail (2-3 day delivery) to ensure freshness. Occasional delays due to Mother Nature & harvest conditions. Call 888-618-8424 if you need a definite delivery date.
---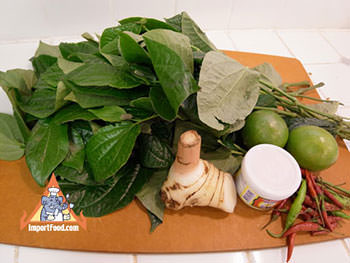 Fresh Betel Leaf / Miang Kham
Lately, new restaurants in NYC and Chicago are becoming popular with the betel leaf on their menu, creating dishes such as "Chicken betel leaf w/roasted shallots & eggplant". The betel leaf is coming into it's own.
We get fresh betel from a farm in Hawaii, year-round. The leaves are hearty and strong, and will last for a good 3-4 days after you receive them.
Perhaps you might like to try the sensational fresh betel leaf. As a special, we are offering two different kits, both shipped via 2 Day shipping to arrive fresh and ready to enjoy.
Expedited to your door via 2 day shipping to ensure fresh delivery (upgraded at no charge).
If you order a kit below, checkout with Fedex Ground as shipping method. We'll upgrade it to expedited 2 day at no extra charge.
Betel Leaf Fresh Kit
You get approx 60 fresh betel leaves, 3 oz fresh Thai chiles (red/green mixed), 2 fresh limes, a 6 oz chunk of fresh galangal, and 1 Tra Chang shrimp paste
Add to Cart Betel Leaf Fresh Kit - $29.95
Betel Leaf Fresh Kit w/Palm Sugar and Dried Shrimp.
The same ingredients above, plus 1 palm sugar and 1 dried shrimp.
Add to Cart Betel Leaf Fresh Kit w/Palm Sugar and Dried Shrimp - $34.95
---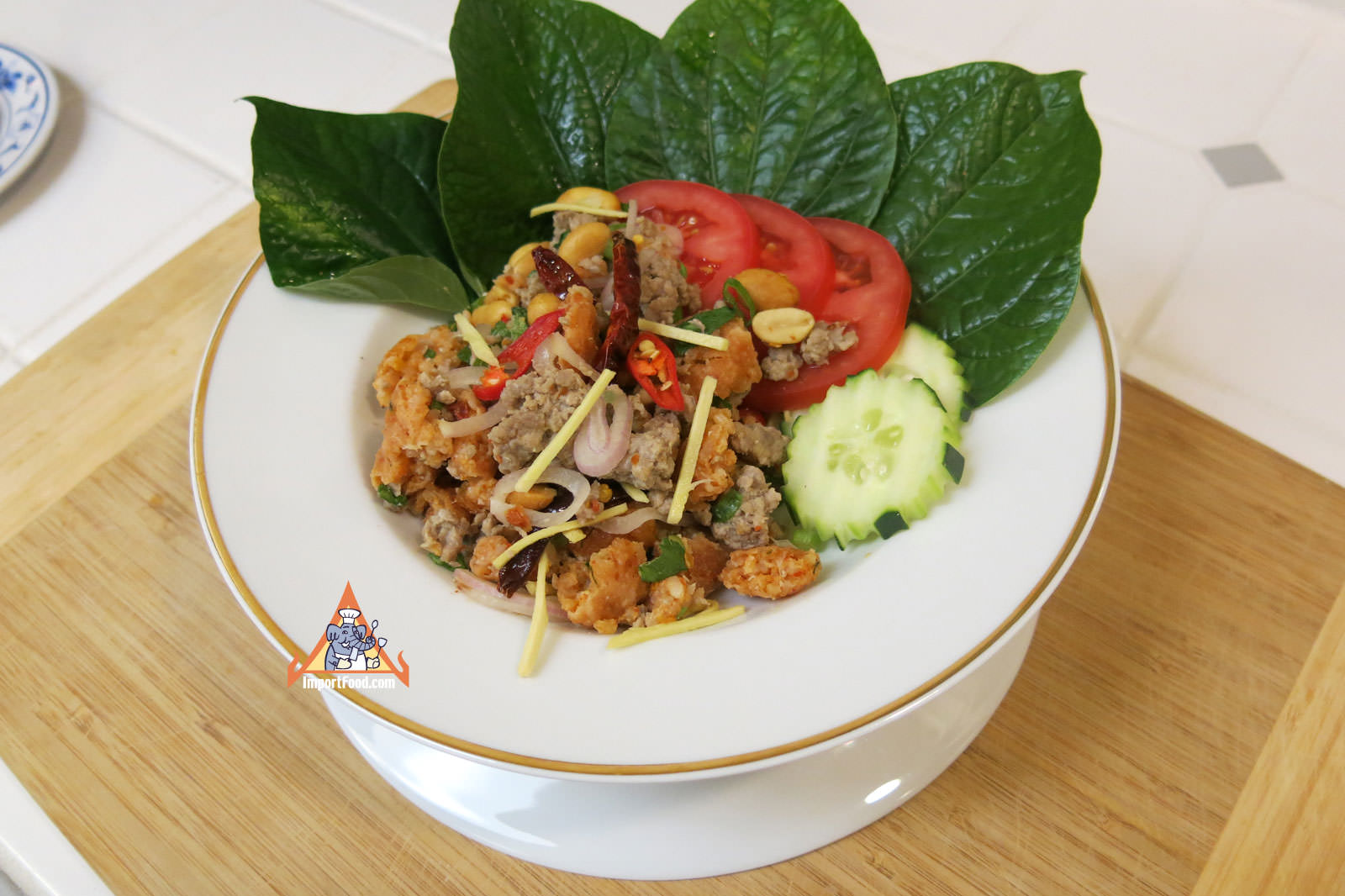 Crispy Rice Larb Pork, 'Yum Khao Tod Naem Moo Sod'
We created this recipe in after a great deal of research and practice, one of our best Thai recipes to date. The crispy seasoned rice mixed with the other ingredients creates a blast of texture and flavor that's truly unique and magnificent. Basically crispy seasoned rice added to larb. We recommend you serve with fresh betel leaves, but that's not required. We recommend using our all-natural vegetarian red curry paste but you can use other brands. Start by making crispy rice balls, break apart the crispy balls then add it to fresh ingredients.
---
---