Crispy Rice Larb Pork, 'Yum Khao Tod Naem Moo Sod'

Crispy Rice Larb Pork, 'Yum Khao Tod Naem Moo Sod'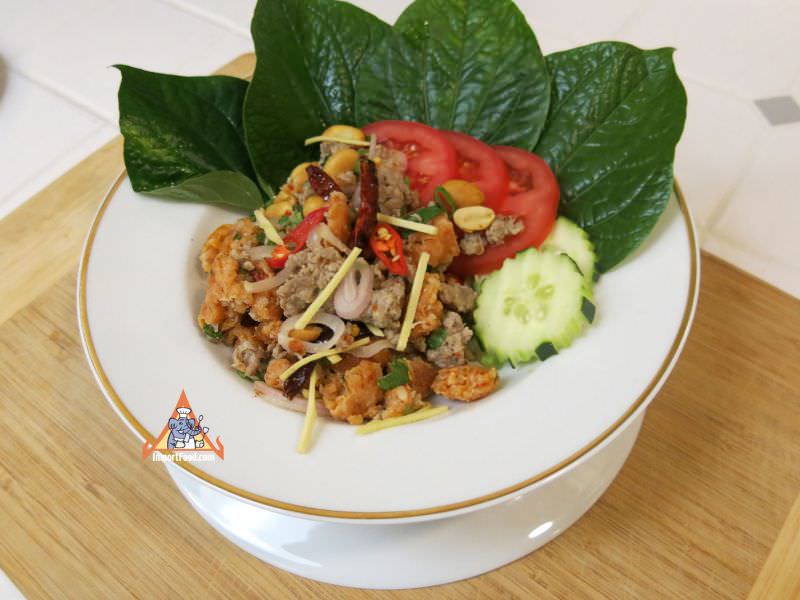 We created this recipe in after a great deal of research and practice, one of our best Thai recipes to date. The crispy seasoned rice mixed with the other ingredients creates a blast of texture and flavor that's truly unique and magnificent. Basically crispy seasoned rice added to larb. We recommend you serve with fresh betel leaves, but that's not required. We recommend using our all-natural vegetarian red curry paste but you can use other brands. Start by making crispy rice balls, break apart the crispy balls then add it to fresh ingredients.
Ingredients
For 4 Person(s)
Ingredients for Khao Tod crispy rice balls
Ingredients for Naem Moo Sod
1

Pound

Ground Pork

3

Cloves Garlic, Finely-Minced

1/4

Cup

Fresh Ginger, Sliced into matchsticks

1/4

Cup Thinly Sliced Shallot

1/4

Cup

Roast Peanut

2

Tablespoons

Finely Chopped Spring Onion

2

Tablespoons

Chopped Cilantro

2

Teaspoons

Salt

1/2

Cup Lime Juice

3

Tablespoons Fish Sauce

Cane Sugar

4

Fresh Thai Chiles
Buy ingredients for this Recipe
Method for Crispy Rice Larb Pork, 'Yum Khao Tod Naem Moo Sod'
This recipe is time-consuming, probably best as a restaurant menu item or something to prepare for a large group. In Thailand it's recommended to use the lowest grade plain rice 'khao tammada' but since we only get pure jasmine rice that works just as well. Steam the rice and leave it in your rice cooker for 24 hours first. We used ground pork but ground chicken also has the same great result.
Method for Khao Tod (crispy rice balls)
Start by warming the oil using a lowest heat setting. As the oil warms, prepare the rice balls as follows:
In a mixing bowl, combine rice, curry paste, oyster sauce and lime leaves. Knead this together by hand, then grab about 1/3 of this mixture and transfer to a mortar and pestle. Pound it so the mix becomes mushy, remove to another bowl, then add another batch to the mortar and pound until it's all been processed.
Add a beaten egg to the pounded rice mixture, knead together until combined.
In a separate bowl, mix 2 tablespoons rice flour with 5 tablespoons water.
Increase the heat of your oil to medium/low.
In a quick motion, form a ball from the rice mixture (it's very sticky and will stick to your hands), then roll the ball around the rice flour liquid for a moment, and gently drop the ball into your oil. Repeat until you're cooking about 10 balls.
Turn the balls over after a few minutes, being careful not to let them burn. Remove when crispy, place on a paper towel.
Put 10 whole dried chiles into the oil and fry until they start to change color, then remove and set aside.
Method for Naem Moo Sod
In a mixing bowl, mix pork, garlic, salt, and 2 tablespoons lime juice. Knead together, then cook your pork in a wok or skillet. Remove pork, put 1/2 of this pork into a clean mixing bowl.
Break apart 5 or 6 of your crispy rice balls and add it to your cooked pork. You can, as we did, give these broken pieces of rice one more minute of heat on a skillet to make them extra crispy, before adding to the pork.
To this, add some peanuts, ginger, cilantro, chopped onion, shallot, a little bit of sliced fresh Thai chiles. Next, season it with fish sauce, sugar, ground chile and lime juice. Our measurements were as follows:
1 tablespoon fish sauce
1/2 teaspoon sugar
1/2 teaspoon ground chile pepper
1 tablespoon lime juiceMix, and serve with fresh betel leaves and whole dried chiles on the side. Put a spoonful on top of a fresh betel leaf, close the leaf and pop it into your mouth. Enjoy the incredible flavors of this fantastic recipe. Please share your comments below.
Fry whole dried chiles for garnish
Prepare the fresh ingredients
Serve with fresh betel leaves
Thinly slice kaffir lime leaves
Mix with day old steamed rice
Pound in a mortar and pestle
Dip in rice flour water mixture

Reviews