Soy Sauce, Dark Sweet, Healthy Boy Brand
Soy Sauce, Dark Sweet, Healthy Boy Brand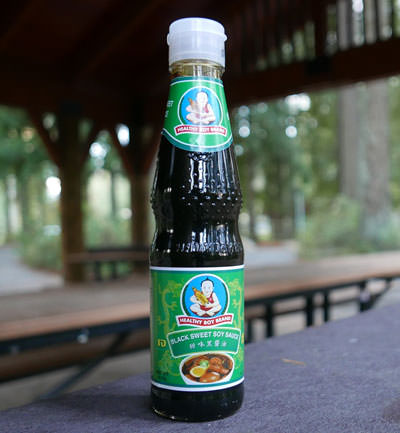 Add to cart
14oz-$5.89

Healthy Boy makes the best soy sauce, and they offer a wide variety of formulas in order to create dishes that cater to regional tastes.
This dark, thick, sweet soy sauce is used in a variety of Thai recipes (see below) and perhaps most notably is the base for the dark dipping sauce served with Khao Mun Gai.
Our Korat-style Stir Fried Noodles, "Pad Korat" is deliciously sweet & slightly salty thanks to the soy sauce, and very spicy at the same time. A good example of the kind of flavors you can get with this product.
Healthy Boy has the highest quality soy sauces in various formulas, often depending on regional tastes. Here is the "Green Label" dark sweet soy.
According to Healthy Boy, this sauce gives your dish good color and sweet taste, adds a fragrant aroma. Add to dishes that you need color with sweet taste, to make that dish more fragrant and delicious. Use it in slow cooking methods, sauté, marinade or add to five spice soup (see recipe below for Kua Chap) to enhance flavor and color.
Dark Sweet in our Set of Four Thai Sauces
Our Healthy Boy brand is a widely used soy sauce in Thailand, known for the very best quality standard. Please see our feature story on how soy sauce is made.
Ingredients: water, brown sugar, refined sugar, soy sauce (salt water, soybean, wheat flour), glucose syrup.
No Preservatives. Glass bottle.
Product of Thailand.
---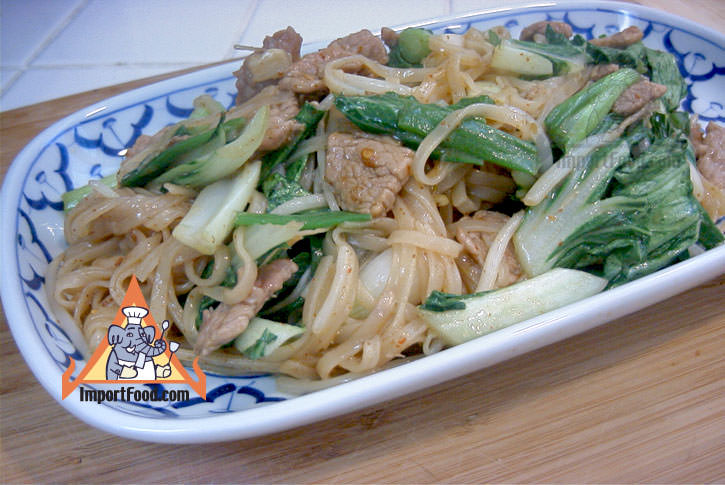 Korat-Style Stir-Fried Noodles, 'Pad Korat'
The result of this recipe is a hot, spicy, thoroughly addictive succulent noodle dish. It might seem like you're adding too much ground chile peppers, but it's meant to be hot, and the chile gives it the distinctive color. This version is both sweet and spicy. To add some depth, you can add a tablespoon of tamarind concentrate to the cup of water. Use any greens you have on hand, we liked the way our version turn out, with bean sprouts and bok choy.
---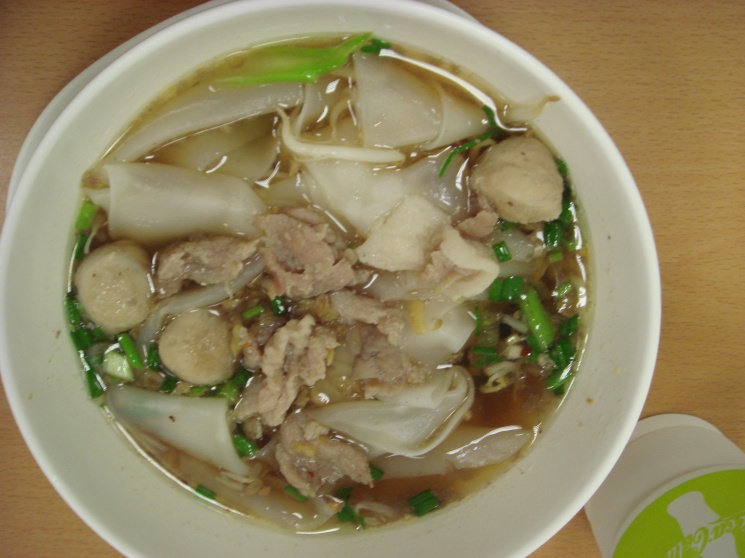 Thai Beef Noodles Soup, 'Kuaitiao Neua'
This soup is a popular light meal in Thailand, and often sold by "stop me and buy one" hawkers who pedal tricycles around the streets. The traditional form is made from beef offal, and contains cow's blood. However the dish can be made quite well from any cut of beef, and the blood can be omitted, or replaced as in this version, by red wine.
The noodles should be cut into handleable pieces so that they can be eaten with a spoon.
---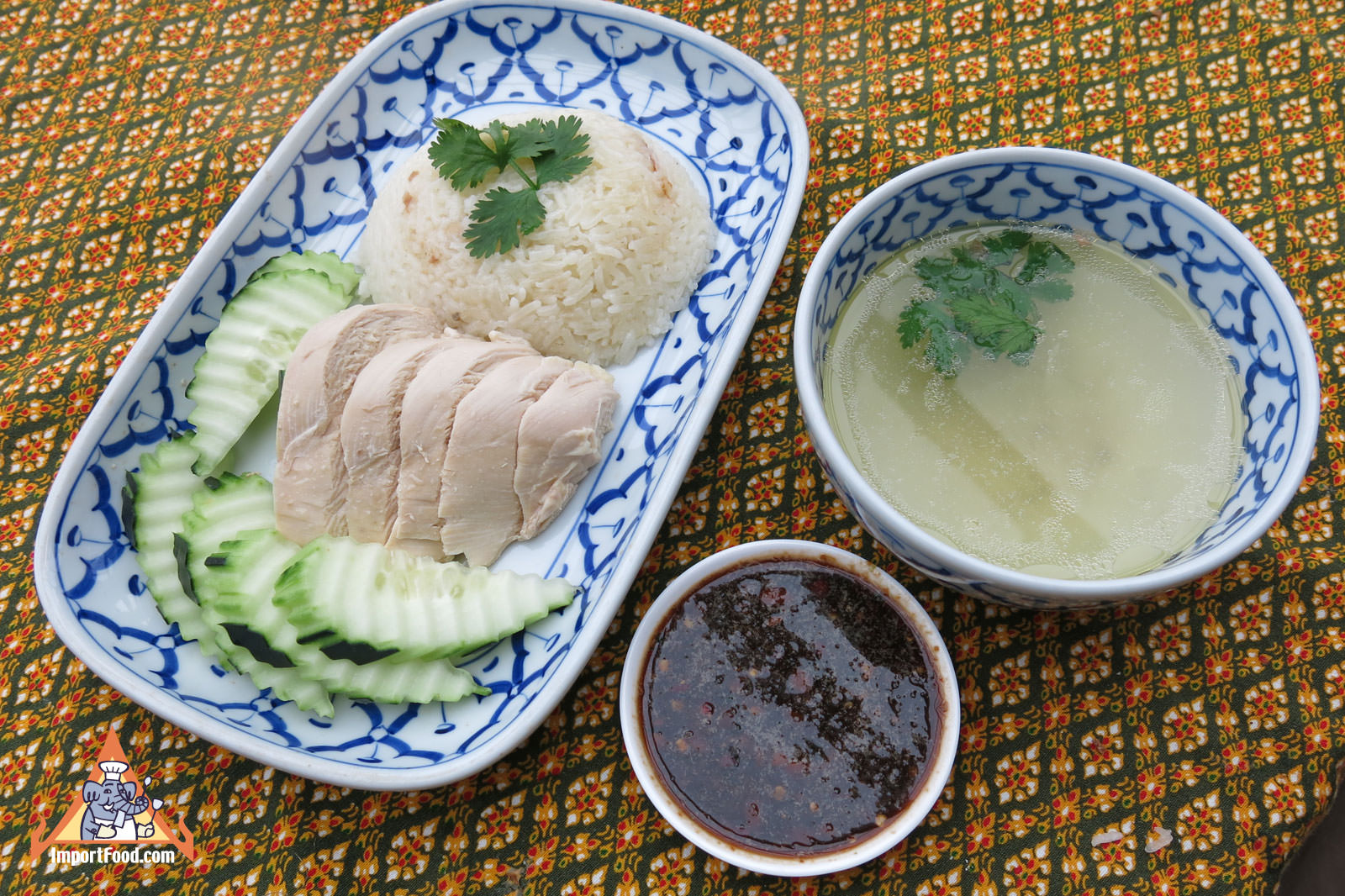 Thai Chicken and Rice, 'Khao Mun Gai'
Khao Mun is a more "high end" street vendor dish because it's more complicated to make, and requires a fairly sophisticated cart and tools. Khao = rice, Mun = fat. So this is "Fat Rice" or, in other words, rice cooked in chicken fat.
A kind gentleman in Bangkok with a superbly maintained kitchen cart served Khao Mun Gai we loved for many years.
We also fondly recall the Khao Man vendor at Sukhumvit Road 38, who drove a pickup truck every night to the street corner and spent a half-hour setting up his tables and pots. Always served with a bowl of chicken soup, fresh cucumbers and a side dish of a unique sauce as we prepare in this recipe.
Be sure to use yellow bean sauce (do not substitute) as well as cucumber.
---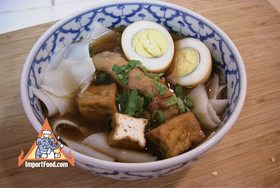 Thai Five-Spice Soup with Rice Chips, 'Kua Chap'
Kua chap is a rich, healthy soup loaded with flavor and nutrition. We often take it camping, and more than once people have come by to mention the wonderful aroma. We also offer an instant kua chap soup from Mama.
---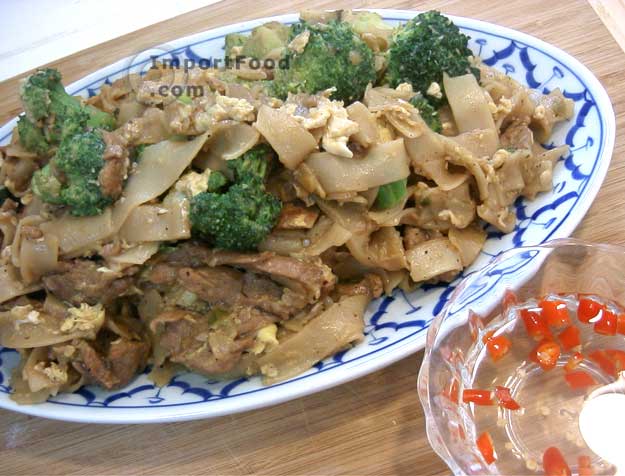 Thai Stir-Fried Wide Rice Noodles, 'Pad Si-iew'
Siew means soy sauce in Thai. This recipe is very tasty and savory but takes a long time to prepare. We now offer a convenient instant pad siew sauce although if you learn how to make the real thing from scratch, as described below, it should be worth the effort.
---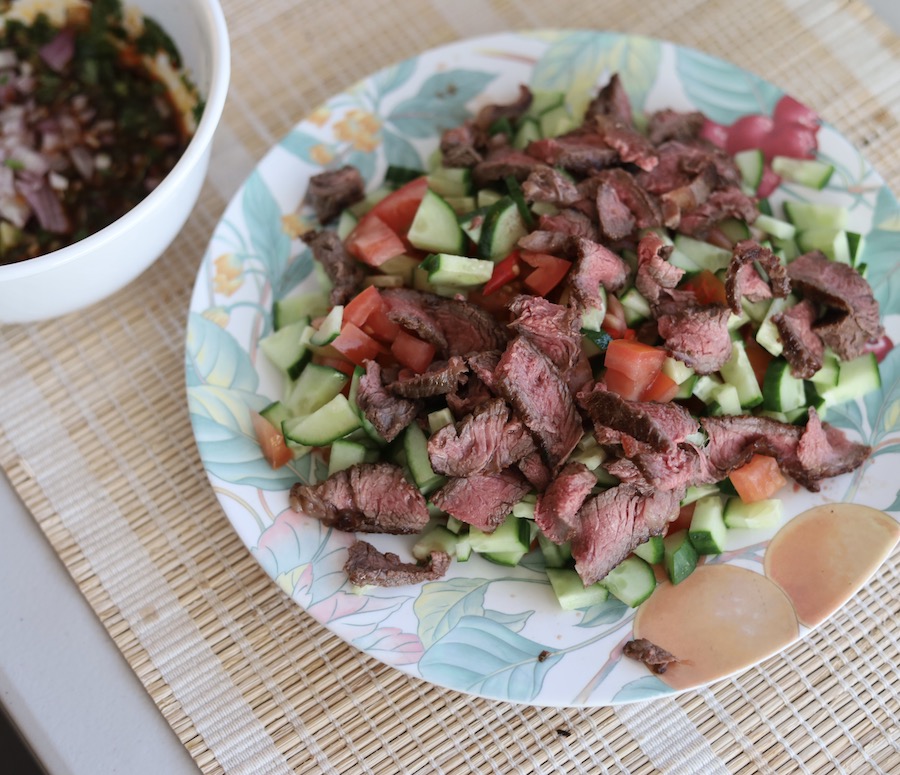 Thai Beef Salad, 'Yum Nuea'
One of our favorite recipes, the meat is pan fried or barbequed then tossed with a delicious mixture of sweet, sesame-inspired smoky hot sauce and fresh vegetables. It should be served with jasmine rice, but it's also delicious with sticky rice (soaking up the sauce).
Yam nuea literally means "tossed beef". This is a simple beef "salad", and can be eaten hot or cold. This should be on the hot side of neutral, but really is more spicy than "hot". It is normal to add sunstantial amounts of hot condiments to it to suit yourself (see the section on condiments below).
---