Thai Stir-Fried Wide Rice Noodles, 'Pad Si-iew'

Thai Stir-Fried Wide Rice Noodles, 'Pad Si-iew'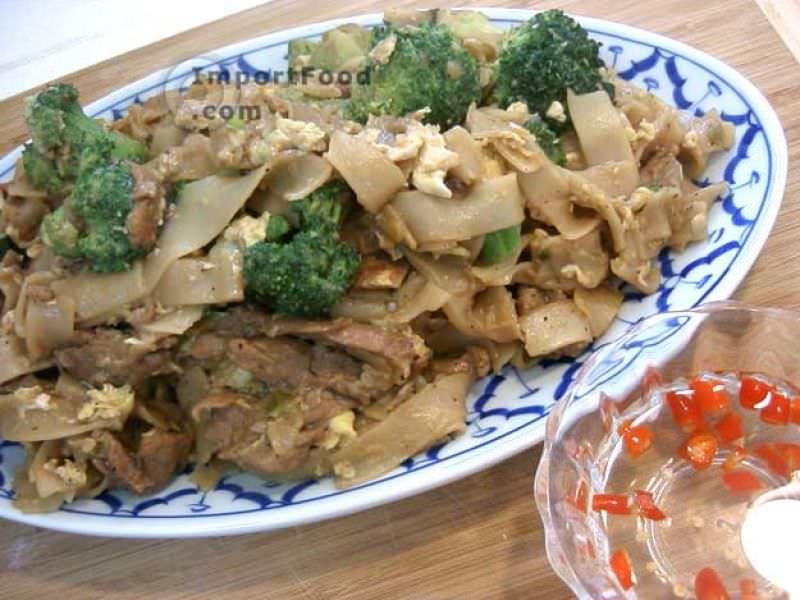 Siew means soy sauce in Thai. This recipe is very tasty and savory but takes a long time to prepare. We now offer a convenient instant pad siew sauce although if you learn how to make the real thing from scratch, as described below, it should be worth the effort.
Method for Thai Stir-Fried Wide Rice Noodles, 'Pad Si-iew'
Marinade 1.5 cup ounces of thinly-sliced beef, pork, or meat of your choice in the marinade for about an hour.
Soak the noodles in warm water for 30 minutes then rinse in cold water. Add noodles to a pot of boiling water and boil for 1 minute, then rinse in cold water again. Our Thai cooking basket is a good tool to do this task.
Transfer to mixing bowl, separate the noodles and toss thoroughly with sweet soy sauce. Set aside.
Heat the wok and a little oil to stir fry the marinated meat until it just begins to cook. Add the noodles, cook quickly then add broccoli and stir again. Push the noodles and broccoli to the sides of the wok to open up the middle, then add beaten eggs. Spread the eggs a little cook for a moment. Just before the eggs set, fold all the noodles and broccoli together and stir well with remaining ingredients.
Transfer to serving plate. Sprinkle with Thai pepper powder and serve with prik dong (important to have prik dong on the side, and each person can spoon a little bit over their portion, depending on how they like it).
Stir fried wide rice noodles pad si-iew

Reviews