IMPORTFOOD NEW RECIPE & PRODUCT UPDATE

IMPORTFOOD NEW RECIPE & PRODUCT UPDATE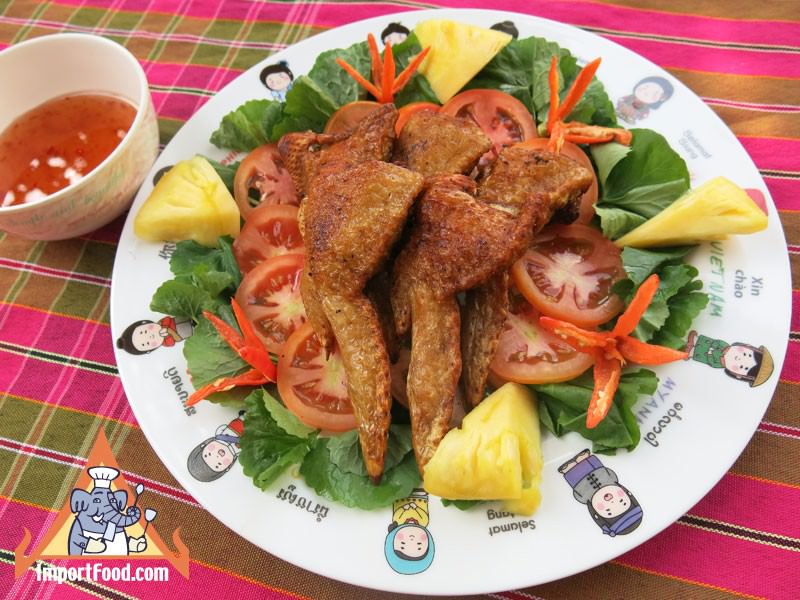 Hello again and thanks for visiting ImportFood.com. Welcome back to our newsletter, we took a short break from making updates but it's nice to be back. Today we feature two new authentic Thai recipes that we made in Thailand with an experienced chef so we know you'll like them. We are offering $5 Flat Rate Shipping for two days only, and our fresh pandan update gives a modern take on this aromatic leaf. It's all below --
---
---
NEW Thai Recipe: Chicken Stuffed Sticky Rice

A fancy dish that is sure to please everyone who tries it. Be sure to serve with the recommended seasonings on the side.
---
NEW Thai Recipe: Stuffed Chicken Wings
A very authentic Thai chicken recipe. The wings are marinaded with an elegant mixture of fresh lemongrass, fish sauce and spices, then stuffed with pureed shrimp and various ingredients, Find it all at ImportFood.com, The wings can be eaten as a snack or served as a side dish with a larger dinner.
---
Back in Stock: Fresh Red Hot Pepper Sauce, Labuyo. This fantastic hot sauce comes from the Philippines. Mama Sitas has a 75 year history producing world-class sauces. A bright, powerful, fresh red chile heat that is spicier than Thai sriracha sauce. We love this hot sauce for many reasons, especially the really strong flavor. Chile pepper lovers will enjoy putting just a few drops on any dish. Each bottle is individually boxed and the story about the legendary labuyo (birdseye) chiles is told on the box.
---
How to Cook With Pandan "The Vanilla of SE Asia"
Saveur Magazine has just published an article (March 2017) referencing ImportFood.com as their preferred supplier for fresh pandan, along with a lengthy article about how you can use this fragrant leaf. It's a highly-recommended article and in newsstands now.
Add a few leaves to a pot of boiling water, let sit then remove the leaves and chill to make a refreshing drink.
Make a paste and add it to cakes, flavor your rice with pandan, wrap chicken in pandan leaves, infuse alcohol with it, add it to curry or make pandan ice cream.
Our fresh pandan leaves are grown in Hawaii and we have several authentic Thai recipes using pandan.
See: Fresh Pandan Leaves and Pandan Recipes at ImportFood.com
---
​ImportFood.com Fresh Thai Produce
Those who order our fresh Thai produce are usually repeat customers who know and trust the premium product we offer. Shipped immediately and delivered to your doorstep usually in 2 days. The best product personally selected every day, sent via Priority at a very reasonable cost.
---
By accepting you will be accessing a service provided by a third-party external to https://importfood.com/