IMPORTFOOD NEW RECIPE UPDATE

IMPORTFOOD NEW RECIPE UPDATE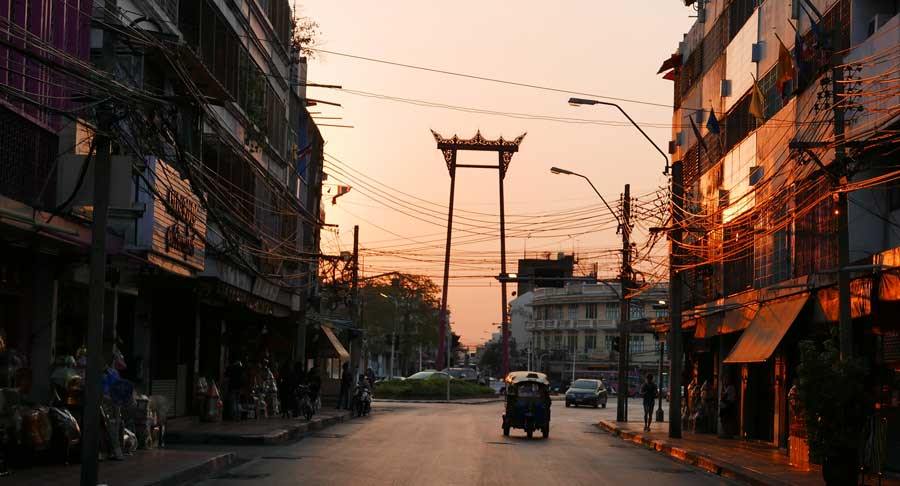 Hello again and thanks for visiting ImportFood.com. Today we feature several Thai Street Vendor videos, as the government is rapidly banning street vendors all we can is it was fun while it lasted and we have plenty of old videos depicting the way of life.
We also have new stock of Mama Kee Mao, take a look at Red Cargo Rice, the Thai Butcher Knife, and more. Thanks for visiting.
---
Thai Street Vendor Ban. As the Thai government moves quickly to ban street vendors, at least we documented the fun while it lasted. Our Street Vendor Video Series goes back 7 years and has 180 street vendor videos.
---
Back in Stock: Lobo brand E-San Sauce
All natural ingredients, poured into a dish this sauce looks very attractive and delicious.
Fresh mix of red chilli, coriander leaves, onion and tamarind. Perfect for dipping meat and vegetables. Serve with jasmine rice or sticky rice for a nice snack or meal. Notably tasty with our Salapao recipe below.
---
Feature Recipe: Salapao
Here we demonstrate how simple it is to make those delicious, meat-filled steamed buns that you may have never imagined yourself creating. Tastes great with Lobo E-San Sauce (above).
---
All Natural Mung Bean Sprouts
Eating fresh sprouts is a very healthy new popular trend in Thailand and elsewhere in Asia, as people have discovered that sprouted beans are packed with nutrition. More vitamins, and more enzymes which make you feel younger. Enjoy the highest quality Thai mungbeans. See how to make these beans turn into fresh sprouts on your countertop.
---
Thai ​Red Cargo Rice
We've been selling a lot of red cargo rice lately. Commonly served in both Thai and Vietnamese meals. Along with the recent explosion of Thai restaurants focusing on Street Vendor style food, restaurants often serve steamed rice that has 10-20% red cargo mixed in, to give it a rustic "wild rice" appearance.
---
New Shipment: Mama Kee Mao, Fresh Stock
Mama makes a wide variety of popular instant noodles such as namtok and classic tom yum shrimp.
Mama kee mao is unique because you eat it 'haeng' (dry, not as a soup). The noodles are thicker than traditional Mama noodles, and wavy.

Our best selling Mama noodles and this is brand new stock.
---
Palad Kik: Lucky Charm of Thai Vendors
Look around a Thai street vendor's cart, and you're likely to see a one of these. The palad kik is believed to help bring in more sales, more customers, and entice others to find you attractive.
Non-Thais might think the small wood carving is a type of erotic art, and feel embarrassed to see this sitting in a business, but in Thailand it's simply a portable charm that helps bring in sales.
---
ON SALE : Butcher Knife, Kiwi Thailand
Big discount on this knife while supplies last. A design that Kiwi calls "Butcher" because of the nice long blade. Expect the very best quality at a great price from Kiwi. Total length is 12", the blade is 7.5, the handle is 4.5". Made in Thailand. $4.00 each (reg $9,85).

---
NEW Thai Street Vendor Video: Ba Mee Nam
Just released from our archives, filmed in 2008. Watch the two ladies prepare several different servings of soup noodle from a charcoal-fired pot.

See: Street Vendor Video - Ba Mee Nam
---
Feature Street Vendor Video - Clay Pot Noodles
Please enjoy our video filmed at a temple during Songkran in April during the hottest time of the year. She's serving noodles from a pot that's set inside a decorative clay pot, and the vendor shop is named for the clay pot.

---
Amazing Elephant Tom Kha - Combo Pack is Back
A few weeks ago we made a brand new batch, a small batch all cut by hand using fresh (not frozen) ingredients. We are proud of the final result -- taste is excellent. Perhaps our best batch ever. Back by popular demand is the Combo Pack (5 pouches each style) for the same low price we offered before when it was on special.
By accepting you will be accessing a service provided by a third-party external to https://importfood.com/