McDonalds Thailand 'McKhao Namtok Gai Krob'
McDonalds Thailand 'McKhao Namtok Gai Krob'

Khao = rice
Namtok = Thai style meat salad
Gai = chicken
Krob = crispy
McDonalds is known for offering the same tasty hamburger and french fries around the world, but that's not the only thing you will find in Thailand.
In Bangkok, McDonalds has a new, delicious crispy chicken namtok salad served with jasmine rice. For now it's only 69 baht (about $2.50). Also included in the price is a 16 oz coke.
We love namtok and wish it was offered at our local McDonalds in the Seattle area--why not? It would be a nice alternative to the limited edition McRib sandwich.
MdDonalds in Thailand is also known to offer an excellent fried chicken sold with delicious sweet chile sauce.
See: Video: Namtok Prepared by Thai Street Vendor
---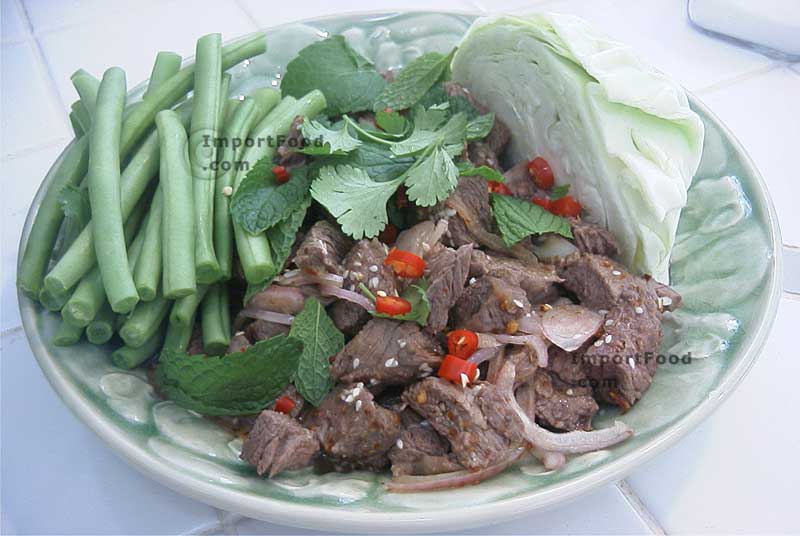 Waterfall Beef, 'Neua Yang Nam Tok'
In Thai language, nam tok is a waterfall. This dish is usually cooked using a barbeque (the juices drip onto charcoal hence the name waterfall) but you can fry or broil the beef just as well. It should be cooked rare to start with. See our street vendor video lower left, a sidewalk chef prepares it.
We also offer: instant nam tok mix and Mama instant namtok noodles.
A great dipping sauce to serve with this beef is made with our Namprik Thai Tae.
---