Bangkok Vendor Prepares Specialty Noodle Soup
Bangkok Vendor Prepares Specialty Noodle Soup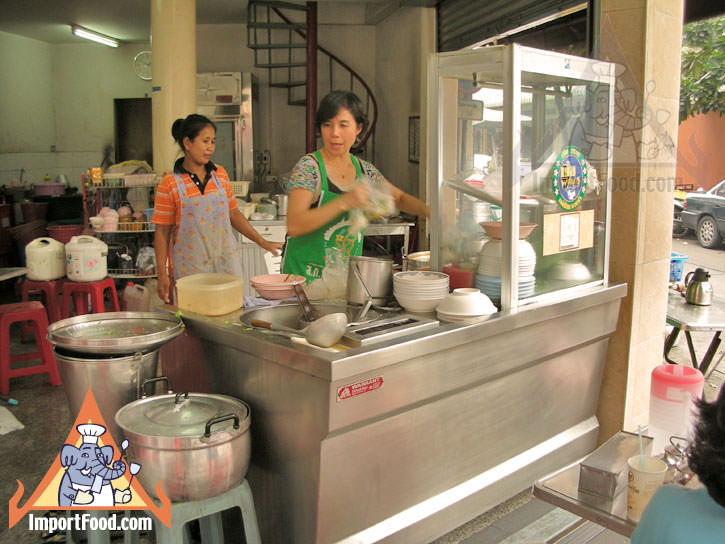 This vendor is part of our comprehensive report on the outstanding food finds in Bangkok's Saochingcha area.
Of the various types of soup noodle offered by Bangkok vendors, these are among some of the highest quality and best-tasting you'll find. She uses a unique, uncommon round noodle similar to Japanese udon. It's this type of creativity and innovation that commonly makes a restaurant stand out from others, and there's no doubt it works here. There's a constant throng of customers sitting down in the clean and cozy streetcorner shop, and ordering takeway to eat at home.
It's a mild, Chinese-influenced soup with freshly-cooked chicken, liver and pork, along with pickled and fresh vegetables, in a rich broth. The flavors are wonderful and this soup really hits the spot. On the sidewalk in front of this shop is a mobile cart offering made-to-order deep fried snacks which go perfect with the soup noodle.
Perp Pitsadan is a popular newspaper food column (and former tv show) featuring a traveling taster who highlights the best food around town, and this noodle shop proudly features a bright yellow, blue and green sticker indicating that she was featured by the show 31 years ago. This shop is one of Bangkok's timeless classics, with consistent quality that you'll love so much you will want to go back again and again.
As you walk down Mahannop Road, this shop is right next door is this vendor offering traditional Thai coffee and tea. See our free map!