Bangkok Sidewalk Vendor Traditional BBQ Chicken, Gai Yang Boran
Bangkok Sidewalk Vendor Traditional BBQ Chicken, Gai Yang Boran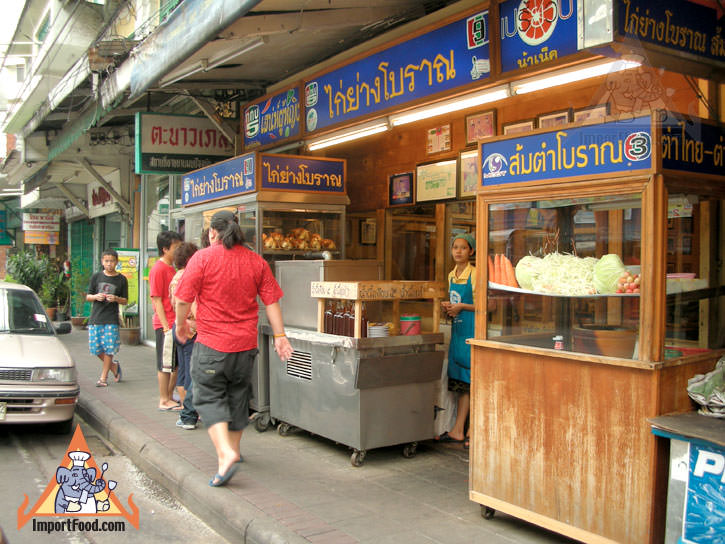 This vendor is part of our comprehensive report on the outstanding food finds in Bangkok's Saochingcha area.
Gai means chicken, yang means BBQ, and boran means traditional. This small shop offers some of Bangkok's best BBQ chicken in a clean, air-conditioned shop. There is a distinctive wood-paneled entry and it's right on the main road (Tanao Rd) between Mahannop and Phraeng Phuton.
The history of this restaurant goes back just 10 years. They started by offering BBQ chicken and som tum from a small cart in front of their house. The owner, Khun Prasit Sumonta, only uses local chicken not raised from commercial farms. They make their own sweet chile sauce from fresh ingredients, and they roast their own peanuts for som tum.
Gai Yang Boran is not to be missed if you love Thai-style BBQ chicken, and they also specialize in serving "Isaan" (NE Thai) style food. You can order takeaway from the showcase barbeque on the sidewalk, they also make excellent quality fresh Som Tum in front (see picture at left).
We ordered gai yang and som tum and it was very good. Note in the picture below that it's served with two separate sauces (both made in-house). These tasty sauces add a lot of flavor, and help make the restaurant famous. We also ordered a whole fish "Plachon" which is a local river fish served with namyum sauce. Namyum sauce is sweet, sour and spicy sauce that goes well with the plachon fish.
As far as prices go, Gai Yang Boran is on the high-side but still very reasonable if comparing to what's charged in American restaurants. Et and enjoy!
They are open from 9:00 AM - 8:00 PM. Phone number is 02-622-2349. Address is 474-476 Tanao Road, Sanchaposue, Bangkok. See our free map!