Ready-made Massaman Soup, 16 oz can
Ready-made Massaman Soup, 16 oz can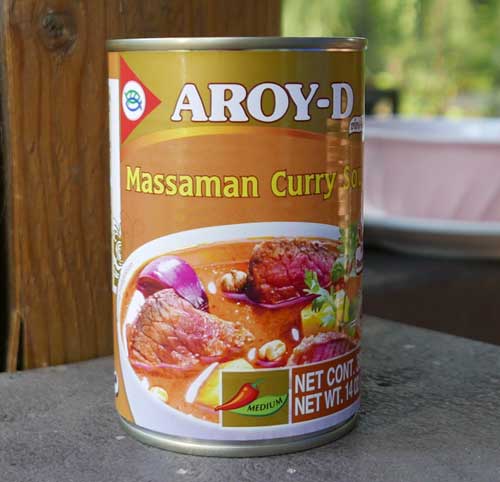 Add to cart
$5.39-14oz Can

Each can of massaman soup has everything you need to enjoy an authentic Thai meal, including potato. It's simply "heat and serve" but there are instructions on the can.
Add thinly-sliced beef (as we did, see picture below) or chicken if you prefer. Serve with jasmine rice.
To improve the taste, we fried a bit of finely-chopped fresh lemongrass in a pan with onion and vegetable oil, then added the sliced beef to cook. Then we added that back into the massaman with a few dozen whole black peppercorn and served with fresh green onion. See picture below.
See our recipe for massaman chicken, made from scratch.
See our massaman curry paste
Ingredients: coconut milk, bamboo shoots, masaman curry paste (onion, salt, galangal, chili, lemongrass, coriander, garlic, cumin, nutmeg, kaffir lime peel, pepper, cardamom), potato, sugar, salt, modified corn starch, caramel color. No preservatives. Product of Thailand.
---
You might also like these canned Thai soups
---