Thai Red Curry, 14 oz can
Thai Red Curry, 14 oz can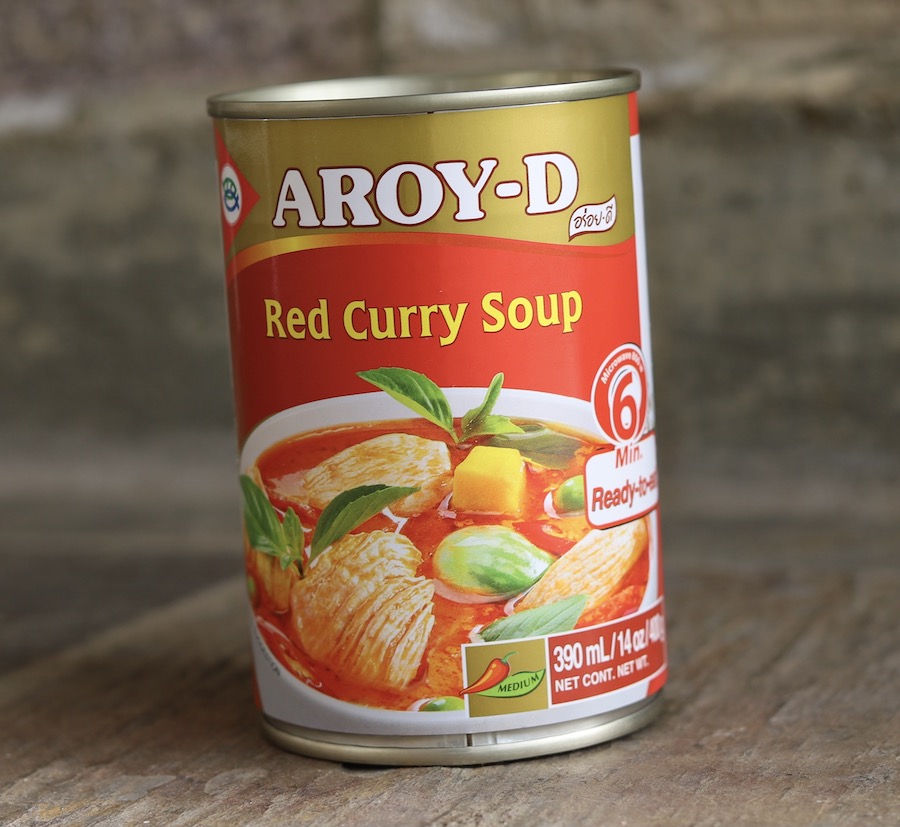 Add to cart
$5.39-14oz Can

Ready to eat from the can if you simply reheat it, but we really improved the taste (see pictures below). Fry a bit of finely-chopped fresh lemongrass in a pan with onion and vegetable oil, then add some chicken & cook. Then we poured in the red curry soup can, two fresh Thai chilli peppers, and served with fresh Thai basil and jasmine rice.
We usually don't recommend the premade Thai curry found so often in stores like Trader Joes, because a good Thai curry should start with a curry paste, then add coconut milk, fish sauce, and kaffir lime leaves as it's being prepared.
This premade Thai curry, however, is very good if you don't have a lot of time. It's the best we've tasted, from dependable Aroy-D (makers of Thailand's best coconut milk).
Very tasty and quick. Spicy too, not overwhelming, but this has good chile heat.
See our recipe for red curry chicken
See our red curry paste
Ingredients: coconut milk, water, pumpkin, chile oil, red curry paste (dried red chile, garlic, lemongrass, shallot, salt, galangal, kaffir lime peel, corriander seed, cumin powder), basil leaves, sugar, red chile, salt, kaffir lime leaves. Product of Thailand.
---
Prepare Chicken & Lemongrass
You might also like these canned Thai soups
---