Sour Sliced Bamboo Shoots
Sour Sliced Bamboo Shoots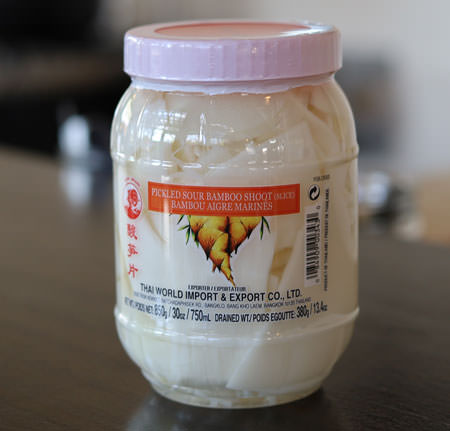 Add to cart
32oz - $8.89

Sliced bamboo ("Nor Mai" in Thai) is found in many different Thai recipes, including our new recipe:
Sour Bamboo Seafood Tom Yum

Sour bamboo shoot has a particular aroma, stronger than bamboo shoot that's not sour which we also offer.

The big 32 oz jar allows for generous use. Some chefs use it right out of the jar, others rinse and boil it for 5 minutes first, then drain and use as desired.

Ingredients: bamboo shoots, water, salt, distilled vinegar and sodium metabisulfite.
Product of Thailand.
---
Sour Bamboo Seafood Tom Yum
Sour bamboo is one of our most consistent selliers. Here's a stellar, simple soup with very distinct bamboo flavor. Use the freshest seafood you can find, and be sure to use pickled red chilli peppers. Such a delicious and healthy result.
Also See: Our recipe for Tom Yum Prawn Soup
---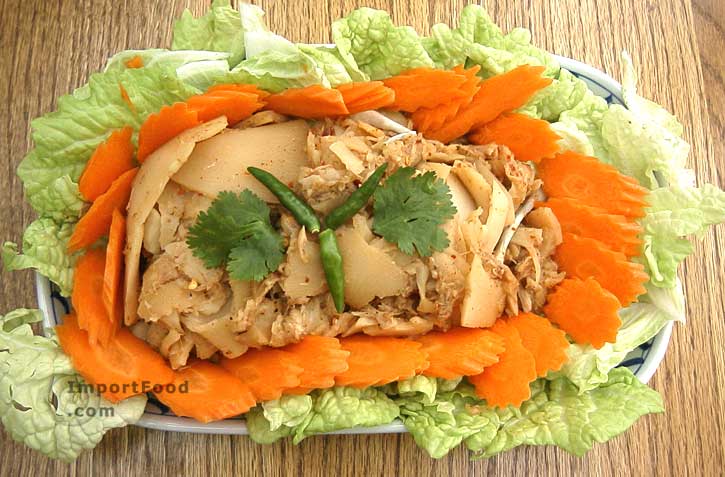 Frog with Thai Chile Paste & Bamboo, 'Namprik Kob'
Frog can be seen in markets across Thailand, and they're enjoyed in a variety of traditional Thai dishes. We prepared this recipe based on a northeastern frog curry, and it's going to please adventurous eaters as well as just about anyone who likes to eat coconut curry. See the pictures below of the steps involved and the final product.
---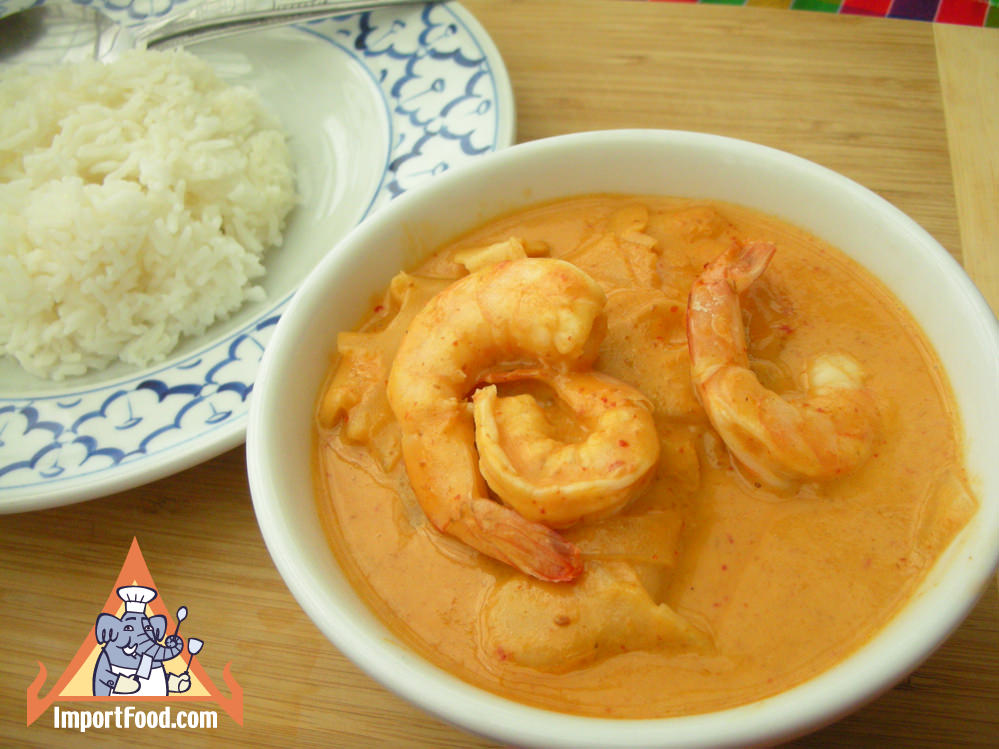 Kaeng Kua Sour Bamboo Shoot with Shrimp
Since starting ImportFood.com in 1999 we've featured hundreds of Thai recipes and street vendor videos, but not nearly enough attention has been given to recipes that use bamboo shoots. Here's an authentic Thai recipe that highlights the flavor of sour bamboo shoots. Lovers of authentic Thai recipes, please try this. You might want to cut the bamboo slices into smaller pieces, up to your own preference.
---