Kaeng Kua Sour Bamboo Shoot with Shrimp

Kaeng Kua Sour Bamboo Shoot with Shrimp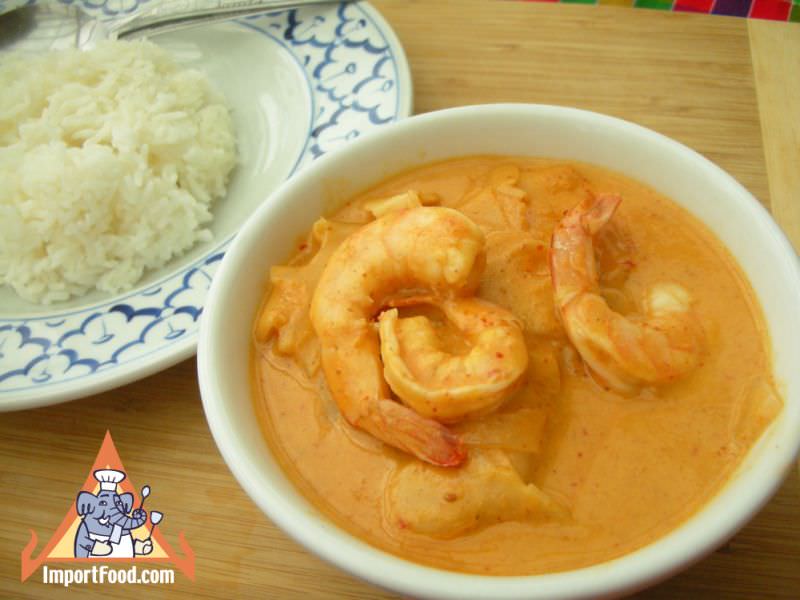 Since starting ImportFood.com in 1999 we've featured hundreds of Thai recipes and street vendor videos, but not nearly enough attention has been given to recipes that use bamboo shoots. Here's an authentic Thai recipe that highlights the flavor of sour bamboo shoots. Lovers of authentic Thai recipes, please try this. You might want to cut the bamboo slices into smaller pieces, up to your own preference.
Method for Kaeng Kua Sour Bamboo Shoot with Shrimp
Prepare shrimps by removing shells and devein. Set aside.
Thoroughly rinse the sour bamboo shoot in cool tap water. In a medium pot, bring 5 cups of water to a boil. Add rinsed bamboo shoot. Let boil for 15 minutes. Rinse one more time, and drain. Set aside.
In a medium pot, over low heat, add half of the coconut milk. Raise the heat to medium/low, and cook until it boils. Add Kaeng Kua curry paste, stir fry until fragrant, and continue to patiently stir until a thin film of oil apppears on the surface.
Add the bamboo and remaining coconut milk, turn the heat up to medium, and let it cook for 15 minutes more, stirring constantly. Add shrimp, continue cook until the shrimp turns pink, and starts to boil again. Season with salt, palm sugar and tamarind concentrate. Stir well, remove from heat.
Serve with steamed Thai jasmine rice. Enjoy!
Kaeng kua sour bamboo shoot with shrimp

Reviews