Fresh Hawaiian ginger, 12 oz via Priority Mail
Fresh Hawaiian ginger, 12 oz via Priority Mail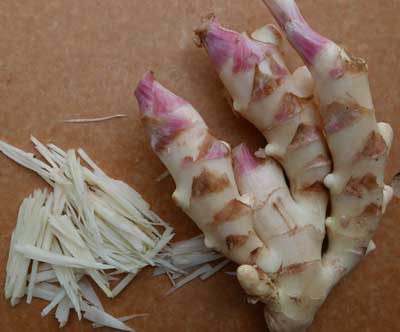 Add to cart
Out of Stock - 2019 Season is Over

This special young ginger from Hawaii is harvested once a year in the late fall. Harvest started last week. We have a small amount available again this week. Order now and we will ship immediately for delivery after two days.
As shown at left, these are large white roots with pink tips. Soft 'Young' ginger.
Unique ginger is harvested before full maturity, so it's soft and you can eat it -- unlike woody ginger typically found in supermarkets. This is what Japanese use for sushi ginger. Great flavor.
See photos below. For the chicken, we sliced into matchsticks, then fried in a bit of oil over medium heat with sliced chicken. We added salt and pepper, a touch of sugar, and a bit of soy sauce. Serve with jasmine rice, topped with sliced green onion and Thai chile pepper.
For the seafood ginger, we placed fresh fish in a frying pan. Add cut ginger pieces, salt, pepper, a touch of sugar, yellow onion, oyster sauce, and a bit of Huy Fong Chilli Garlic Sauce. Fry over low heat until cooked. You can use any seafood of your choice. So delicious!
Grown in Hawaii. You get 12 oz fresh young ginger shipped via Priority Mail to arrive in two days.
$17.95 includes Priority 2 Day shipping. Choose $0.00 Fresh Produce before proceeding to checkout, if your order includes only fresh produce.
Ginger Chicken - Delicious!