Soy sauce, thin (light), Healthy Boy, 10 oz
Soy sauce, thin (light), Healthy Boy, 10 oz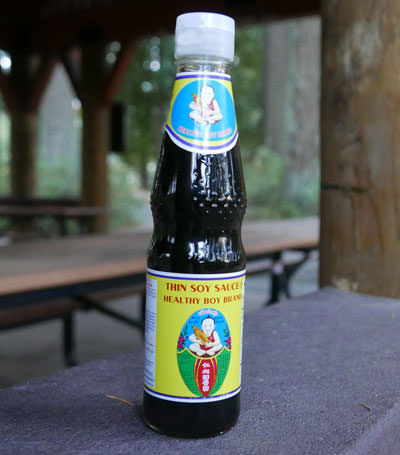 Add to cart
10oz bottle- $5.29

A light, thin soy sauce made using a natural fermentation method.
The most famous brand and widely used soy sauce in Thailand. Superior quality from Healthy Boy, since 1947. Our Thai customers living in United States are very glad that their favorite soy sauce is now just a few mouse clicks away.
Sprinkle a few drops over all Thai dishes for great flavor, and rest assured this is a premium product made using the natural fermentation method in a modern facility with ISO9002 certificate. Please see our feature story on how soy sauce is made.
Thin Soy in our Set of Four Thai Sauces
Saveur Magazine recommends ImportFood.com for Healthy Boy soy sauce.
Ingredients: soy bean, wheat, salt, sugar, msg, preservatives 0.1%, artificial color.
Product of Thailand.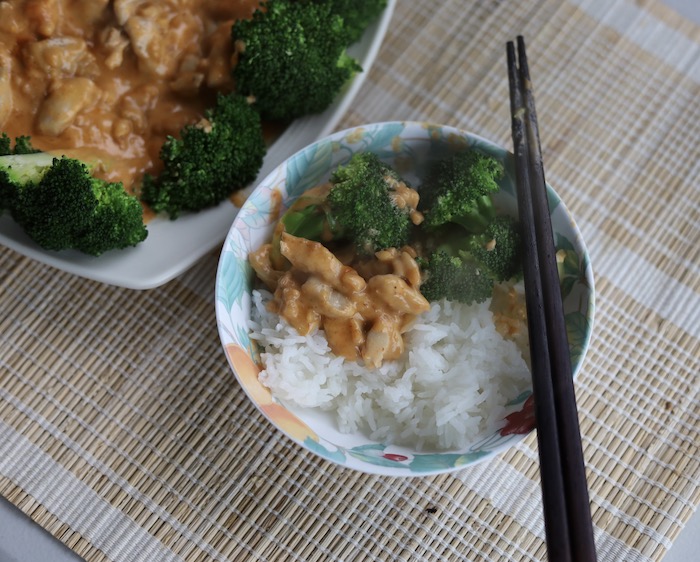 Thai Rama Chicken, 'Praram Long Song'
This dish dates to the time of King Rama 5, about 140 years ago. Originally it was made with beef, but nowadays pork and chicken are often used. Praram is a name for the God Rama, or King Rama, in The Ramkian. The Ramakian is the Thai version of an Indian Hundu epic written 2000 years ago. Long Song translates as 'take a shower'.
Praram Long Song is a popular dish in American Thai restaurants, but not often found in Thailand. Americans are fond of the peanut sauce, and in our recipe it's quite delicious. Sometimes called Swimming Rama, you can use broccoli, spinach, or other greens of your choice.
---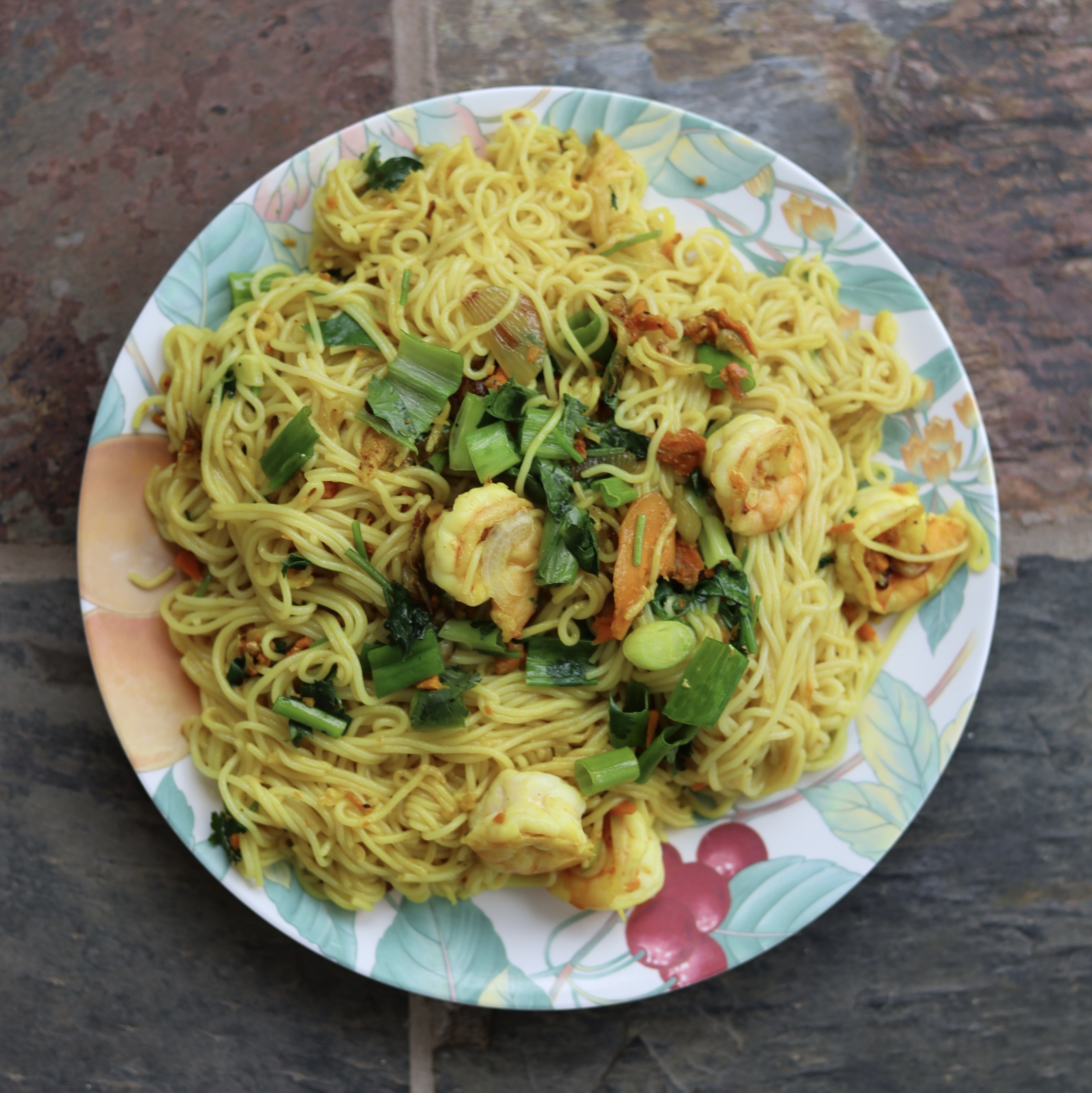 Thai Turmeric Shrimp Noodles
We used large pieces of fresh turmeric for this recipe, creating a healthy noodle dish with lovely yellow color.
---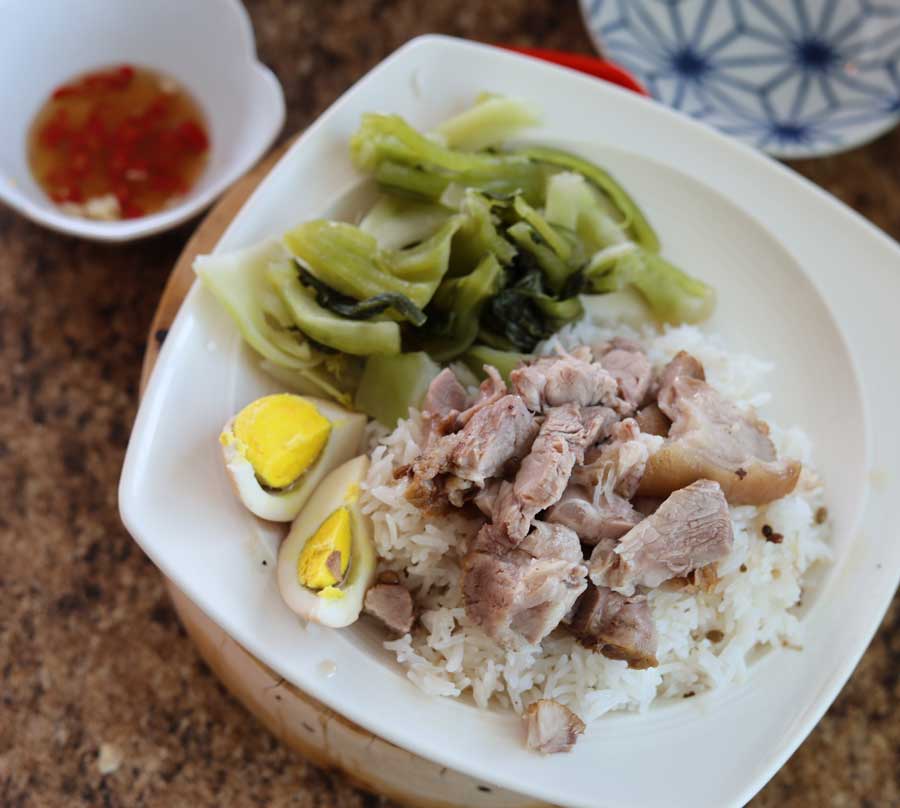 Pork Leg on Rice, 'Khao Kha Moo'
Khao Kha Moo is not only a favorite of Thailand's Prime Minister (a celebrity chef), it's also one of those ubiquitous dishes served by street vendors throughout Thailand. If you think it's hard to make at home--it's not! The recipe below makes a wonderful khao kha moo but be sure you get the right piece of meat. Ask a butcher for a pork shank, fresh. You must get it "fresh" which means it has not been cured or smoked. Even if it's frozen that's fine just state "fresh" to denote that you don't want it already smoked or cured. Hock (cut from the shoulder) is also a cut that works fine. Try to get a front leg, as the back legs contain more fat and less meat.
---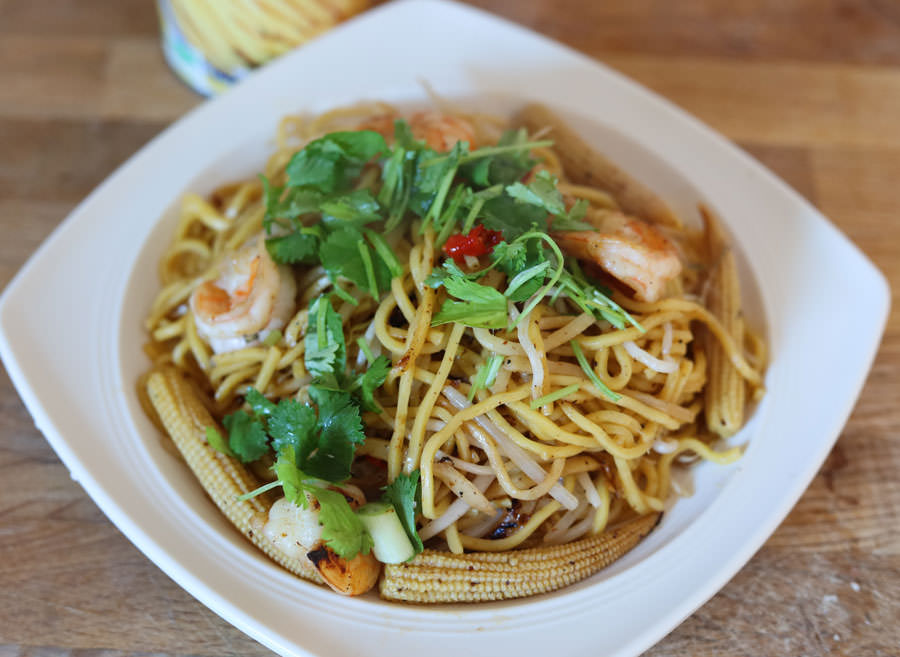 Thai Noodle Bamboo Shoot Stir Fry
This recipe combines the unique flavor and crispy texture of matchstick bamboo shoots, baby corn and noodles in a stir-fry with oyster sauce. Essential Asian dish you may not have thought you could create at home.
---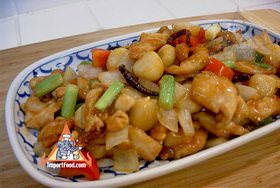 Thai Cashew Chicken, 'Gai Pad Med Mamuang Himaphan'
One of the more popular dishes on the menu in Thai restaurants in America but also Thailand. This recipe is time-consuming but the result is spot-on perfect.
The finest cashews in the world are grown in Thailand, mainly on the island of Phuket. Mamuang himaphan means cashew nut but there is an interesting translation. Himaphan's original meaning refers to the Garden of Eden, and the cashew nut looks like a small mango. The resulting pun can mean "mango of paradise", suggesting culinary heaven. We use regular refined white sugar for simplicity but you may use palm sugarfor a more succulent flavor.
---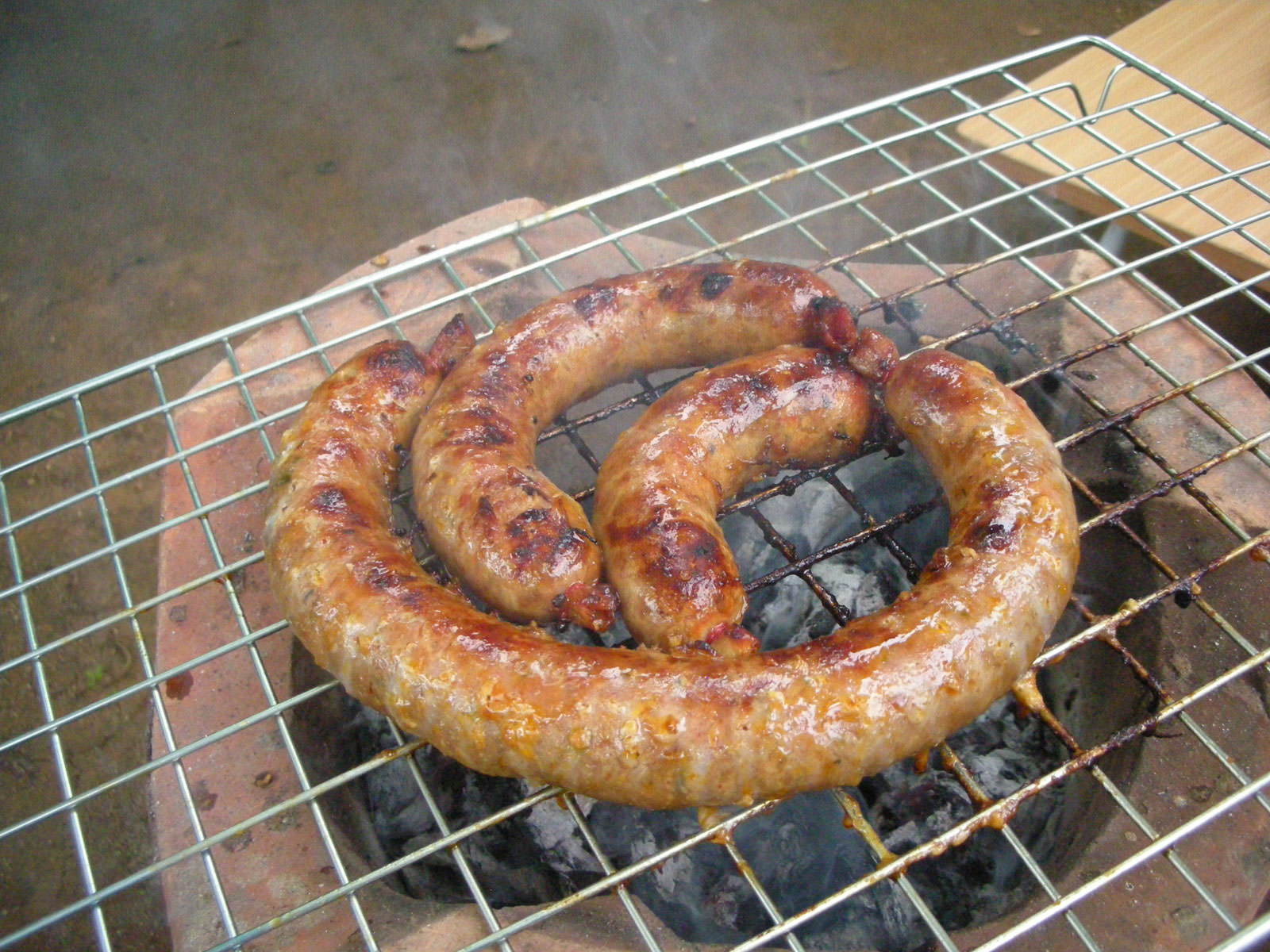 Northern Thai Sausage, 'Sai Oua'
Northern Thai sausage is easy to make, and the mix of ingredients leads to a spectacular result. We would encourage you to make this with ground pork or, for any hunters reading, try this with local elk, deer, wild boar, or other natural meat that you might have. Also watch our video (below left) showing how it's made.
You can't go wrong with this sausage. Please be sure to leave us a comment using the form below if you make it, and share how it turned out.
We also have a recipe for Esan-style Thai sausage, sai grok.
---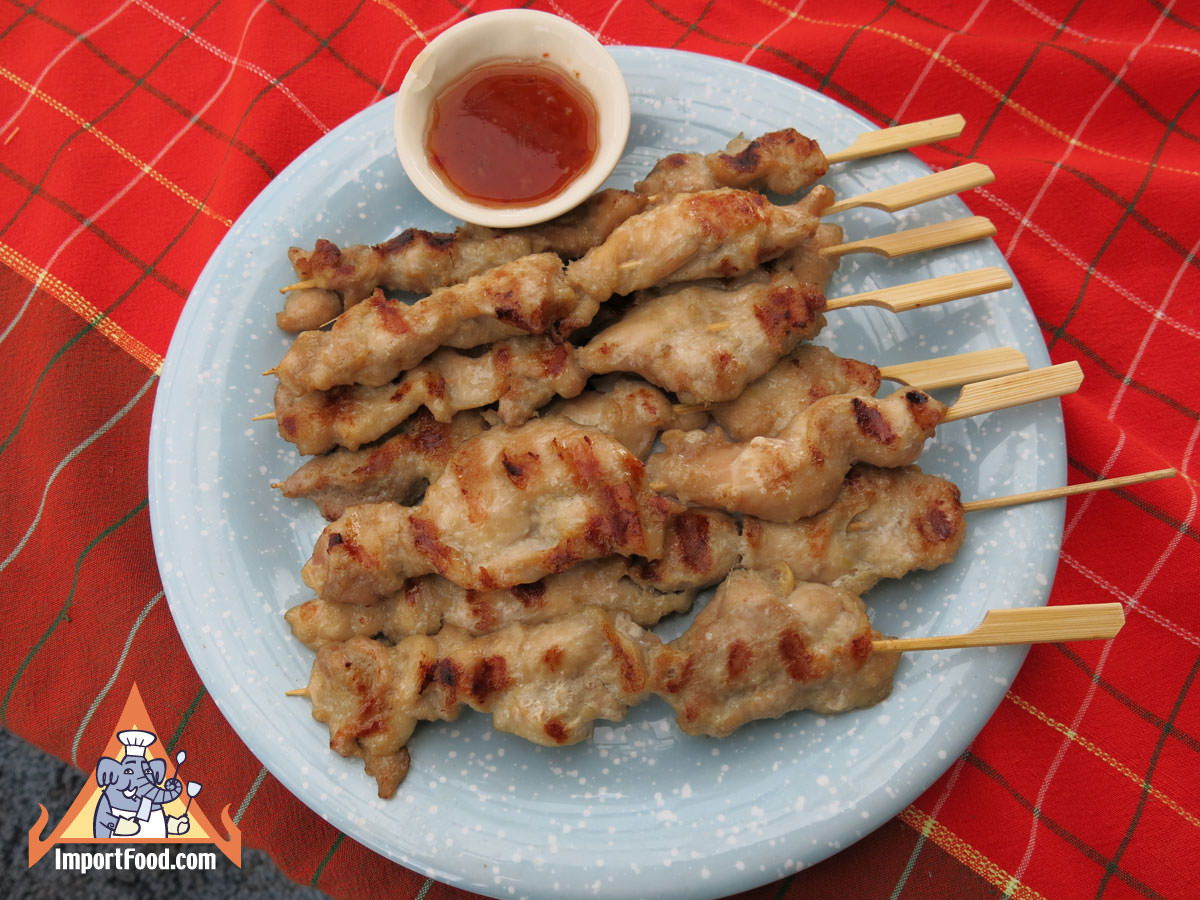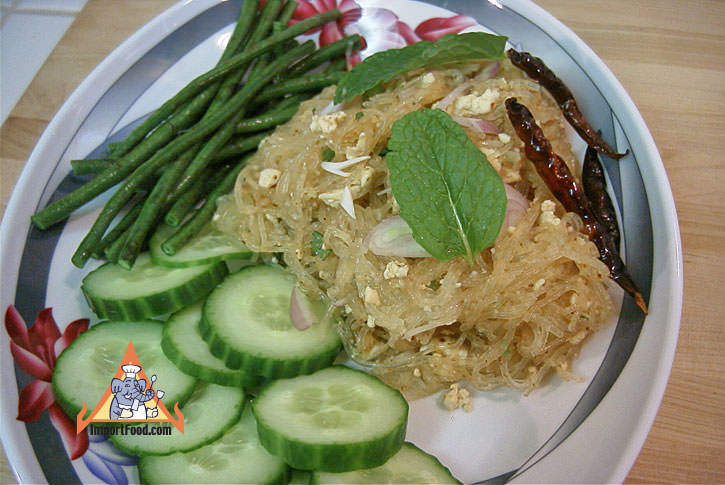 Thai Vegetarian Larb Woonsen, 'Larb Woonsen Jae'
We find that it's difficult to enjoy true vegetarian Thai food because so many recipes use fish sauce; however, we absolutely love this vegetarian larb recipe. It does take time to prepare but the result is both nutritious and delicious. Vegetarian or not, you'll love this elegant recipe too. We also have a non-vegetarian recipe for larb woonsen.
---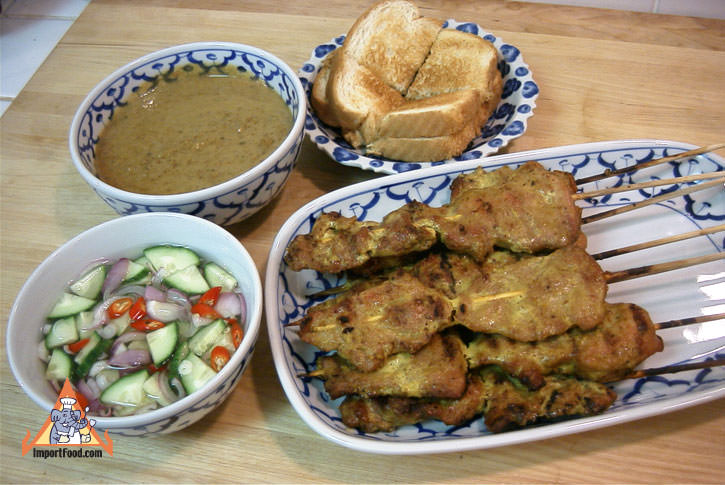 Thai Pork Satay, 'Moo Satay'
Pork satay consists of strips of marinated pork on bamboo skewers, charcoal barbequed then served with a tasty peanut sauce and a white vinegar cucumber sauce. It's often served in Thailand with squares of toast, as shown in our recipe here. We made pork satay in the true authentic Thai style, which is time-consuming. Be sure to baste your satay as it's on the barbeque, note from our street vendor video (below left) he is constantly basting. It seems that most of the time, this style of satay is made with pork, but you can also find chicken satay and prawn satay. We offer a ready-made satay mix that's quite good for both chicken and pork.
Recently we had a fantastic meal using this recipe, prepared with our high-fat Chaokoh coconut cream rather than coconut milk, and we omitted the peanuts altogether which led to a very rich, slightly spicy satay full of true Thai flavors (see pictures below right).
There are four different things you need to make: marinade, basting sauce, satay sauce, and ajad.
---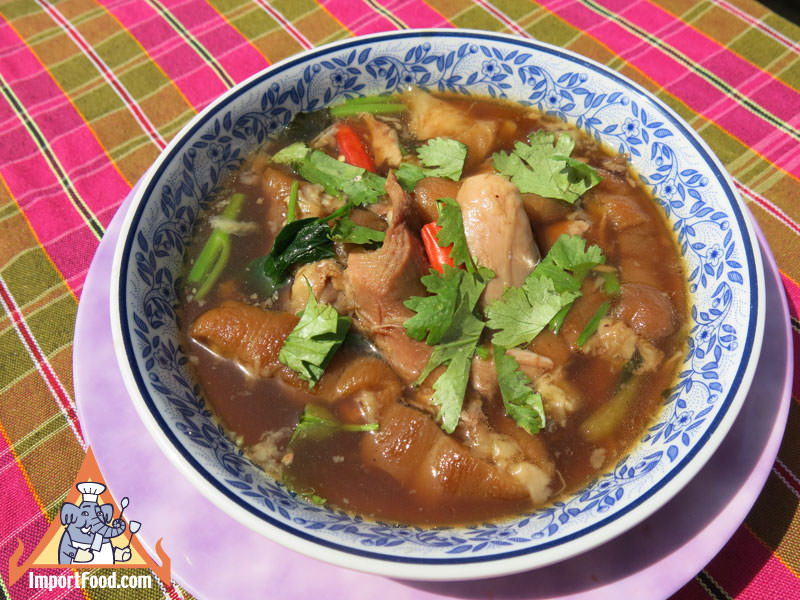 Pork with Galangal, 'Kha Mu'
This is a popular "snack", but it can form a course in Thai style dinner. It could be made from any fairly fatty cut of pork, but is normally made from the hocks and shanks of pork.
---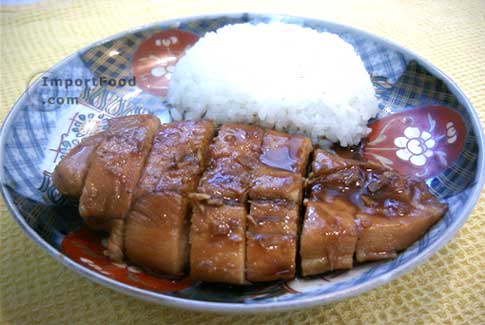 Teriyaki Chicken - Japanese Style
Teriyaki is only one flavor in Japan but it's become very popular in America, and we believe you'll like this recipe. The mirin is an essential ingredient that brings out flavor and creates the shine of the sauce.
---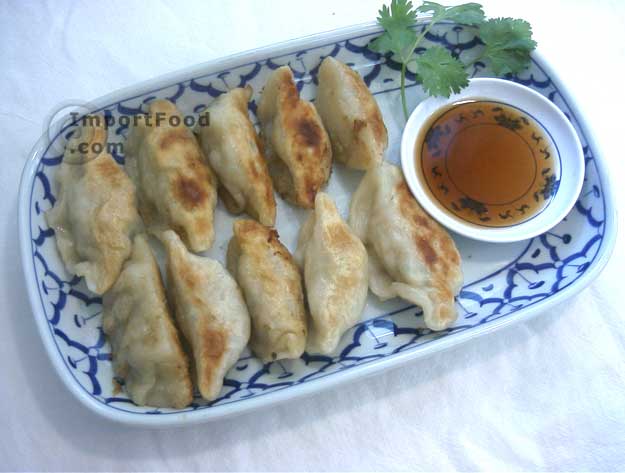 Japanese Gyoza
Gyoza is originally a Chinese dish, which has become very popular across Japan. This recipe shows how to make the gyoza dough , filling, and walks you though the cooking process with descriptive photographs. Makes 30 gyoza.
---
---