Inaka Udon Noodles, Japanese Style
Inaka Udon Noodles, Japanese Style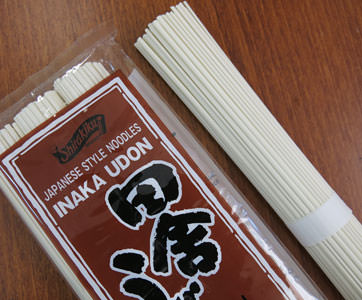 Add to cart
$6.89

Udon noodles are thick Japanese noodles made of wheat flour. They can be eaten hot or cold.
For some reason we can not get a lot of these noodles so please limit order to 1 or 2 packs.
We recently enjoyed Udon soup, see recipe link below. We added a piece of barbecued fish to the soup and served it with beer, for a delicious combination.
Our premium quality soba noodles in Shirakiku brand are made in Japan, and come in a generous 16 package. Inside are four 4 oz bundles.
Ingredients: Wheat Flour, Salt, Water.
Product of Japan.
We recommend this product in the following ImportFood.com Japanese recipes