Sugar Free Thai Chilli Paste Mae Pranom
Sugar Free Thai Chilli Paste Mae Pranom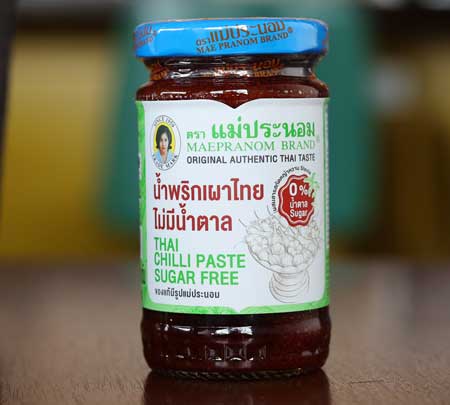 Add to cart
Temporarily Out of Stock

Here is a new sugar free prik pao available from Mae Pranom in limited supply. We just imported this for the first time.
Similar to our very popular 'Prik Pao' also from Mae Pranom
You could not ask for a better company than Mae Pranom to make this one. They are so focused on making real, authentic Thai food using the finest ingredients.
There is a wide range of uses, simply add it to anything you might be cooking (soup, stir-fry, marinade, dipping sauce, etc).
Packed in a nice small jar, and one jar of this goes a long way.
No preservatives, no artificial color, no msg.
Product of Thailand.
We offer the following premium quality Namprik products