Prik Pao - Roasted Chili in Oil - Mae Pranom Brand
Prik Pao - Roasted Chili in Oil - Mae Pranom Brand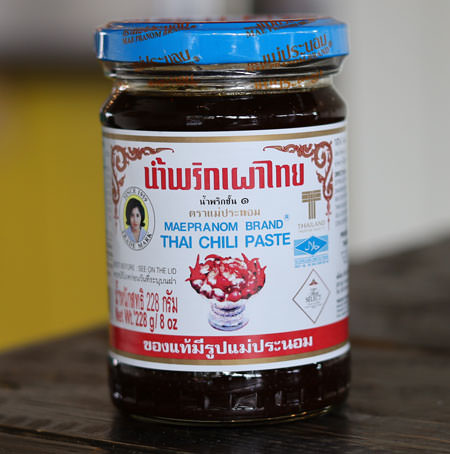 Add to cart
8oz - $8.39

Prik Pao (or "namprik pao") is legendary in Thailand and has been a staple in Thai households for generations. This is a cooked chile paste with a variety of uses, and it's the key ingredient in tom yum.
For a quick and delicous spicy meal, simply set one tablespoon prik pao in a small dish. Next to that, a bowl of steamed jasmine rice. Now put a little steamed vegetable on top of the rice, add a dab of prik pao, and take a bite. Wonderful flavor.
You can add Prik Pao to any soup or noodles, even use it as a spicy sandwich spread.
Mae Pranom is the premium quality, tastiest brand of prik pao, but we also the less expensive Pantai brand in the 16 oz jar.
Ingredients: 20% vegetable oil, 15% dried shrimp, 10% dried chile, 10% onion, 10% garlic, 10% tamarind, 10% sugar, 10% salt, 5% shrimp paste.
All Natural.
Product of Thailand.
Packed in an 8oz glass jar with attractive label, Mae Pranom is a large producer employing the highest quality standard, and we also offer sweet chile dipping sauce in the same brand.
---

NEW: We Also Offer Mae Pranom Yellow Label Prik Pao.
Prik Pao used extensively in our Thai Street Vendor Video Series.
NEW: See our video feature on how Prik Pao is made by hand.
We offer three different brands of prik Pao:
Part of our Essential Thai Pantry Set

---
Prik Pao is used in the following Thai recipes: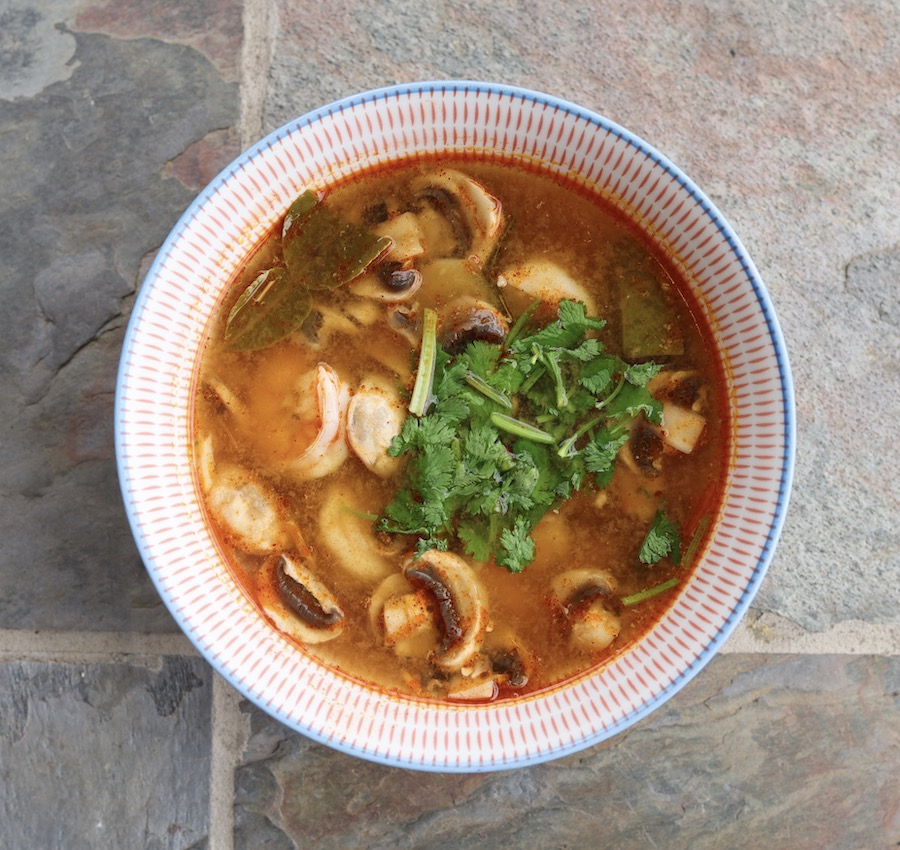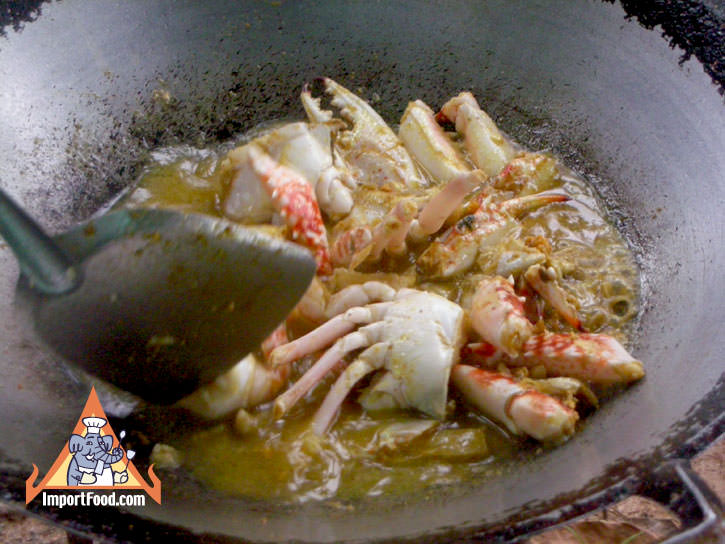 Cracked Crab Thai Curry, 'Bu Pad Pong Kari'
Bu Pad Pong Kari is a simple recipe with a delicious unique flavor that many people in Thailand love so much that it's an addiction. If you like Thai food, and you like crab, you must try it. Just be sure to use good fresh crab, and crack the shells before cooking (as shown in the video at link below). Thai curry powder is the main flavoring, so that must be used. Below left is our video filmed in Thailand of a sidewalk chef preparing this authentic version.
As with any Thai recipe there are many variations. Here is our version which is fairly simple. Using coconut milk instead of fresh milk is another option.
---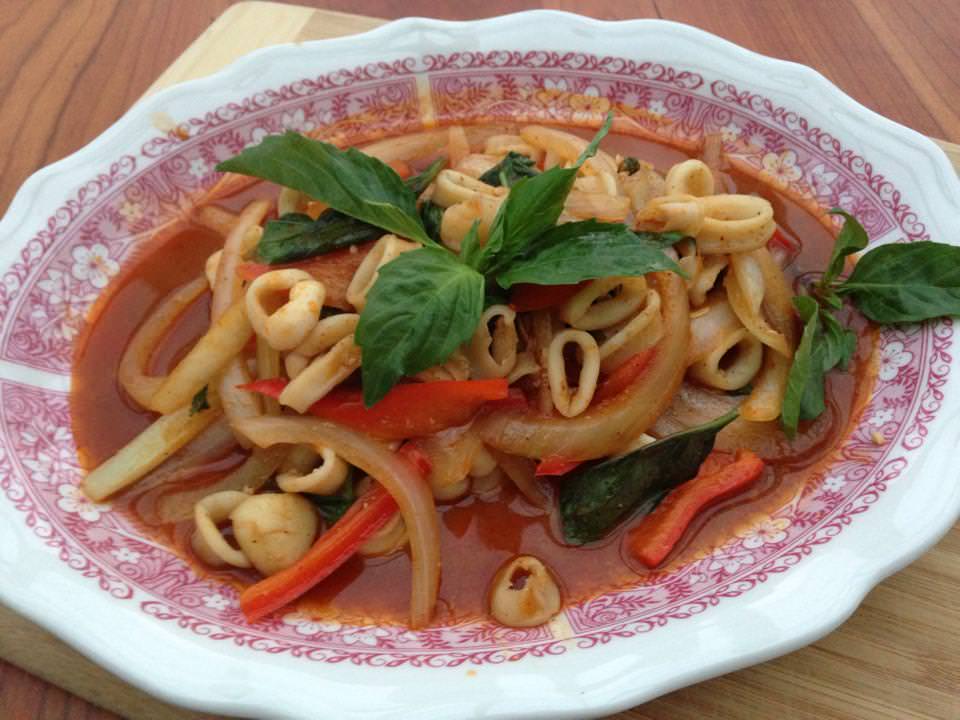 Stir-Fried Squid in Chile, 'Plamuk Pad Namprik Pao'
Roasted chile paste, or "prik pao" is one of Thailand's most common staple food items, and we're certain you'll enjoy this distinctive recipe.
---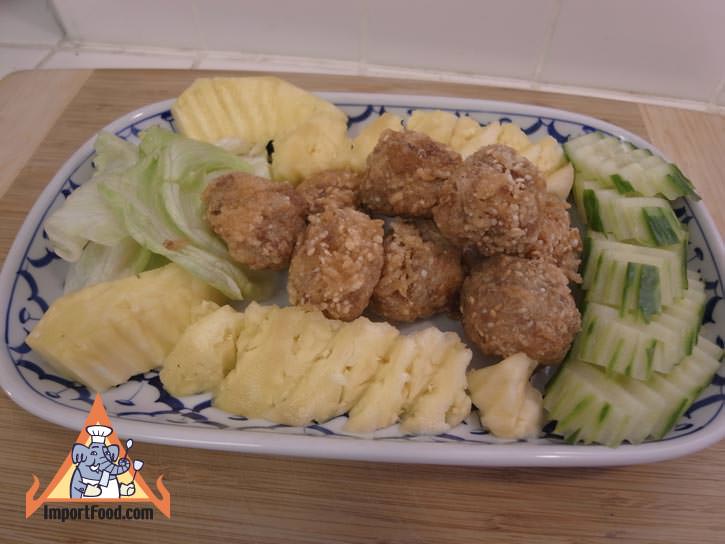 Fried Sticky Rice, 'Kao Neeo Tod'
A wonderful, delicious recipe that's easy to prepare. An authentic Thai snack that may seem like a trendy take on sticky rice but Khao Neeo Tod is found in the oldest Thai cookbook we own. It's been enjoyed for years in Thailand but we've never seen it served outside of Thailand.
---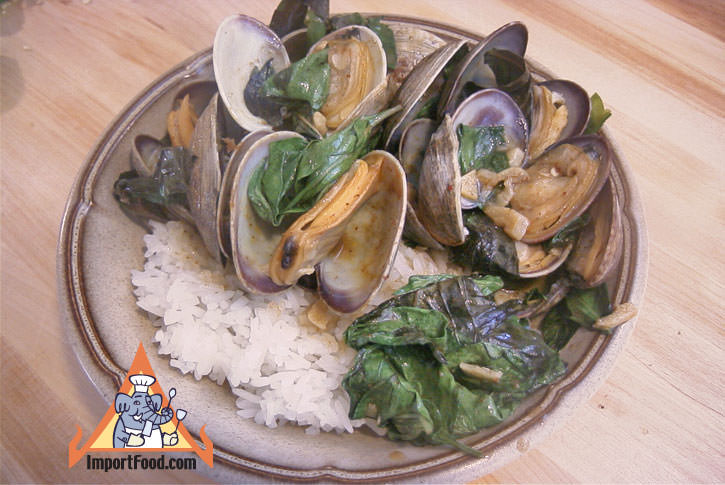 Thai Fried Clams in Roasted Chile Paste, 'Hoy Lai Ped'
Roasted chile paste, or "prik pao" is one of Thailand's most common staple food items, and in our opinion nothing complements shellfish like prik pao. The two go hand-in-hand.
This recipe tastes great, in our opinon, with an extra-generous quantity of fresh Thai basil. After adding it to the hot pan it shrivels down, so prepare more than you think you'll need. We like to use a bit less chile peppers than called for, but if you like your clams really spicy (like many people) add more. If you can find red chile peppers in season, this is a nice recipe to use red for the attractive color. We used the more common green Thai chiles here however, and the taste is just the same.
---
Chicken Salad with Spicy Peanut Vinaigrette, Thai-American Style
This recipe is from our "Thai-American" section, which contains dishes that would not typically be found in Thailand. These dishes have been developed and/or popularized in America.
---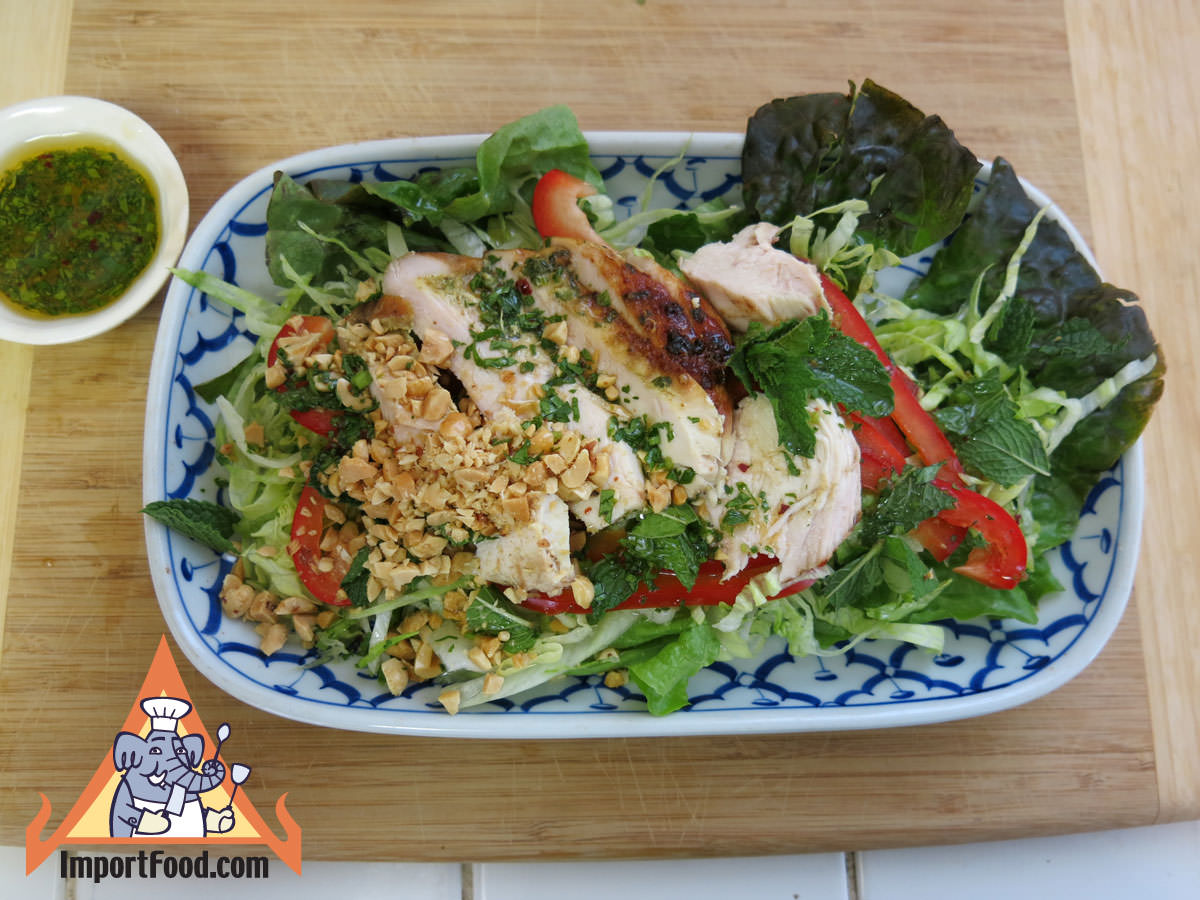 Barbecue Chicken Salad, Thai-American Style
This recipe is from our own kitchen, not something you would typically find in Thailand, so we indexed it in our "Thai-American" section. Lately chefs in Thailand are combining ingredients to come up with creative dishes though, so it wouldn't surprise us to find something like this.
Basically, this is simply Thai barbecued chicken ("Gai Yang") sliced up and served over a green salad with a mint and prik pao dressing. We marinaded the chicken overnight and cooked it nice and slow over charcoal. We suggest you follow this method for making the gai yang, or use one of our two good recipes for gai yang here:
Gai Yang
Southern Style BBQ Chicken, 'Gai Kor Rae'
---
Volcano Chicken, 'Gai Pu Khao'
Here is a Thai dish not very common in restaurants, with unique flavor that we know you'll enjoy. To hold the chicken upright, we used a can of 7-Up half-full of soup stock (or use water). When the chicken is placed vertically on the plate and ignited the flames coming from the open body cavity resemble the eruption of a volcano (hence the name). No longer the exclusivity of fancy restaurants, the simple art of flambeing is becoming part of entertaining at home, and this is a great holiday dish.
---