Thai Panang Curry Paste - Aroy-D - Mae Ploy
Thai Panang Curry Paste - Aroy-D - Mae Ploy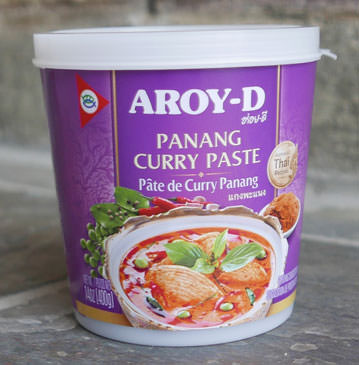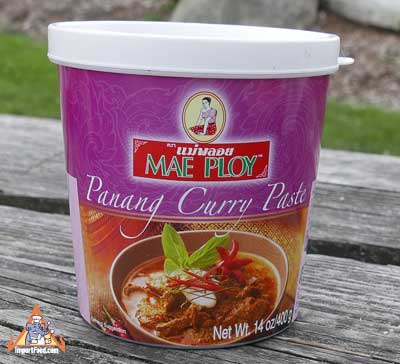 See our detailed report on how to make Thai curry paste, and the health benefits.
Panang Curry Paste, Aroy-D Brand, 14 oz
Panang is a dry curry, meaning that the final dish is not soupy with a lot of coconut milk. We love to make Panang Beef with it. Our Aroy-D brand is more expensive and loaded with rich herbs rathe than cheaper filler ingredients found in other brands. It's likely better than anything you can make at home using a mortar and pestle (see video below on how it's made). With our premium Aroy-D, you get one 14 oz packets, enough Thai curry to feed over 12 people. We like the rich, fresh flavor, we can really taste the difference between this brand and Mae Ploy and Maesri green curry paste. Taste is complex and heavier to the natural herbs, as only the best all natural ingredients are used. Ingredients: dried red chile, shallot, garlic, salt, lemongrass, galangal, cumin seed, coriander seed, shrimp paste, kaffir lime leaf. Product of Thailand.
From: Carol, Virginia Beach VA. I received my order yesterday. It was packed nicely. I used the Panang Curry Paste to make Panang Curry Chicken last night and it was delicious! :-) I will certainly come back to you when I need Thai ingredients. Thank you.
ImportFood.com's curry paste is recommended by Mark Bittman (New York Times).
Panang Curry Paste, Mae Ploy brand, 14 oz
We also offer panang curry paste in the well-known Mae Ploy brand, recognized in Thailand as a high quality export product with rich taste and authentic flavor. Many Thai restaurants use Mae Ploy, a mass-produced curry paste with consistent flavor. It's packed in a convenient plastic tub with tighly sealed lid, and the price is very affordable (half the cost of Hand Brand when considering the weight). This is an authentic Thai curry paste, not to be confused with less-tasty "readymade" Thai curry in jars or pouches that already have coconut milk mixed in. Ingredients: chile, onion, garlic, galangal, lemongrass, shrimp paste, spices, salt, fish sauce, sugar, vegetable oil. Product of Thailand.
---
Find Panang curry paste in the following ImportFood.com Thai recipes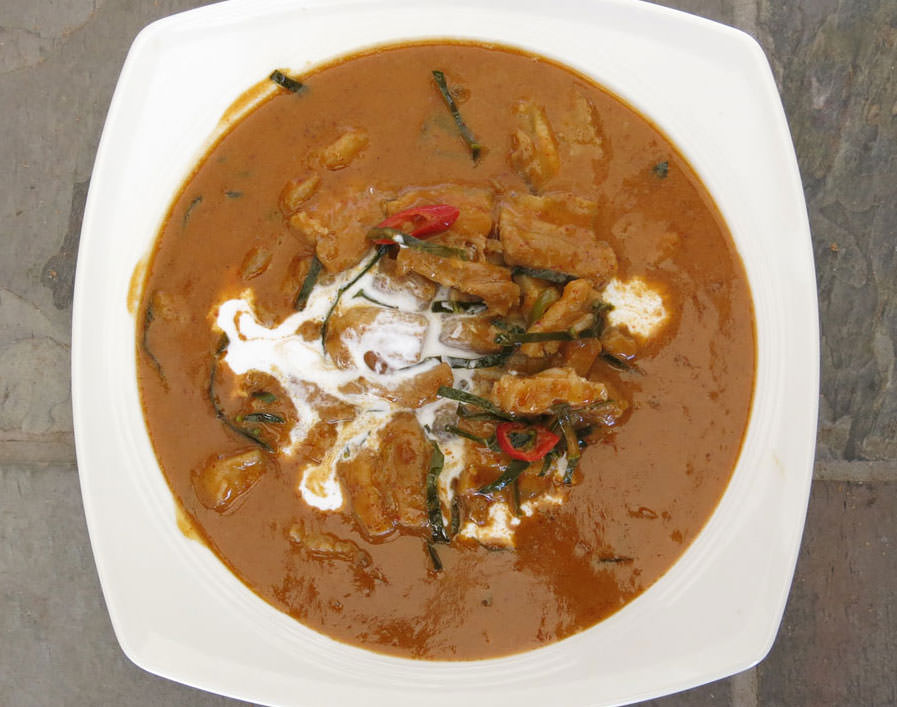 Thai Panang Pork - Mae Pranom
We made this using some pork belly we got at a local grocery store. We sliced it as shown in photo below. Prepared slowly with our new, premium, all-natural panang curry paste from Mae Pranom and the best coconut milk and palm sugar.
---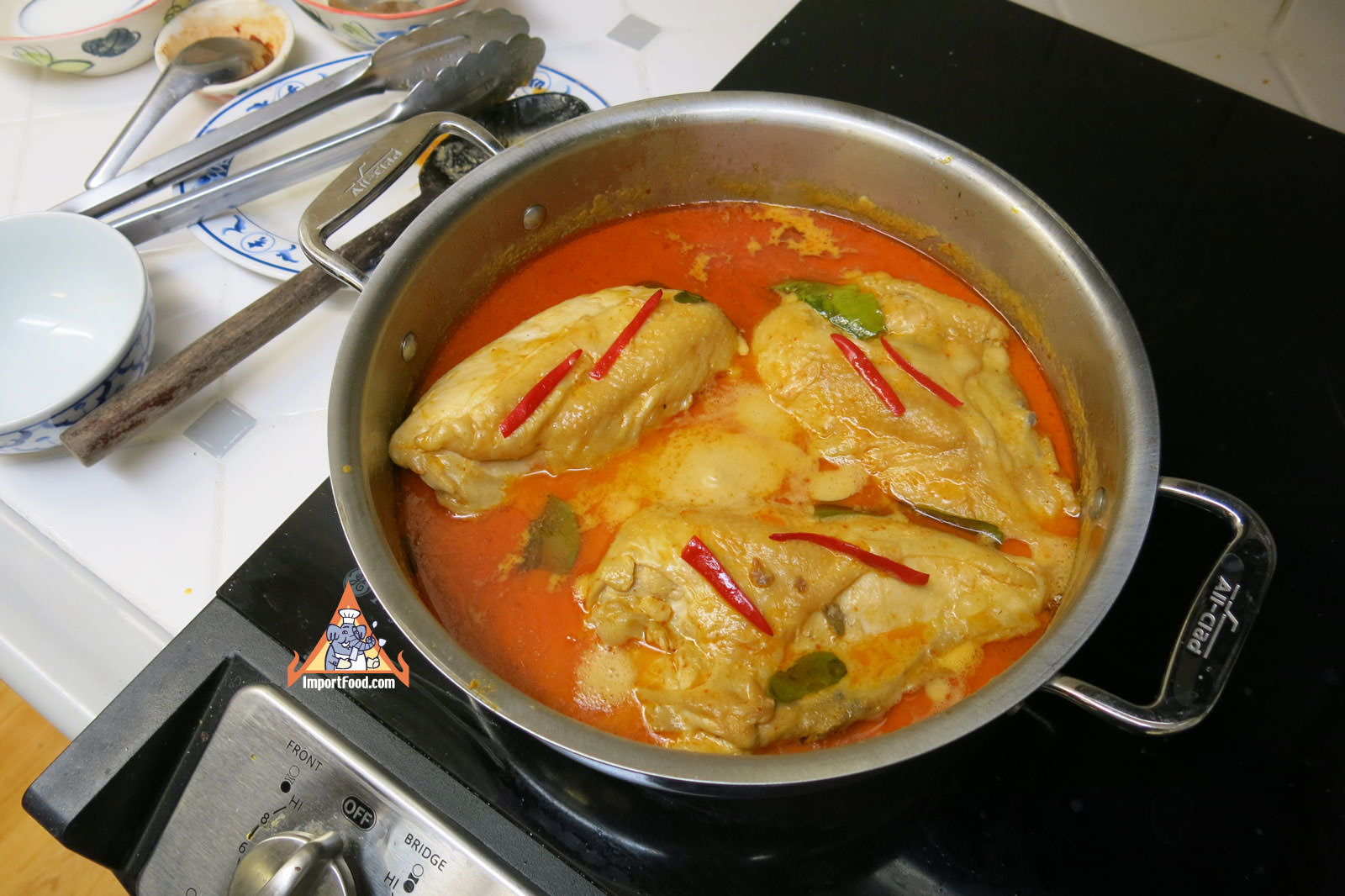 Panang Chicken Breast, 'Panang Oak Gai'
This panang creates a large amount of meat and soup, would be great for potluck. We recommend using large chicken breasts with the bone still on. Panang Oak Gai means 'Panang Breast (oak) of Chicken (gai)'.
---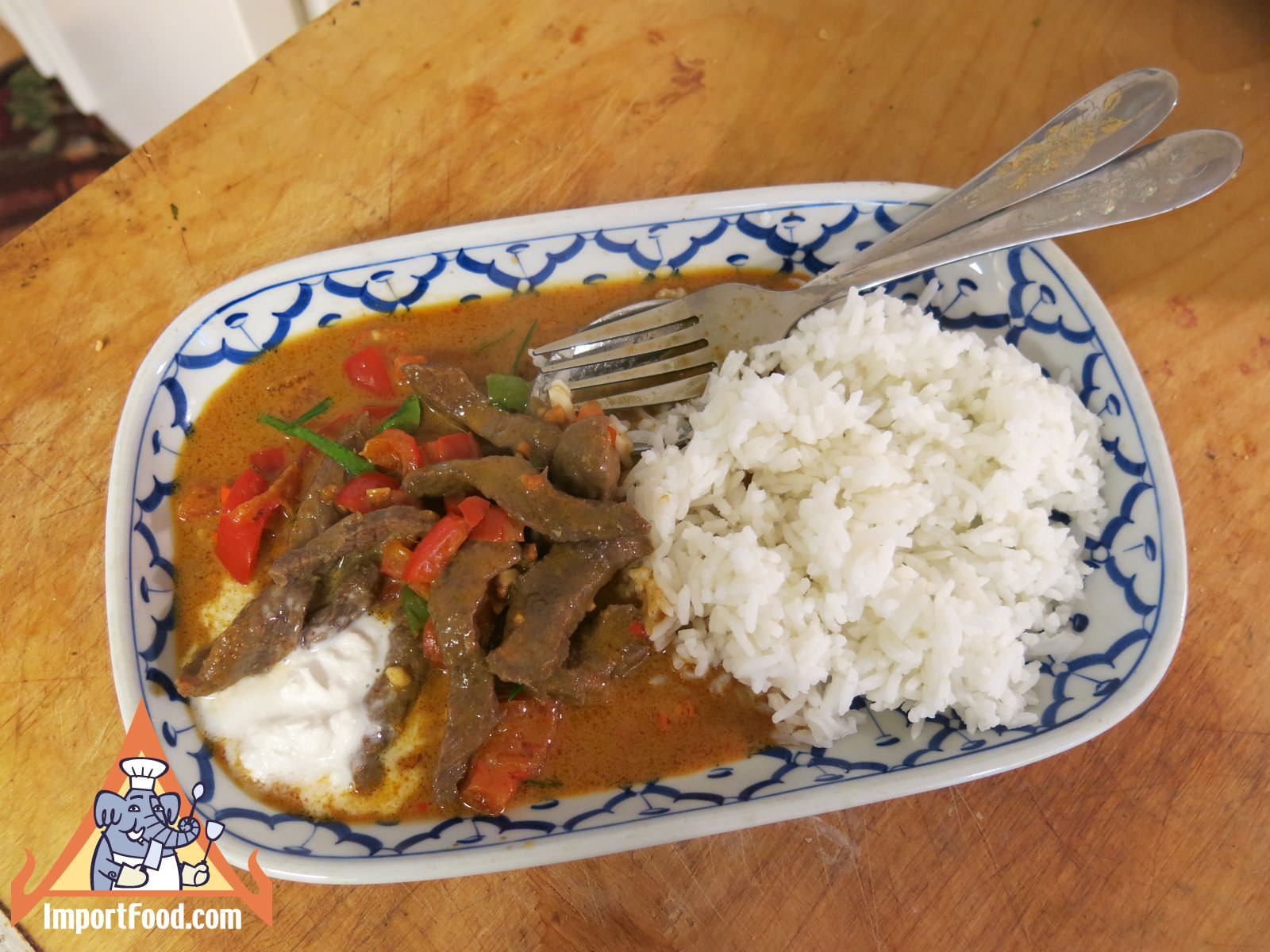 Thai Panang Beef
Panang beef is one of those recipes that everyone loves, whether it's kids or grandparents, college students or anyone else from any country in the world. Rich herbal flavors inspired by Indian influence in Thailand, and adapted to give it a unique Thai flavor.
Unlike some Thai recipes that take a great deal of time to prepare, a delicious panang can be made in minutes using a handful of key ingredients. Here we've prepared a simple recipe that's sure to be a popular favorite. It's best prepared with the highest quality coconut milk with higher fat, such as our 100% pure Chaokoh coconut cream.
We also have a recipe for panang chicken but beef is probably the best way to enjoy panang. In photos below, notice we demonstrate making panang beef on two different occasions, the second time we usedchee fah chile peppers in addition to red bell.
---
---
We also offer the following Thai curry paste
---
See our detailed report on how to make Thai curry paste, and the health benefits.
---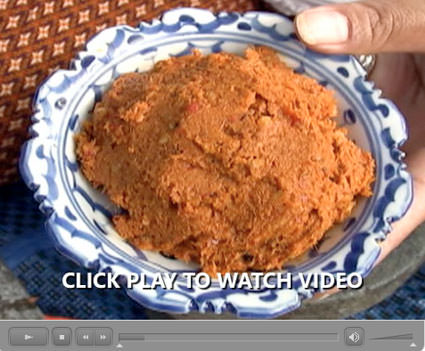 Video: How to Make Thai Panang Curry Paste from Scratch
Video: Thai Street Vendor Prepares Penang Pork
---
Simple Panang Beef
Summer Picnic Favorite.
Panang Beef doesn't require a lot of ingredients and we made a splendid version at a local beach on the picnic table with a Coleman stove. Recipe below.
Low heat with Coconut Cream
Slowly Heat Coconut Cream
Add Curry Paste Stir and heat Until Oil Forms
Dollop of Thick Coconut Cream
---