Yellow Sour Curry Paste, Maesri
Yellow Sour Curry Paste, Maesri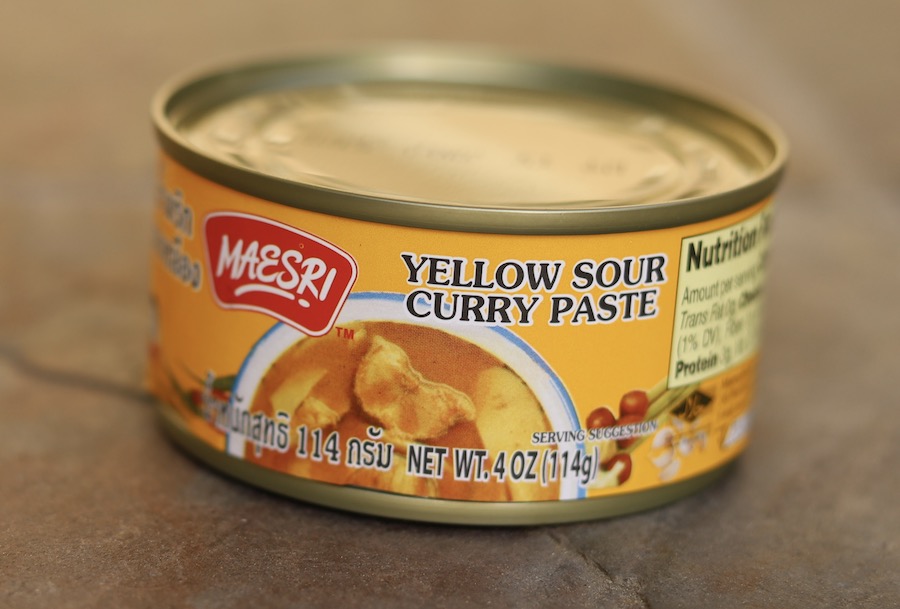 Add to cart
4oz - $2.89

Maesri Yellow Sour is made from cobia fish caught in the Gulf of Thailand, and this is in our opinion the most delicious curry from Maesri.
Slightly spicy, and loaded with rich flavor, the consistency is also smooth.
We served it with a can of sliced bamboo, see pictures below.
1/ heat 4 cans of water and add 1 can of Maesri yellow sour curry paste.
2/ in a separate pot, combine 1 can sliced bamboo with cold water, bring to a boil, then strain the bamboo and rinse with cold water
3/ add bamboo to your yellow sour curry
4/ on a cutting board, slice one fresh Thai chilli pepper (optional), a slice of fresh galangal (optional) and cut a piece of fish (optional). Add this to your yellow sour curry paste and cook for 5 minutes
5/ garnish with sliced spring onion and serve with steamed jasmine rice
The taste is rich in herbs and spices, and not nearly as fattening as curries made with coconut base.

The convenient and inexpensive 4 oz can is enough for 4 small servings.

Ingredients: cobia fish, tamarind juice, dried red chilli, salt, sugar, fresh turmeric, msg.
Product of Thailand.
Fish, Chilli and Galangal
---
We offer the following premium quality Maesri products