Somen Noodles, 16 oz pack
Somen Noodles, 16 oz pack
Add to cart
16oz - $4.89

Thin white noodles made from wheat flour are perfect for making Khanom Jin, the classic Thai dish of noodles topped with a colorful fish curry and an abundance of fresh green vegetables. Also see them pounded up in a jungle salad, Thai style.

These are top quality noodles, each 16 oz pack contains 5 neat bundles.

Ingredients: Wheat flour, salt, water. No additives. Product of Japan.

We also offer Japanese Udon and Soba noodles.
---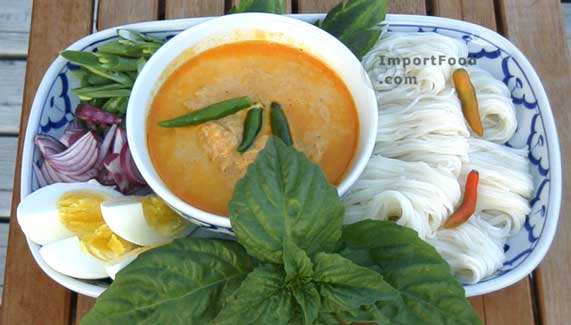 Noodles with Fish Curry, 'Khanom Jin'
This is a classic Thai dish often served at celebrations such as an engagement or wedding party, or other auspicious occasion. It's time-consuming and often prepared by a well-trained expert. The unique, fragrant aroma of krachai adds to the mystique. Take it slow and easy when you prepare it, and enjoy the process. We know you'll enjoy the delicious result.
---