Noodles with Fish Curry, 'Khanom Jin'

Noodles with Fish Curry, 'Khanom Jin'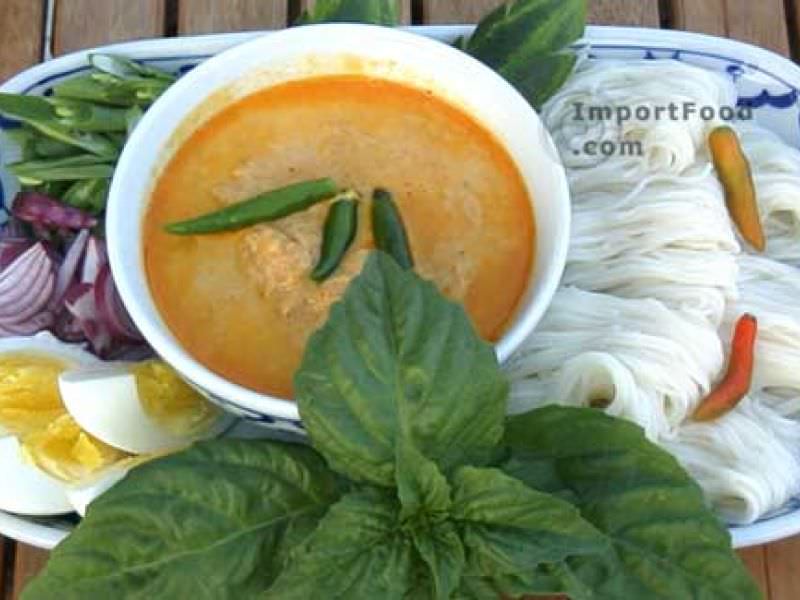 This is a classic Thai dish often served at celebrations such as an engagement or wedding party, or other auspicious occasion. It's time-consuming and often prepared by a well-trained expert. The unique, fragrant aroma of krachai adds to the mystique. Take it slow and easy when you prepare it, and enjoy the process. We know you'll enjoy the delicious result.
Method for Noodles with Fish Curry, 'Khanom Jin'
Boil the fish for 10 minutes, drain and set aside. If you prepare this with chicken instead of fish, boil and reduce heat, let cook 45 minutes.
Saute garlic and shallots in a frying pan over medium heat until lightly browned and fragrant. Transfer this to a mortar and pestle, add krachai powder and whole krachai and red curry paste. Pound until smooth. Add the cooked fish (or shredded chicken) meat. Continue pounding until very well mixed. Set aside.
Heat coconut milk over medium heat in a saucepan. Add the pounded mixture a little bit at a time and stir slowly, bring to a boil. Add fish sauce and stir, then remove from heat.
In separate pan, boil three cups water and 1/2 tsp salt, then add somen noodles. Cook 2 minutes, drain and rinse in cold water.
Place the noodles on serving plate (see picture). Spoon curry sauce over noodles and serve with a bed of fresh green crunchy vegetables. We suggest fresh mint leaves, generous amounts of Thai basil, bean sprouts, chopped long beans. We also suggest serving this with a hard-boiled egg as shown below and garnish with fresh chile peppers (Thai chile or other variety with medium-high heat).
Red curry added to mortar

Reviews