Knorr Chicken Bouillon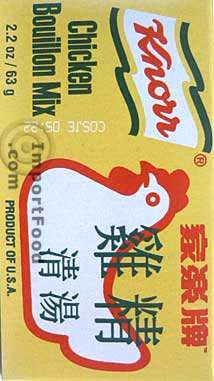 Knorr brand of Switzerland has offered fine quality products that have been popular throughout Asia for years.
This is a box that has inside six tasty chicken bouillon cubes, each wrapped in foil. Simply add one cube in 2 cups of water.
It's useful in many recipes found in our recipe section.
Ingredients: salt, hydrogenated palm oil, msg, corn starch, autolyzed yeast extract, sugar, onion powder, natural and artificial flavor (egg), turmeric, garlic powder, caramel color, spice, dehyraded parsley, citric acid, wheat flour, disodium guanylate, sulfur dioxide.

We also offer Maggi Seasoning.