Young Coconut Cream Pie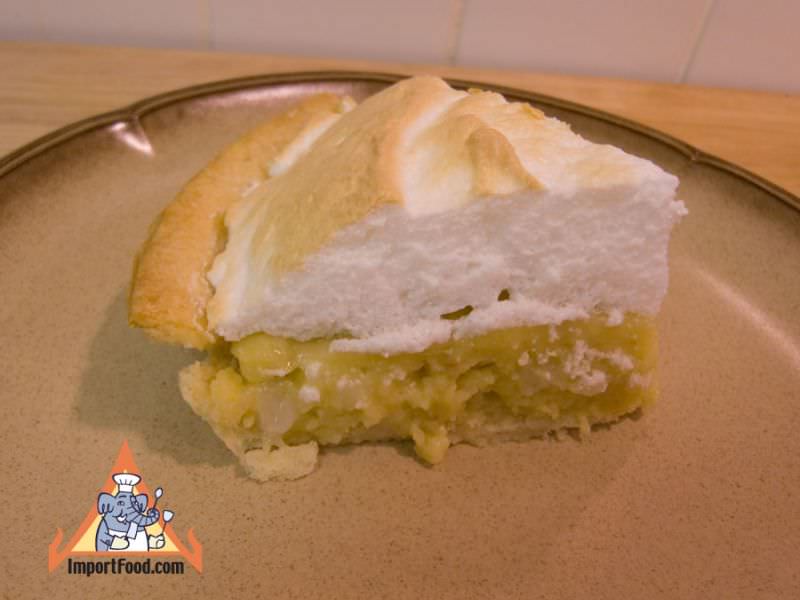 The November 2010 issue of Saveur Magazine features this recipe from a pie shop at the Charin Garden Resort in Chiang Rai, Thailand. We prepared the recipe at home using fresh young coconut, with very good results. You will need two young coconuts to make this recipe, because one young coconut yields about 1/2 cup meat and 1 cup water.
Ingredients
For 4 Person(s)
Ingredients
1 1/2

Cups

Flour

3/4

Teaspoons

Salt

10

Tablespoons

Unsalted Butter, cut into 1/2'' cubes and chilled

1

Cup

Sugar (use less if desired, see note)

6

Tablespoons

Cornstarch

4

Eggs, Separated

1

Cup

Chopped Young coconut meat, plus 3/4 cup fresh coconut water from inside coconuts

3/4

Cup Coconut Milk
Buy ingredients for this Recipe
Method for Young Coconut Cream Pie
1. Whisk together flour and 1/4 teaspoon salt in a bowl. Rub 8 tablespoons butter into flour until pea-size crumbs form. Add 4–5 tablespoons ice water; stir with a fork until a dough begins to form. Briefly knead dough; flatten into a disk and wrap in plastic wrap. Chill for 1 hour.
2. Heat oven to 425°. Roll dough into a 12'' circle about 1/8'' thick. Place in bottom of a 9'' pie plate; trim edges to fit. Freeze for 20 minutes. Prick pastry with fork; line with parchment. Fill pie with dried beans; bake until set, 15–20 minutes. Remove paper and beans; bake until golden, 8–10 minutes. Let cool. Reduce oven to 350°.
3. Meanwhile, whisk together remaining salt, 3/4 cup sugar (try using 1/2 cup sugar instead, for a less sugary, and in our opinion more delicious result), and cornstarch in a 4 quart nonreactive saucepan along with yolks, coconut meat and coconut water, and coconut milk. Bring to a boil; cook, stirring, until thickened, 1–2 minutes. Remove from heat; stir in remaining butter and vanilla. Pour filling into pie shell; set aside.
4. In a bowl set over a saucepan of simmering water, whisk remaining sugar and whites until a thermometer inserted into mixture reads 120°. Remove from heat; whisk whites to stiff peaks. Spread meringue over pie. Bake until golden brown, 12–15 minutes. Let cool.
Crack the coconut near the top
Young coconut pie sweet & delicious

Reviews
People in this conversation