Thai Fried Clams in Roasted Chile Paste, 'Hoy Lai Ped'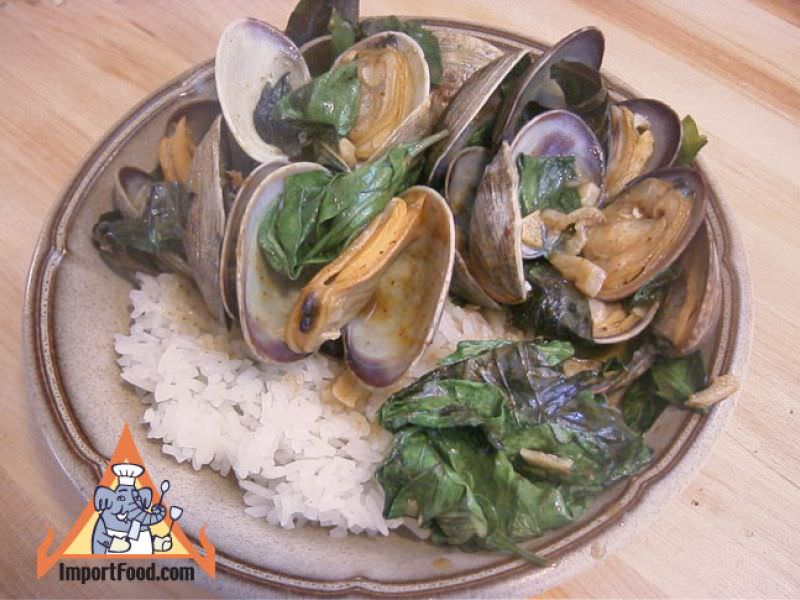 Roasted chile paste, or "prik pao" is one of Thailand's most common staple food items, and in our opinion nothing complements shellfish like prik pao. The two go hand-in-hand.
This recipe tastes great, in our opinon, with an extra-generous quantity of fresh Thai basil. After adding it to the hot pan it shrivels down, so prepare more than you think you'll need. We like to use a bit less chile peppers than called for, but if you like your clams really spicy (like many people) add more. If you can find red chile peppers in season, this is a nice recipe to use red for the attractive color. We used the more common green Thai chiles here however, and the taste is just the same.
Method for Thai Fried Clams in Roasted Chile Paste, 'Hoy Lai Ped'
Clean the clams by setting in the fridge in salt water overnight, or if you have less time just set them under cold running water for a few minutes to rins well.
Heat the oil in wok, add the clams and garlic and cook until the clams open slightly. Add the fresh chilies, chili paste and soy sauce, mix well, then add chicken stock. Stir in the basil and serve with jasmine rice.

Reviews