Wonton Soup, Thai Style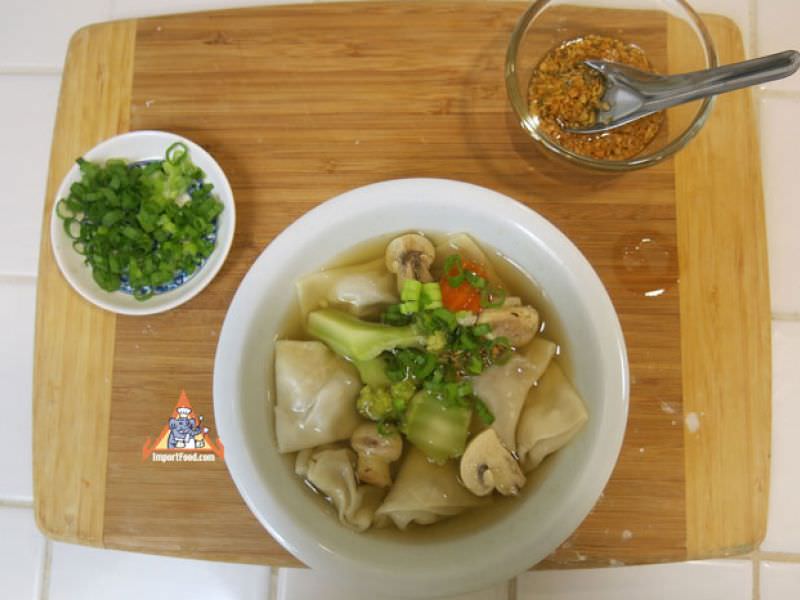 Our basic wonton soup uses Thai pepper powder and soy sauce, then we use the same wrappers to create a spicy shrimp version.
The basic version is referred to as "baby food" in Thai because it's soft and easy to eat.
Method for Wonton Soup, Thai Style
Put 1 teaspoon finely chopped garlic into a saucepan, heat with oil until fragrant and light golden color. Remove from heat and let it cook a bit longer.
In a mixing bowl, thoroughly combine ground pork, 1 tablespoon thin soy, Thai pepper powder, coriander seed powder, and the rest of your garlic.
In a soup pot, start bring soup broth to boil. Reduce to medium/low heat, add vegetables. Season with remaining thin soy sauce and sugar. Cook until vegetables get soft, remove from heat.
Prepare wontons by folding as shown in pictures. Wet your finger to seal around the side before you start to fold it. Cook in boiling water until the wontons float to the top, this takes about 10 minutes. Put cooked wonton into bowl, then cover with soup and vegetables. Add a touch of fried garlic oil and sliced spring onion.
Place On Wonton Wet Sides

Reviews