Thai Poultry Soup with Pickled Lime, 'Ped Toon Manaow Dong'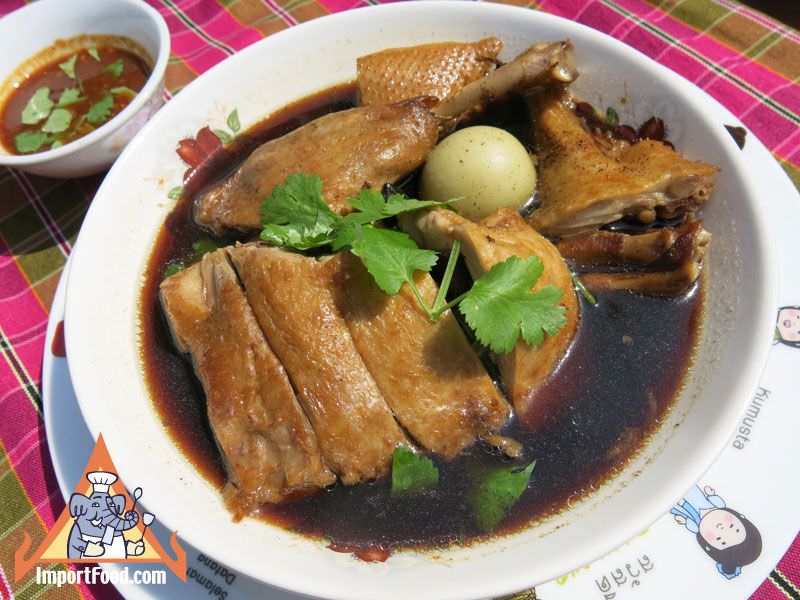 Pickled lime adds wonderful taste and aroma to this delicate Thai-Chinese style soup. The soup is mild, a contrast to the typical spicy-sour combination, and has a unique aroma. This Thai classic is served especially at celebrations. This recipe is made with either duck or chicken, it really doesn't matter. If using chicken, cornish game hen works great. Wax gourd is readily available in many supermarkets throughout the summer. If you decide to add the wax gourd to this recipe (it's optional but recommended) be sure to peel it, slice lengthwise and remove seeds, then cut into chunks about 1 inch in diameter.
Ingredients
For 4 Person(s)
Ingredients
1/2

Duck

Approx 2.5 Pound, or equal portion of chicken

4

Cups

Water

20

Black Peppercorns

4

Cloves Garlic

6

Coriander Roots

1

Wax Gourd/Winter melon (optional, see note above)

4

Tablespoons Light Soy Sauce

1/2

Teaspoons

Salt

5

Spring Onions/scallions, cut into 2 inch lengths

Vegetable Oil for frying
Buy ingredients for this Recipe
Method for Thai Poultry Soup with Pickled Lime, 'Ped Toon Manaow Dong'
Remove skin and fat from the poultry and discard. Remove meat from the bones and set aside; reserving the bones. Bring water to a boil in a large pan. Add the bones simmer for 30 minutes. Cut the meat into cubes, about 1.5 inches each. Heat some oil in a pan and fry meat until golden brown, then drain on paper towels. Add meat to the simmering stock. In a mortar and pestle slightly crush the peppercorns, garlic and coriander together, add to the stock. Add all remaining ingredients and simmer for another 30 minutes. Remove the bones. Ladle the soup into bowls and serve.

Reviews