Thai Panang Pork - Mae Pranom

Thai Panang Pork - Mae Pranom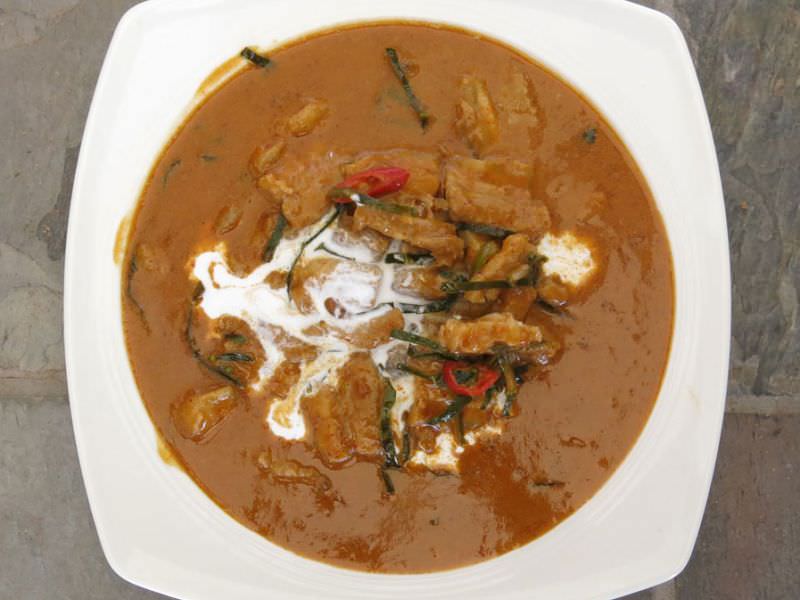 We made this using some pork belly we got at a local grocery store. We sliced it as shown in photo below. Prepared slowly with our new, premium, all-natural panang curry paste from Mae Pranom and the best coconut milk and palm sugar.
Method for Thai Panang Pork - Mae Pranom
Start by frying fresh shallots in the vegetable oil, then reduce heat slightly and add the panang curry paste. Stir-fry until fragrant. Gradually add the coconut milk over medium/low heat, but keep back about 2 tablespoons of the coonut milk to use as a garnish at the end.
Add the pork. Stir until the meat is cooked then slowly add water. Bring it to a boil. Add palm sugar and fish sauce, then let it simmer for awhile (10 minutes or so) until it thickens.
Add thinly-sliced kaffir lime leaves, and sliced red Thai chilli (or bell pepper or other pepper of your choice).
Serve on a plate, and top with coconut milk for a fancy touch.
Serve with Thai Jasmine Rice.

Reviews