Thai Palm Sugar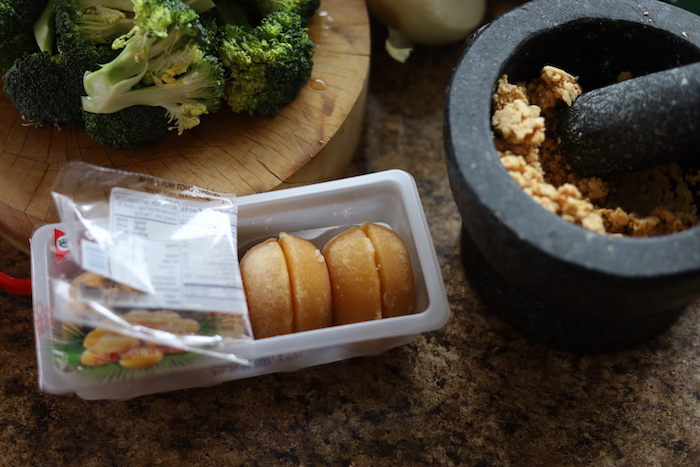 Add to cart
16 oz - $4.89

All natural, pure palm sugar.
In Thai recipes as well as recipes throughout Southeast Asia, palm sugar is used as a natural sweetener. Our palm sugar is the best you can find anywhere, as we import from a premium producer in western Thailand, where the natural sap is collected from cut sugar palms and boiled until a nice sticky sugar remains. The natural sugar is poured directly into little cakes and packaged for easy use (see photos below).
Comes sealed in a modern package as shown, from Aroy-D. The highest sanitary standard, with beautiful consistency, flavor, aroma and color.
It can be also eaten as candy. Consistency is firm but slightly soft, making it more simple to use than the inferior rock hard palm sugar some are selling.
You get 8 small cakes, simply shave off what you need with a knife or use a hand grater (see photos), and it dissolves nicely in the cooking process. Use with curries, gourmet dishes, sauces, and various desserts.
Ingredients: Palm Sugar 100%.
Below are just some examples from our recipe index.
Elle Magazine recommends ImportFood.com for "sexy" palm sugar.
Product of Thailand.
We also offer pure coconut sugar paste.
Part of our Essential Thai Pantry Set

---
Find This Product in the Following ImportFood.com Thai Recipes
Panang Beef (street vendor video included)
Krong Kraeng Krop(street vendor video included)
Massaman Beef - Classic Thai Recipe
Thai Fresh Spring Rolls, "Pa Pia Sod"
Thai Papaya Salad, "Som Tum" (street vendor videos included)
Thai Ice Cream w/Basil Seeds & Chocolate-Ginger Ganache
Thai Yellow Curry Chicken, "Gaeng Garee Gai"
Thai Sticky Rice Steeped in Coconut Milk, "Khao Neeo Moon"
Thai Crispy Stir Fried Noodle, "Mee Krob" (street vendor video included)
Southern-Thai Style Som Tum, "Som Tum Trang" (street vendor video)
Massaman Hashbrowns (Thai/American Style)
Betel Leaf Salad with Shredded Carrot
Thai Prawn Satay with Cucumber Salad
Thai Chicken Satay, "Satay Gai" (street vendor video included)
Thai Sweet and Sour Spareribs, "See Klong Priow Wan"
Mock Bean Pods with Shrimp Filling and Sweet Filling, "Khanom Thua Paep"
Chicken stir-fried with Green Curry, "Gai Pad Khiowan"
Thai beef noodle soup, "Kuaitiao Neua"
Assorted Thai table condiments
Son in Law Eggs, Khai Look Koei
Thai rice pancake with shrimp, "Khao Kriab Pak Moh Sia Koong"
Thai red chicken curry, "Gaeng phed gai"
Thai vegetables in coconut milk, "Phak Tom Kati"
Spicy Thai Chicken with Fresh Thai Basil, Gai Pad Grapao"
Thai Rama Chicken, "Praram Long Song"
Northern Thai Pork Curry, "Gaeng Hanglay"
Thai peanut sauce, "Nam jim satay"
Vegetables with Tofu Dip, "Pak Namjim Tofu"
Red Curry Chicken with Bamboo Shoot
Thai Rice Balls in Warm Coconut Milk, "Bua Loi"
Thai green chicken curry, "Gaeng Khiao Wan Gai"
Stir Fried Tamarind Shrimp, "Goong Pad Nam Makham Piek"
Thai Green Mango with Sweet Fish Sauce, "Mamuang Nampla Wan"
Thai Barbeque Pork with Lemongrass Marinade, "Mu Yang Takrai"
Pork Leg on Rice, "Khao Kha Moo"
Roasted Duck & Red Curry, 'Kaeng Phed Ped Yang'
Pumpkin in Coconut Soup with Shrimp, "Phaktong Tom Kati"
American-Thai Fusion: Palm Sugar Cherry Pie
Thai Pepper Steak, 'Neua Pad Prik'
Thai Green Curry Salmon and Wild Rice
Chilli Jam, "Prik Pao" (street vendor video included)
---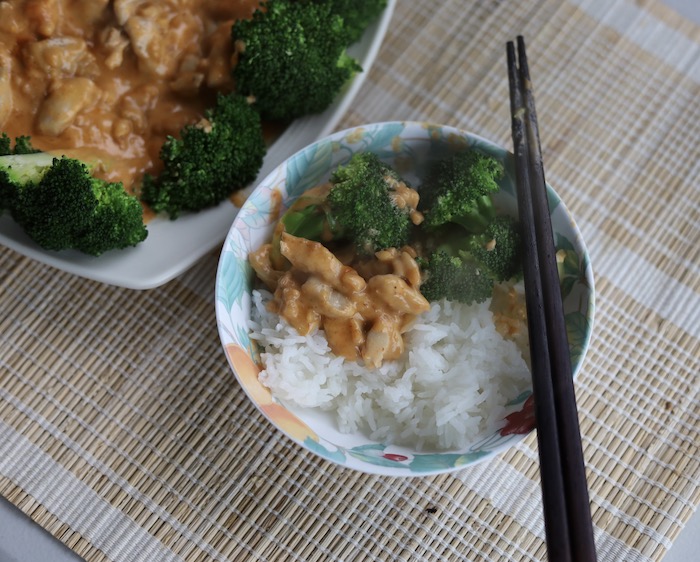 Thai Rama Chicken, 'Praram Long Song'
This dish dates to the time of King Rama 5, about 140 years ago. Originally it was made with beef, but nowadays pork and chicken are often used. Praram is a name for the God Rama, or King Rama, in The Ramkian. The Ramakian is the Thai version of an Indian Hundu epic written 2000 years ago. Long Song translates as 'take a shower'.
Praram Long Song is a popular dish in American Thai restaurants, but not often found in Thailand. Americans are fond of the peanut sauce, and in our recipe it's quite delicious. Sometimes called Swimming Rama, you can use broccoli, spinach, or other greens of your choice.
---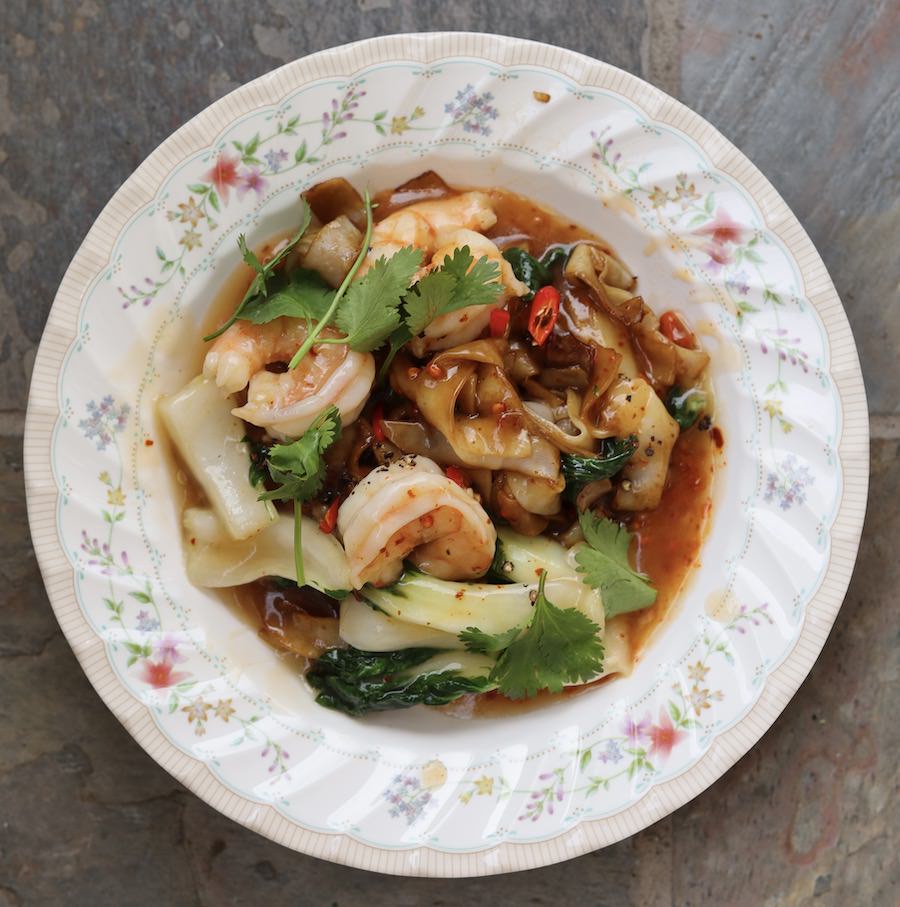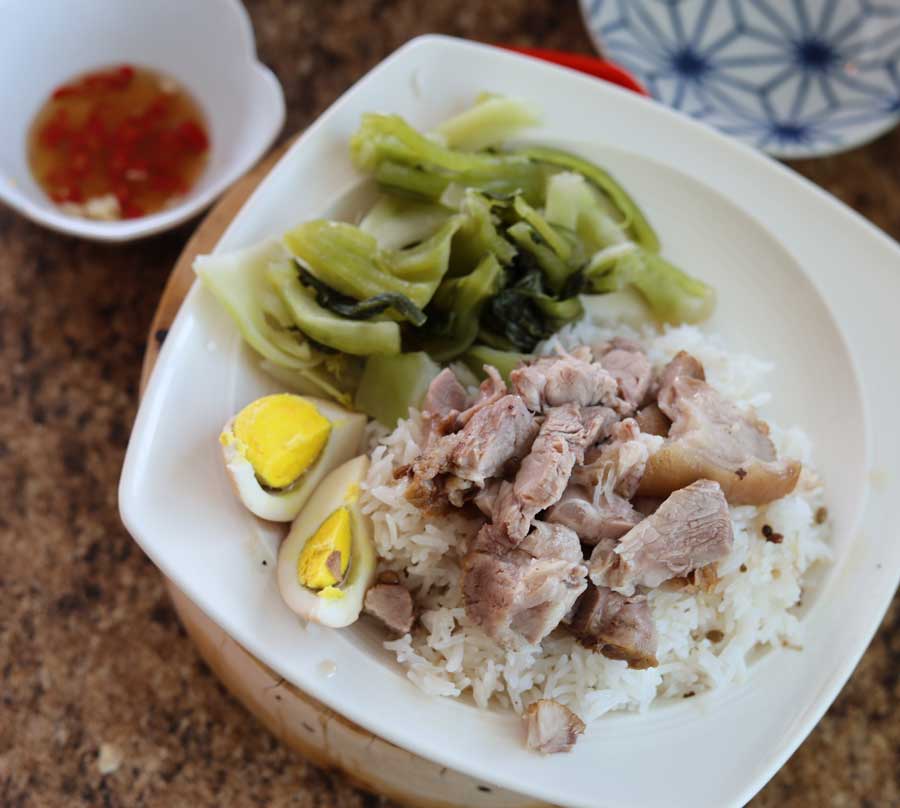 Pork Leg on Rice, 'Khao Kha Moo'
Khao Kha Moo is not only a favorite of Thailand's Prime Minister (a celebrity chef), it's also one of those ubiquitous dishes served by street vendors throughout Thailand. If you think it's hard to make at home--it's not! The recipe below makes a wonderful khao kha moo but be sure you get the right piece of meat. Ask a butcher for a pork shank, fresh. You must get it "fresh" which means it has not been cured or smoked. Even if it's frozen that's fine just state "fresh" to denote that you don't want it already smoked or cured. Hock (cut from the shoulder) is also a cut that works fine. Try to get a front leg, as the back legs contain more fat and less meat.
---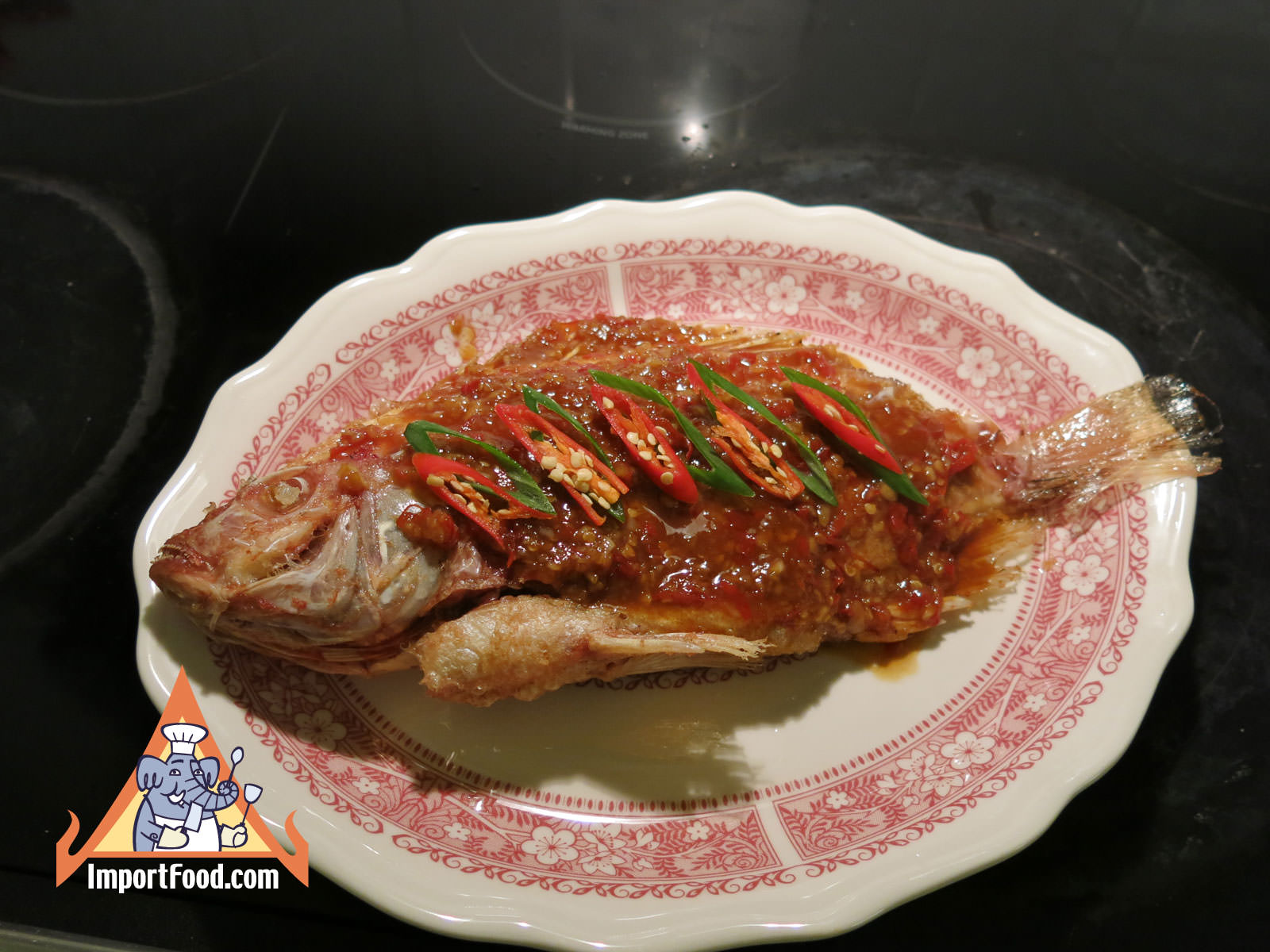 Thai Crispy Fish Topped with Chili Sauce, 'Pla Rad Prik'
This is a very spicy crispy fish that's surprisingly simple to make using just a few ingredients. It's best to use fresh red Thai chile peppers. Regarding the fish, here we used tilapia you can use any fish such as cod, catfish, trout, salmon, etc. We had the fish cleaned and gutted but left the head on. You may prefer to remove the head, or even use fish fillets -- it doesn't matter.
Note that when you've finished frying your fish, put it in the oven at 350F for 10 minutes or so as you prepare the sauce, as this will make it even more crispy.
---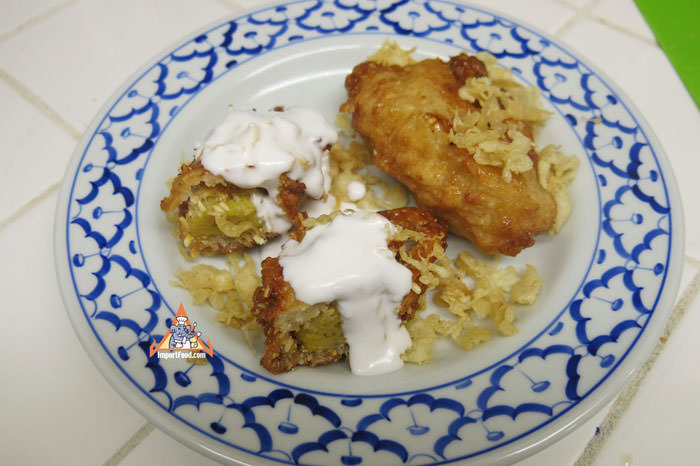 Khao Mau Tod - Young Rice Fried Banana Fritters
Khao Mau is a very tradtional sweet banana desert that's made in the Northeastern (Isan) region of Thailand, by families who are harvesting new crop rice.
Typically they will use rice that was harvested that day (still wet, and slightly green) but we use regular sticky rice here with good results.
---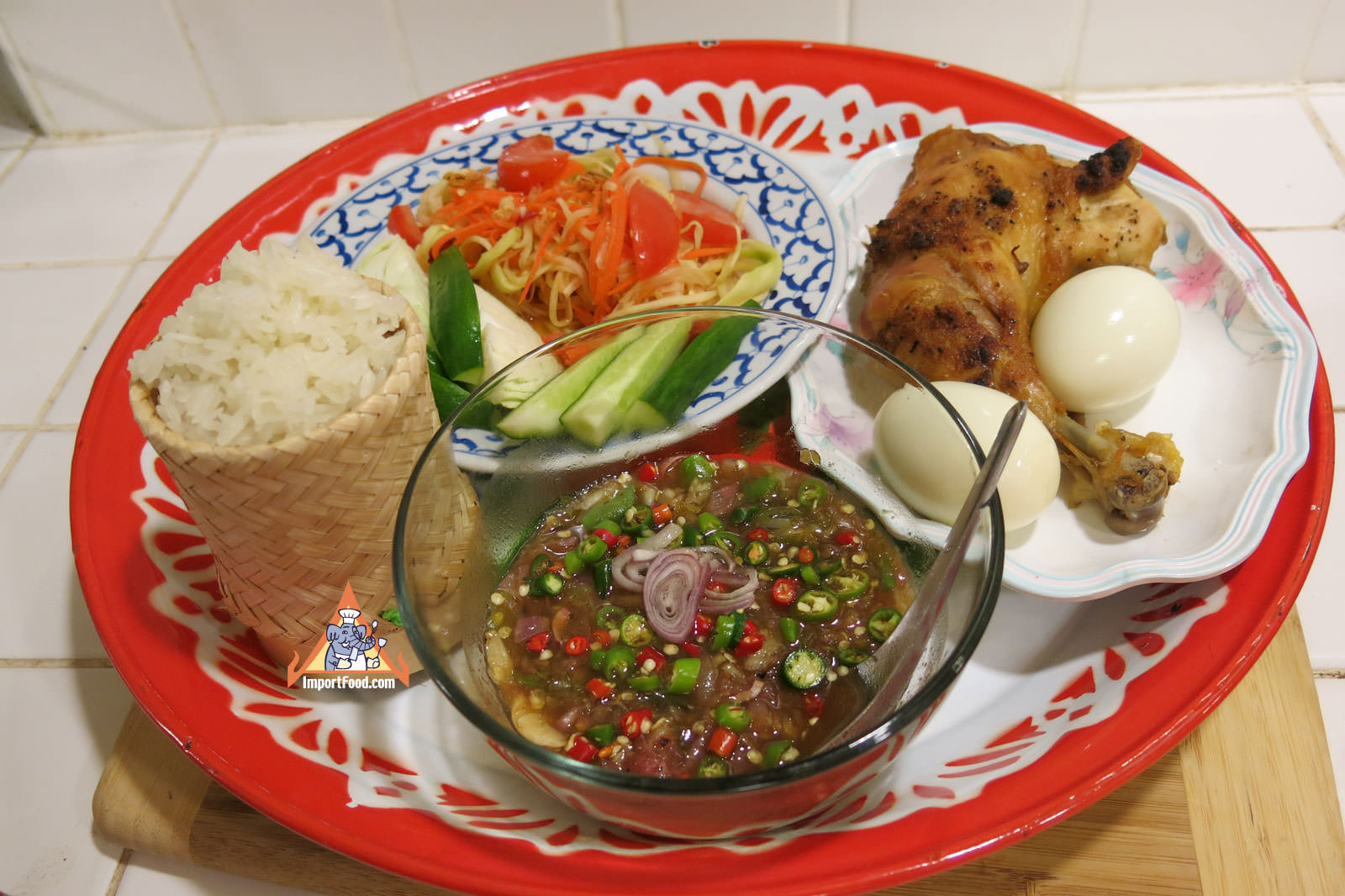 Thai Sweet & Sour Sauce, 'Nam Jim Priao Wan'
This is a simple, Thai-style, sweet and sour sauce. Note that it isn't pink! The sauce is spicy and has complex flavors.
Serve with any grilled meat. We enjoyed it here with chicken, som tum, sticky rice, and hard-boiled eggs.
---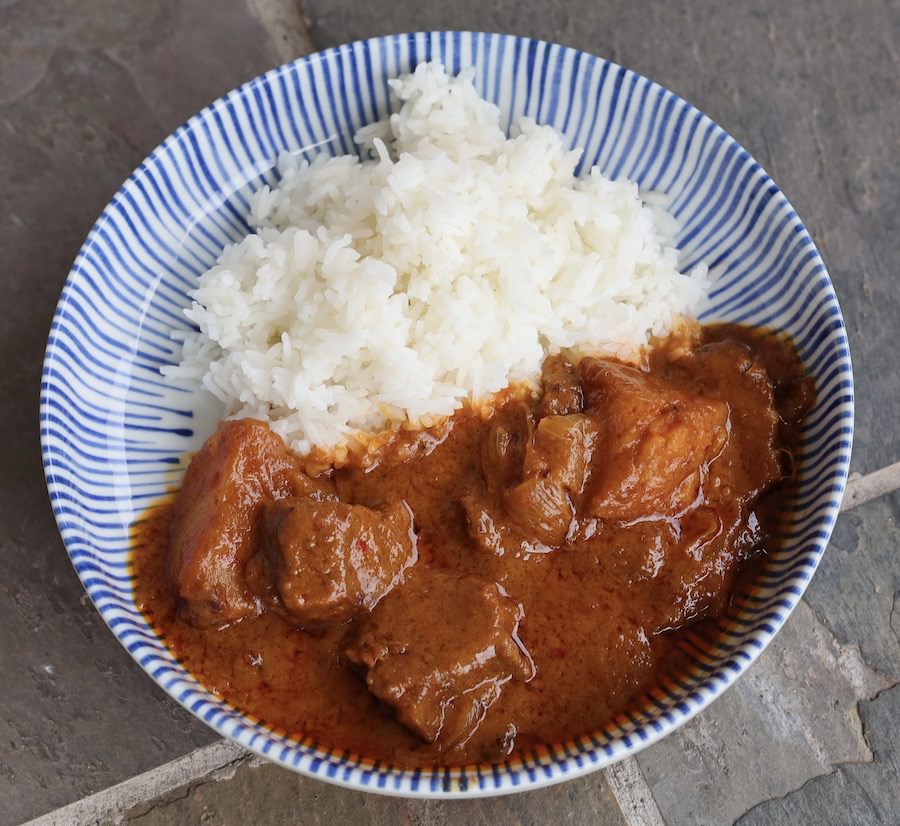 Thai Massaman Beef - Gaeng Massaman
This is a new version of Massaman beef that takes advantage of the premium quality massaman curry paste now available from:

Aroy-D and Mae Ploy massaman curry paste
Both brands create delicious massaman using this recipe.
Massaman cooked slowly with tender beef is one of our personal favorites, and many people who call us to order mention that they love massaman beef.
This massaman is simple, and loaded with flavor.
---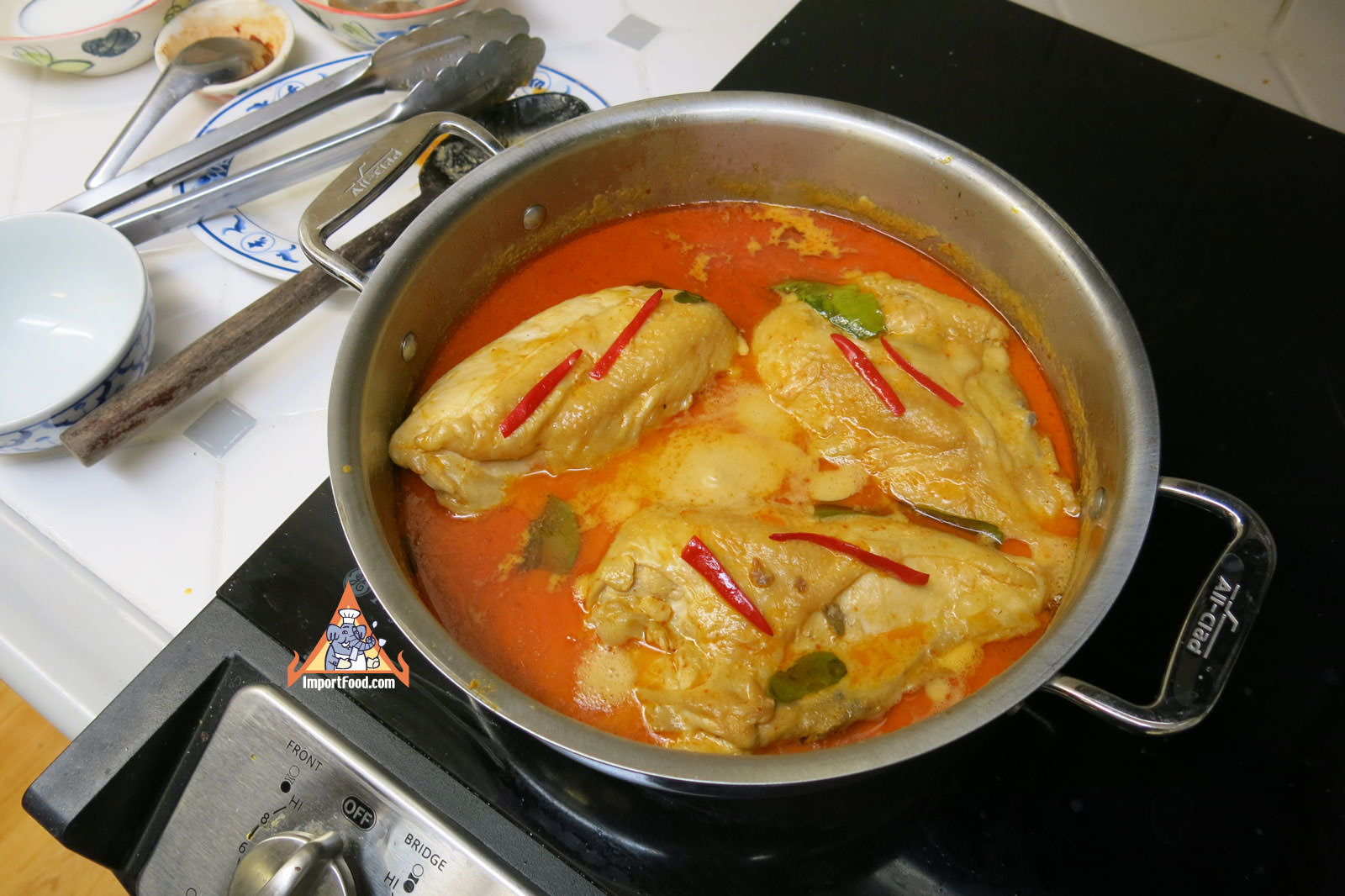 Panang Chicken Breast, 'Panang Oak Gai'
This panang creates a large amount of meat and soup, would be great for potluck. We recommend using large chicken breasts with the bone still on. Panang Oak Gai means 'Panang Breast (oak) of Chicken (gai)'.
---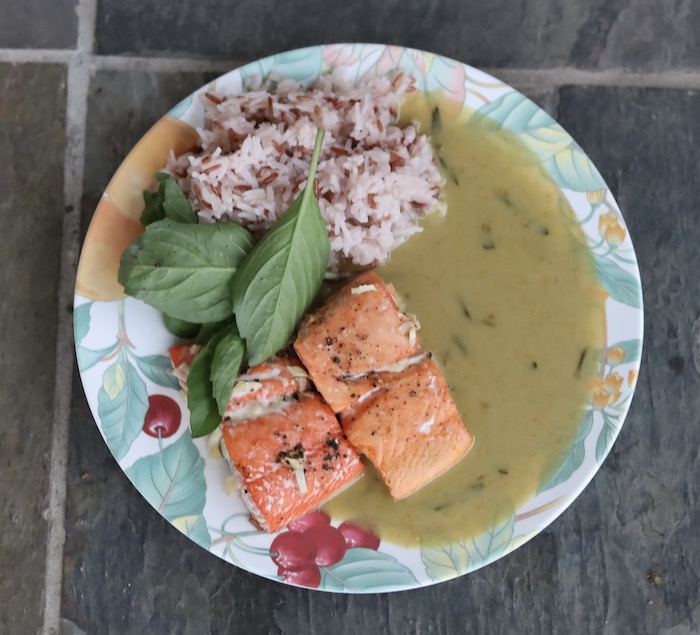 Thai Green Curry Salmon and Wild Rice
For years we've sold Thai green curry paste made of natural spices. Here we've created a very basic Thai green curry, true to authentic flavor but also lacking fiery chile heat because sliced chiles are not added. We ladled the curry over a nice blend of rice and honey-drizzled salmon. We used wild king and sockeye salmon, as shown. You can use any seafood. Salmon is a great choice because honey-flavored salmon tastes so good with the green curry.
We like serving this with a combination of red and jasmine rice, as the wild rice character goes well with seafood.
---