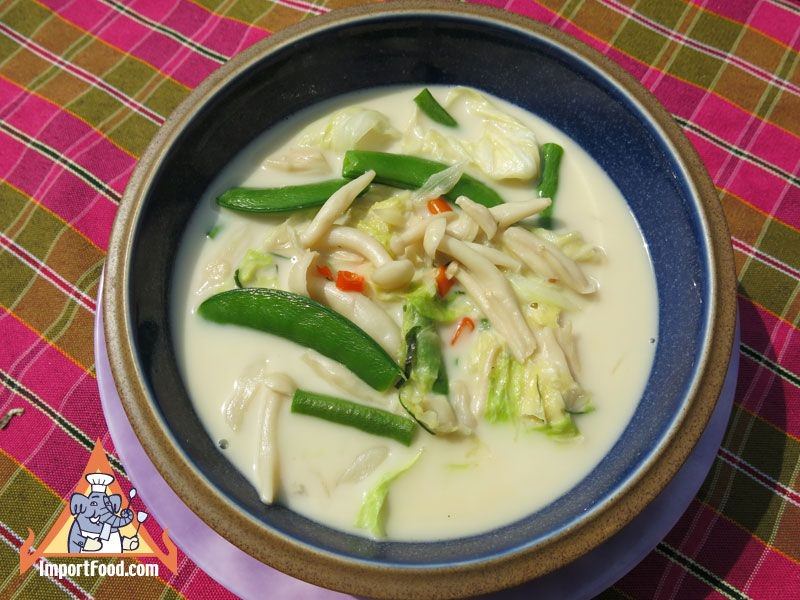 Hello again and thanks for visiting ImportFood.com. Today we feature a new authentic Thai recipe for a rich vegetable coconut soup that's mildly spiced and very delicious. We have a new shipment of Green Label dark sweet soy sauce for the first time (since we started ImportFood.com in 1999).
We also feature a new Thai Street Vendor Video, a highly skilled vendor perfectly peels fresh coconut on a tamarind cutting board.
See it all and more below. Thanks for visiting.
---
NEW Recipe: Phak Tom Kati
Gently boiling vegetables in coconut milk seasoned with green peppercorn and other spices, this soup is much more delicious than you first expect. Check out this authentic recipe that's also vegetarian. Our newest Thai recipe

---
NEW: Dark Sweet Soy (Green Label)
Healthy Boy has the highest quality soy sauces in various formulas, often depending on regional tastes.
Here is the "Green Label" dark sweet soy which we've known about but haven't offered until recently.
According to Healthy Boy, this sauce give your dish good color and sweet taste, adds a fragrant aroma. Add to dishes that you need color with sweet taste, to make that dish more fragrant and delicious. Use it in slow cooking methods, sauté, marinade or add to five spice soup (see recipe at link for Kua Chap) to enhance flavor and color.
​
All natural, made using the natural fermentation method.
​
---
​Amazing Elephant Tom Kha - Combo Pack is Back
Last week we made a brand new batch, a small batch all cut by hand using fresh (not frozen) ingredients. We are proud of the final result -- taste is excellent. Perhaps our best batch ever.
Back by popular demand is the Combo Pack (5 pouches each style) for the same low price we offered before when it was on special.
---
New Street Vendor Video: Perfectly Peeled Thai Coconut
In our newest video a vendor uses a machete knife and a flexible knife to perfectly peel a young coconut. Imagine how much practice that takes to get just right. Watch the master in action.

---
In Every Street Vendor's Kitchen: The Thai Tamarind Cutting Board
Look at every vendor in Thailand and they'e got one of these blocks, shown in action above in our new video for peeled coconut.
Solid block of end-grain hardwood from a tamarind tree. his round slice from the center of a tamarind tree is about 10.5" in diameter (most are 11") and an impressive 2+" thick. Get one now, as we usually sell the 9.5" only but our new shipment has larger boards.
---
Thai Brown Jasmine Rice
A healthy alternative to white jasmine rice, with the same wonderful aroma. This is premium quality jasmine rice has not gone through the final stage of polishing, so it still contains the outer layer of rice bran.
We offer top quality Royal Umbrella brand, in the sealed airtight package as shown. A great price for pure brown jasmine rice.
In addition to lowering cholesterol, the rice bran gives the rice a light tan color and oat-like flavor. You will need to cook it a bit longer than white jasmine rice, and add a bit more water.
We like to cook brown jasmine rice and white jasmine rice together, at the same time, about 50/50 mix. This makes a nice fragrant rice that eats well.
---
April 13 2017: Songkran, Thai New Year.
Every April, with the arrival of extremely hot temperatures, Thai new year is celebrated by recklessly splashing water, and covering faces in wet talc mixture. It's called "Songkran" and we're happy to share it with you.
Here's a Songkran video we created about 10 years ago so the quality isn't up to today's standards but the fun and games are still the same.
Filmed in Kanchanaburi, Thailand.