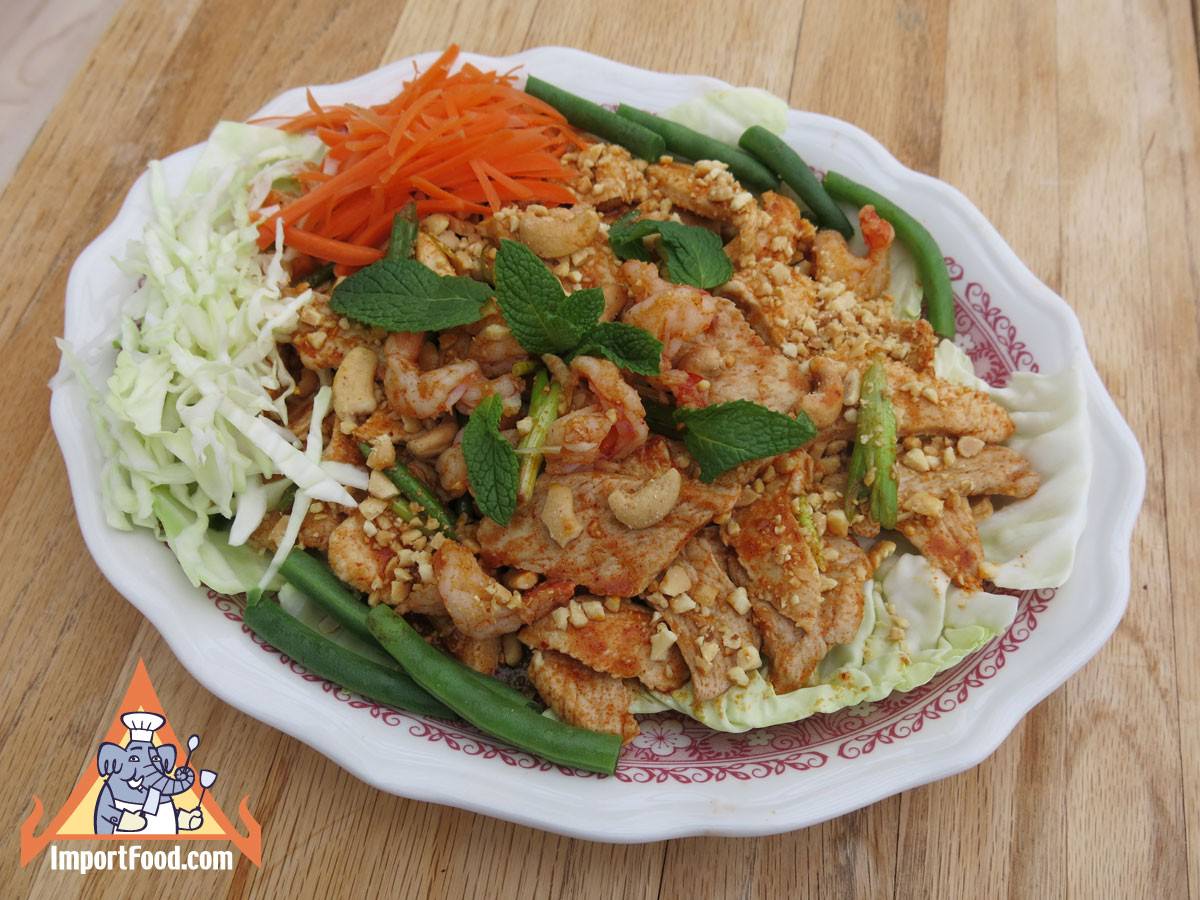 Happy New Year and Welcome to our newly-designed website! ImportFood.com is now mobile-friendly, our Thai Recipes and Street Vendor Videos are neatly organized, and every product page comes with an improved format.
As we enter our 18th year in business, we are always deeply thankful to you our wonderful customers.
---
​NEW Thai Recipe: Gai Pad Prik: Gai = chicken. Pad = stir-friend. Prik = chile. This recipe also uses red curry paste so it could be called Gai Pad Prik Gaeng. This is a good dish for those who don't like really hot food, as it can easily be prepared with less curry paste. See the recipe here and please leave a Comment/Review regarding our new site design.
---
NEW Thai Recipe: Three Friend Salad "Yum Sam Sahai" is a great mix of flavors and popular throughout Thailand. A mix of shrimp, sliced chicken and pork (three friends) with a classic Thai sauce, cashews, mint and salad greens. See the recipe here and please leave a Comment/Review regarding our new site design.
---
Thai Jasmine Rice, NEW CROP 2017 We start shipping New Crop jasmine today, the first "new crop" available and it is extremely fragrant & fresh. Every year, our customers send good feedback on the nice taste and aroma whenever we start shipping new crop. Fresh crop rice is appreciated by connoiseurs for it's deep fragrance and slightly "wetness" when cooked it is wetter especially compared to rice that's been in storage longer than 3 months.
Thai jasmine rice is recognized around the world as having the finest quality--it's Thailand's principle export product. Jasmine rice was developed years ago in Thailand. The agricultural name is "Khao Dawk Mali 105", rice with a distinctive jasmine scent, also known locally as Khao Hom Mali. Khao means rice, Dawk means flower, Mali means jasmine. We think you will agree that there is no substitute for original Thai jasmine rice, and we recommend serving all Thai dishes with Thai rice.
The brand we just received is "Royal Umbrella", what we consider to be the best. It has fantastic aroma, consistency, and we regard this among as the best Thai jasmine rice exported from Thailand. Easily prepared using an electric rice cooker. You can also steam jasmine rice the traditional way--see our street vendor video for a great example. We are pleased to ship it to you for a competitive price. Product of Thailand. We also offer brown jasmine rice, broken rice, sticky rice, and red cargo rice.
---
Cardamom is not commonly used in Thai cuisine except for massaman; however, it's widely used in Thailand for medicinal purposes such as treatment of stomach-aches, constipation and other digestion problems. We just received a nice new fresh batch of cardamom from Thailand's Hand Brand.
This exotic spice is commonly used in Danish pastries, Scandinavian spice cakes and our recipe for cardamom waffles, Saudi Arabian coffee, North African and Indian cooking and in spice blends such as garam masala, curry powder, and berbers.
Cardamom is a dried, unripened fruit from a perenial plant. Enclosed in the fruit pods are small brown, aromatic seeds. Product of Thailand.
---
Healthy Boy, Dark Sweet Soy Sauce. This is a thick sweet soy sauce, used in a variety of Thai recipes (see here for dark sweet soy sauce recipes). Our Korat-style Stir Fried Noodles, "Pad Korat" is deliciously sweet & slightly salty thanks to the soy sauce, and very spicy at the same time. A good example of the kind of flavors you can get with this product.
Our Healthy Boy brand is a widely used soy sauce in Thailand, known for the very best quality standard. Please see our feature story on how soy sauce is made.
Ingredients: refined sugar, water, brown sugar, glucose syrup, soy sauce. No Preservatives. Glass bottle. Product of Thailand.
---
Thai Street Vendor Video: Shrimp Cakes, Tod Mun Goong. In this video we demonstrate how to make Thai fish cakes, a signature dish of Thailand. Very simple, and so delicious.
---
It's All In The Pouch. After years of development and investing in America, we are happy to introduce this. Ready-to-eat, premium quality, authentic and delicious Tom Kha soup made in small batches using the highest quality ingredients.
Amazing Elephant brand puts everything in the pouch and cooks it to perfection.