New Thai Recipe Update May 3 2017

New Thai Recipe Update May 3 2017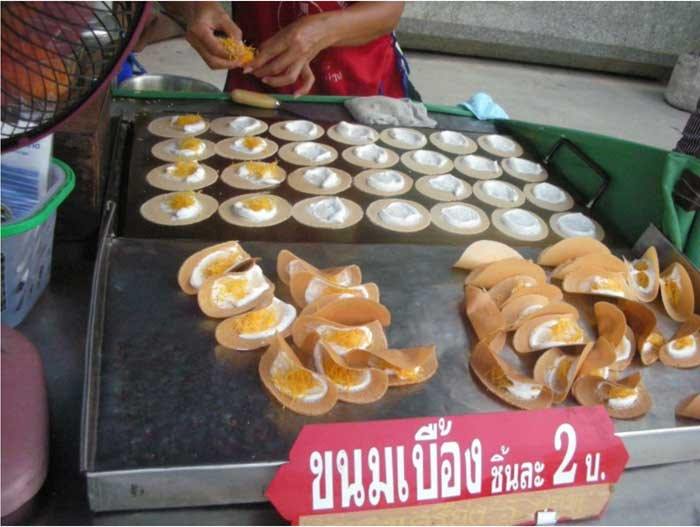 Hello again and thanks for visiting ImportFood.com. Today we feature Khanom Buang, an authentic and ancient Thai recipe made by street vendors who mastered the art. We are offering $5 Flat Rate Shipping for two days only, and our shop has several great deals of appreciation for those who read our updates. It's all below --
---
---
Feature Recipe: Khanom Buang
A sweet snack found all over Thailand, made by street vendors who have mastered the art. It's history can be traced back 600 years to the Ayuttya Period.

---
---
Sale: Pad Thai Sauce, Mae Pranom brand $2 per bottle (reg price $4.89).
Mae Pranom Pad Thai sauce allows you to create an authentic Pad Thai (see recipe at link) in less time than it takes to make from scratch.
There are instructions on the jar, but we feature a method that creates a brilliant Pad Thai using this sauce.
Just opening the wide-mouth lid gives a wonderful tamarind-ishly sour, sweet salty aroma.
As with all Mae Pranom sauces, this is packed in a nice thick glass bottle, and they sensibly made the opening nice and wide because the sauce is thick.

Ingredients: sugar, tamarind, seasoning sauce, salt. No preservatives.

---
NEW: Pure Coconut Sugar
Here we are finally able to offer, for the first time, pure sugar from the coconut palm that has no cane sugar added. In a thick, modern vacuum sealed plastic package, this palm sugar has a soft paste consistency similar to peanut butter.

---
Amazing Elephant brand "Tom Kha" Soup -- It's All In The Pouch. After years of development and investing in America, we are happy to introduce this to you.
Ready-to-eat, premium quality, authentic and delicious Tom Kha soup made in small batches using the highest quality ingredients. Amazing Elephant brand puts everything in the pouch and cooks it to perfection. To heat, simply put the pouch in boiling water for 3 minutes then open and serve alone or over rice. You can also microwave it for 90 seconds. It's all inside, so you don't need to add a thing.
---
Get a great deal on Thai Jasmine Rice
With $5 shipping this week you can't go wrong buying our highest quality Royal Umbrella new crop jasmine rice. Harvested in January, aged a few months this is just the right fragrance and overall quality.
Appreciated by connoiseurs for it's deep fragrance and nice texture. Thai jasmine rice is recognized around the world as having the finest quality--it's Thailand's principle export product. Jasmine rice was developed years ago in Thailand. A distinctive jasmine scent, also known locally as Khao Hom Mali. Khao means rice, Dawk means flower, Mali means jasmine.
The brand we ship is Royal Umbrella. It has fantastic aroma, consistency, and we regard this among as the best Thai jasmine rice exported from Thailand.
---
Thai Street Vendor Video: Tom Kha
Tom Kha is a classic Thai recipe that's become very popular in the United States, likely due to the wonderful flavor and aroma of fresh galangal and lemongrass. Watch Chef Chantana prepare it from scratch at her kitchen in Kanchanaburi.

By accepting you will be accessing a service provided by a third-party external to https://importfood.com/