Thai Coriander Seed Powder
Thai Coriander Seed Powder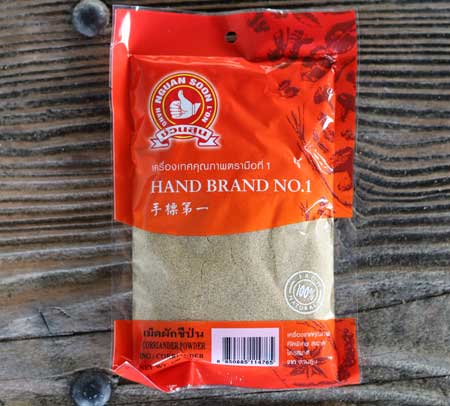 Add to cart
3.5oz - $4.45

This is the finest corriander seed powder you'll find, fresh arrival from Thailand, packed to the highest quality standar by Hand Brand. Open the package and it fills the room with a pleasant earthy fragrance.
We've been using this on all kinds of summer spice rubs, it goes well with anything you're putting on the barbecue.
A nice large, generous size, far more than you will find in local supermarkets packed in tiny jars.
Corriander seed powder, pounded together with Thai pepper powder and garlic, is called a natural "Thai MSG" by the Prime Minister of Thailand, and can be used in just about every Thai dish.
We love it with Moo Tod Gratiem (crispy Thai pork, featured above). Other recipes we feature using corriander seed powder:
Thai Sticky Rice Steeped in Coconut Milk
Northern Thai Style Sausage, "Sai Grok"
Thai-style sundried beef jerky
Gai Yang Bangsaen Beach
It's ground to a medium fine powder. We also offer corriander seed, and find that grinding the seed in a mortar and pestle is more time consuming.
Ingredients: corriander seed powder. All natural, no artificial ingredients or preservatives.
Product of Thailand.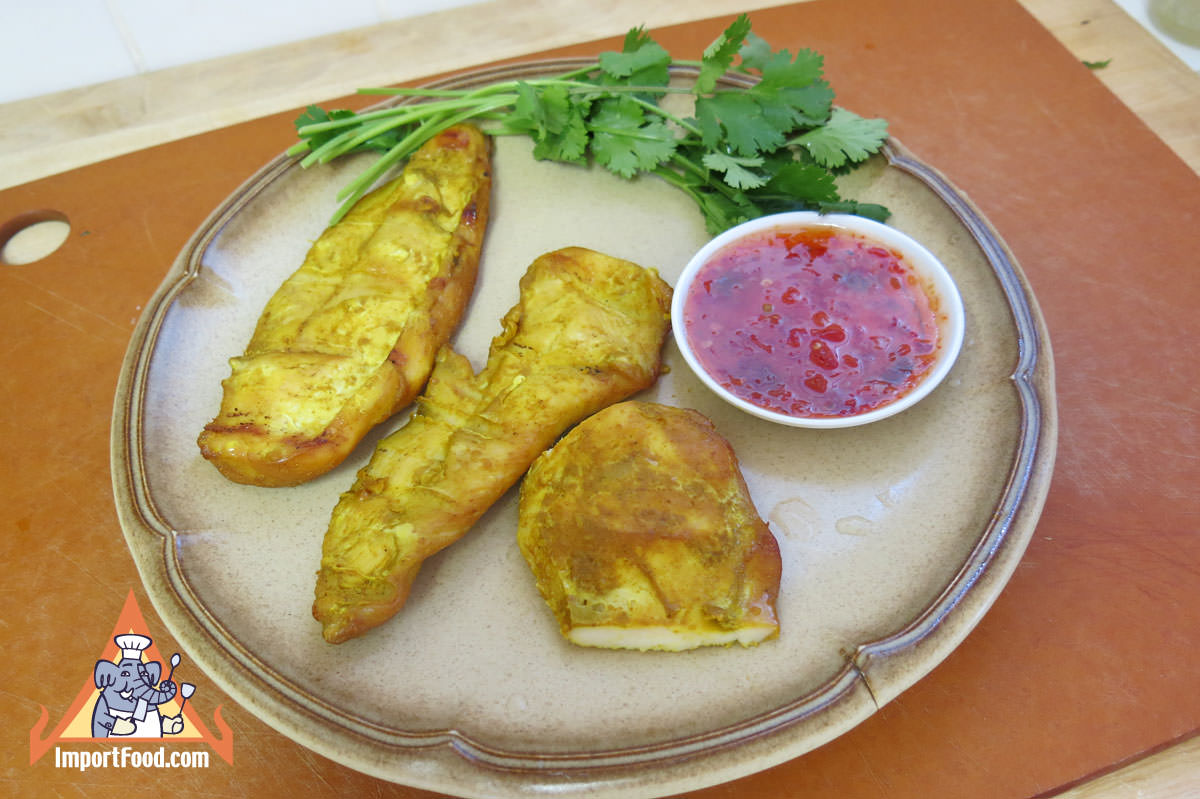 Thai Barbecue Chicken, 'Gai Yang'
Gai yang translates to "barbecued (or grilled) chicken", and can be prepared in many different ways, we demonstrate here three unique versions.
There are pictures below shared by visitors to this website, links to street vendor videos, and detailed instructions on how to prepare three of our own versions. Perhaps the most famous gai yang is sold by vendors in the seaside community of Bang Saen, where the bird is cut open along the belly, flattened with a few blows from the back of a cleaver, and pegged with a stick to hold it, then marinaded and grilled over charcoal.
---
---
Solid Granite, Hand-Made Mortar and Pestle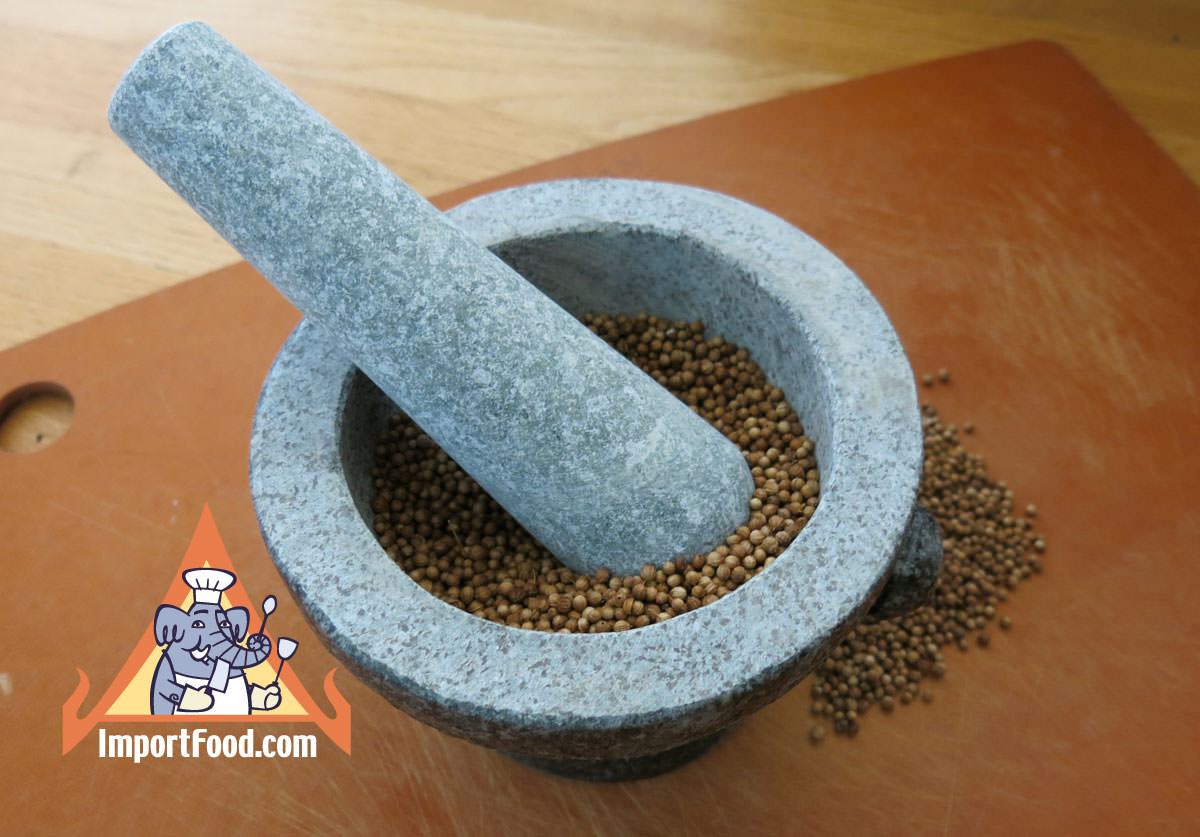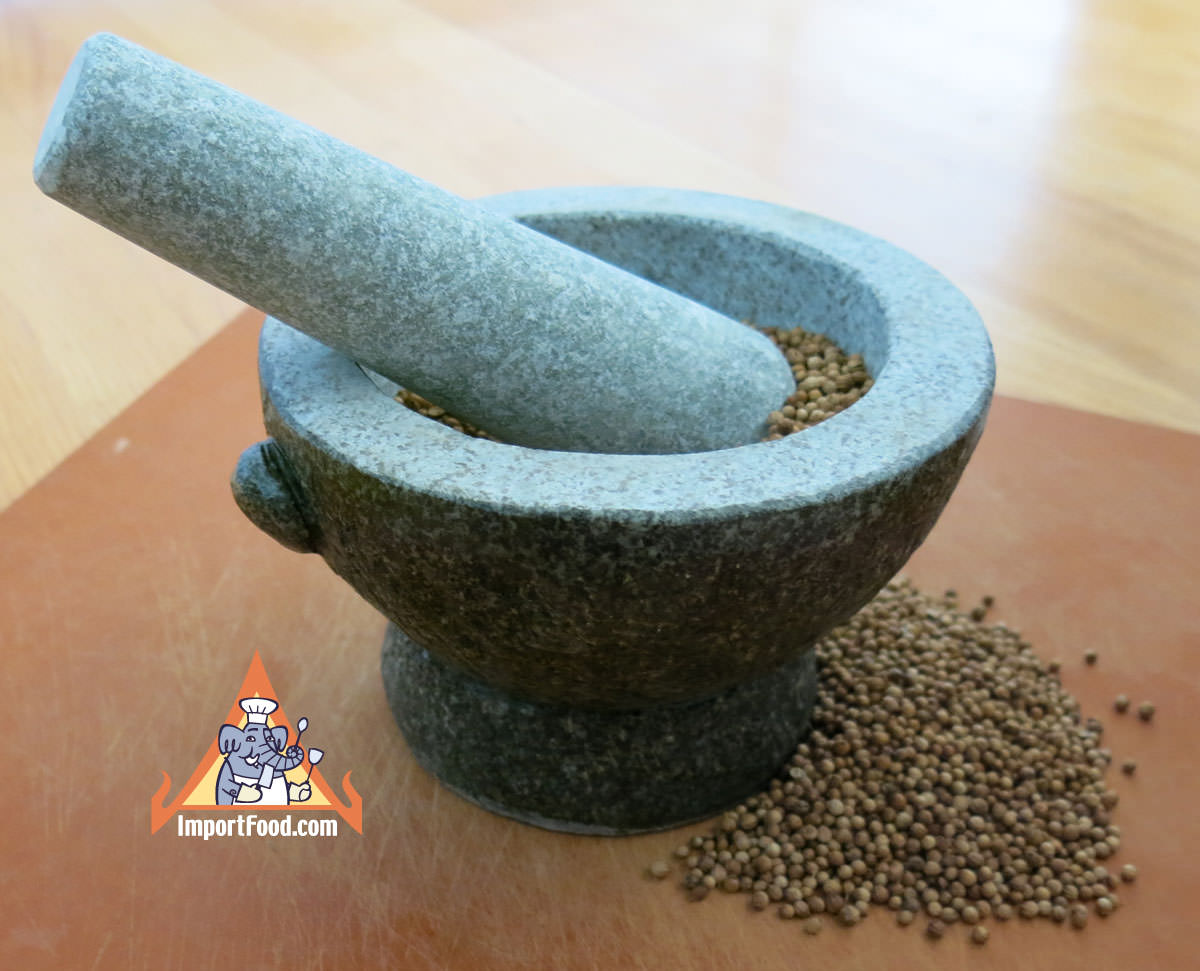 Made in Thailand of the highest quality 100% hand-carved solid granite, this durable mortar and pestle is an important tool for Thai cooking as well as around the world. We source the raw material from the finest granite quarry, ready to pound your favorite barbecue rub this summer.
The granite darkens into a nice, beautiful charcoal grey (at left is a new set which darkens over time due to oils in your food).
This is not only the most functional tool in your kitchen but also a striking work of art. What sets it apart from others is the generous capacity, the beautiful appearance, and you can whack it as hard as you can without fear of chip or crack. You'll know when you pick it up that it will last a lifetime--they're very heavy and solid.
The mortar is carved from a single block of grante. Our special promotion price is for the 6" size which is our smallest but still, provides all the capacity you need to pound up the finest barbecue rubs. Also infuse fresh ground flavors of basil, sage, tarragon, garlic, pepper and much more.
6" has 1.5 cup capacity, weighs 7 lbs. 4 1/2" inner bowl, 4" height. 6" pestle.
Using and Caring For Your Thai Mortar
These mortars are heavy, well balanced and suitable for rigorous pounding & grinding. If you ever see the way TV chef Jamie Oliver uses his, you'll know that this mortar and pestle and take a beating without fear of breakage. The nice weight and taper of the pestle assists you. When using the mortar and pestle, it's a good idea to place a folded dish towel down on the counter first, as the heavy mortar can damage your countertop. When finished, simply place mortar and pestle in the sink and rinse it with soap & warm water.
Superstition
As Thai culture has lots of old "legends" and superstitions handed down through generations, there is an old wives tale about the stone mortar and pestle that we'd like to share. Although you can really pound the pestle as hard as you can, it should always be done with food in the mortar. If a woman pounds the pestle into an empty mortar, Thai superstition has it that her breasts will stretch to the ground.
See: Our Granite Mortar and Pestle.
We are having this manufactured for us in Thailand using the finest stone and workmanship. This is a tremendous value.
---
We also offer the following premium quality Lobo brand mixes