Thai Recipe Update May 17 2017

Thai Recipe Update May 17 2017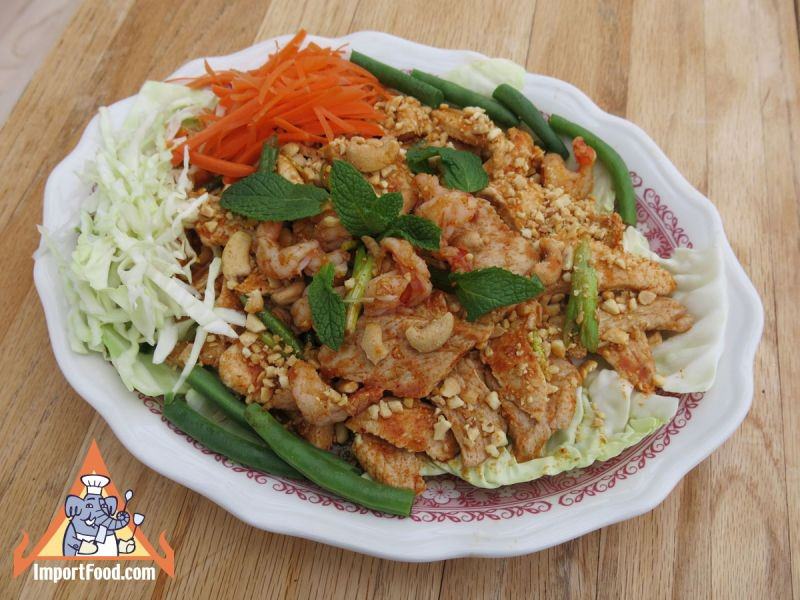 ​Hello again and thanks for visiting ImportFood.com. Today we feature Yum Sahm Sahai which is a great mix of flavors, an authentic recipe found throughout Thailand.
Khao Mau Tod was shown to us by a talented local chef with years of experience in the Thai hospitality business, highly recommended.
Sriraja Panich is back in stock, and more. It's all below.
---
​NEW: Thai Recipe 'Three Friend Salad'
This is a great mix of flavors and popular throughout Thailand. A visitor to our site recently said 'I love this recipe so much! We made it with my friends and It's tasty , even my friends loved the taste of it.' We know you'll love Thai Three Friend Salad.
---
​Feature Recipe: 'Banana Fritters' Khao Mau Tod
A tradtional sweet banana desert that's made in the Northeastern (Isan) region of Thailand, by families who are harvesting new crop rice. Typically they will use rice that was harvested that day (still wet, and slightly green). We use regular sticky rice with good results.

---
Back in Stock - Sriracha Sauce, Sriraja Panich brand
Just Arrived Today. A new shipment of this highest quality sriracha sauce, straight from the manufacturer this is as fresh as it gets. We had been out of stock, so it's nice to have Sriraja Panich back.
Sriraja Panich brand is packed in a tall 20 oz glass bottle. It's probably the most common sriracha in Thailand, used far and wide throughout the country and well-known by all.
Flavor is very rich, spicy, slightly fruity, just right for a sriracha. We know you will love it.
---
Bean Thread Noodles / Mung Bean Vermicelli (also known as glass noodles or cellophane noodles) are not made from a grain flour but from ground mung beans. Nowadays, however, many merchants offer inferior quality glass noodles made with flour not mung beans. We have the very best quality, original bean thread from Thailand "Kaset" brand, made from the best green mung beans and all natural.
Once the noodles are soaked they become soft and slippery, springy and translucent. Variously called "silver bean thread noodle" or "Woon Sen", they're flavorless and take on the taste of their accompanying sauce or broth. They should be soaked in warm water for about 7 minutes before use.

---
Amazing Elephant brand "Tom Kha" Soup -- It's All In The Pouch. After years of development and investing in America, we are happy to introduce this to you.
Ready-to-eat, premium quality, authentic and delicious Tom Kha soup made in small batches using the highest quality ingredients. Amazing Elephant brand puts everything in the pouch and cooks it to perfection. To heat, simply put the pouch in boiling water for 3 minutes then open and serve alone or over rice. You can also microwave it for 90 seconds. It's all inside, so you don't need to add a thing.
By accepting you will be accessing a service provided by a third-party external to https://importfood.com/