Thai Recipe and Flat Rate Shipping Update

Thai Recipe and Flat Rate Shipping Update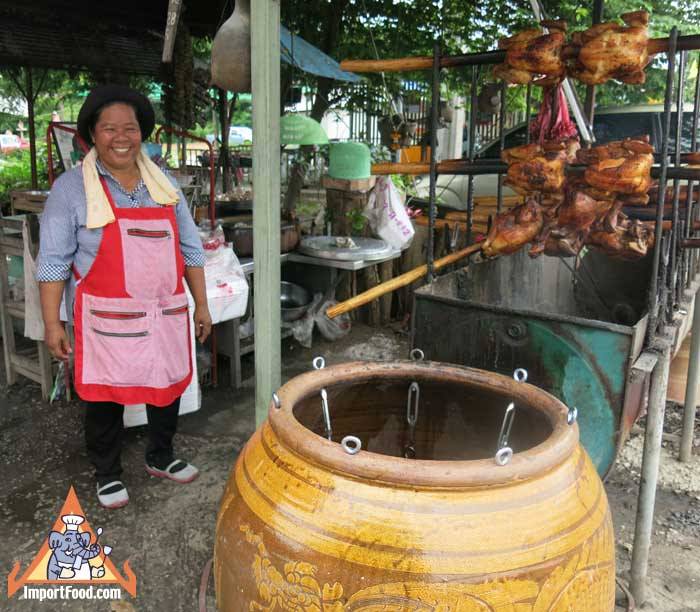 Hello again from your online Thai supermarket. Today we feature a new Street Vendor Video showing a popular new way to roast chicken in Thailand -- the clay oven and charcoal burner.
Our own Amazing Elephant Tom Kha is now distributed in Safeway stores, We just prepared a new batch last week, so order now and you'll get the freshest stock.
Get a free wok with every purchase of our Tao burner, find discounts on Tra Chang premium fish sauce, and get $5 flat rate shipping for two days only. Thanks for visiting!
---
---
​NEW: Thai Street Vendor Video
Clay Pot Roasted Chicken
See the popular new style Thai street vendors are using to cook chicken, filmed in Kanchanaburi.
---
Tao Charcoal Burner - Free Wok This Week Only
​Shown above in video, using a little charcoal it produces enough heat to stir-fry small or large woks, boil water, or barbecue meats. We import from the innovator who is credited with the improved design.

---
Thai Sticky Rice Kit
One of our all-time best sellers, the sticky rice pot fits on your home stovetop or the Tao Burner above. We're offering a great deal on everything you need to make the best Thai sticky rice at home.
---
Amazing Elephant Tom Kha Gets into Safeway - Fresh Batch
We are now sold in Safeway stores! They just placed a large order so we set about manufacturing it last week, not compromising that everything is prepared by hand in small batches.
Our new batch used freshest coconut milk that had just landed from Thailand days earlier. This batch has wonderful Thai chili heat but is slightly milder, and more creamy. Very rich tasting.
We appreciate your support very much, please order Amazing Elephant Tom Kha we know you'll love it.

---
On Sale: Stainless Steel Mug with Lid, Zebra
The large mug is made of a relatively thick, durable stainless steel. Try packing it with ice on a hot day with the lid on, then drink as the ice melts. You might keep this around your office full of drinking water, the lid keeps it clean and you won't use disposable cups. This design is so common in Thailand, found in households throughout the country.
---
​Knorr Tom Yum Cubes - Made in Thailand
One of the most difficult items to keep in stock, we just got a small shipment of a few dozen. Order now and get the freshest stock, just arrived last week.
---
Tra Chang Fish Sauce - The Best On Sale
This week only get a 7 oz bottle of premium Tra Chang fish sauce, aged 2 years using the best method, at $3.00 per bottle.
Used in nearly every Thai recipe, and we love to use it as a marinade for steaks.
Product of Thailand.
By accepting you will be accessing a service provided by a third-party external to https://importfood.com/