Palm Sugar Cherry Pie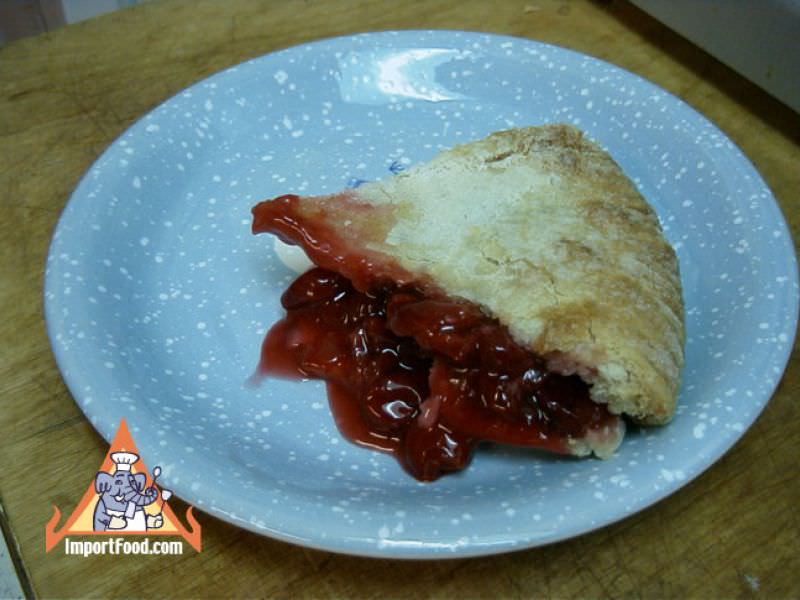 At our home in Washington State we're fortunate to have a healthy sour cherry tree that produces a lot of cherries every year. Sour cherries are also known as pie cherries, and these cherries are perfect for making apple pies. A few weeks before the cherries are ready, we cover the tree with a net to prevent birds from taking the fruit. We just harvested the fruit a few days ago. It was an all-day event, first picking the cherries then removing the pits, making pies, and putting some into jars with sugar syrup for longterm storage.
We like to use Palm Sugar, instead of refined sugar, in all kinds of recipes especially cherry pies. Palm sugar has a sweeter, richer flavor than refined sugar, and it complements cherries perfectly. The caramel color is nice as well. If you know of any good recipes that use palm sugar instead of white or brown sugar, please let us know.
Ingredients
For 4 Person(s)
Ingredients For Pie Crust from Alton Brown
6

Ounces (12 Tablespoons)

Butter, Chilled

2

Ounces (4 Tablespoons)

Lard, Chilled (we use Crisco shortening)

12

Ounces (Approximately 2 Cups)

All-Purpose Flour, Plus Extra for Rolling Dough

1

Teaspoon

Table Salt
Ingredients For Cherry Pie Filling
4

Cups

Fresh (or Frozen) Tart Cherries

1 1/2

Cups Palm Sugar

4

Tablespoons

Cornstarch

1/8

Teaspoon

Almond Extract (optional)

1 1/2

Tablespoons

Butter, To Dot

1

Tablespoon

Granulated Sugar, to sprinkle
Buy ingredients for this Recipe
Method for Palm Sugar Cherry Pie
Method For Pie Crust
Place butter and lard in freezer for 15 minutes. When ready to use, remove and cut both into small pieces.
In the bowl of a food processor, combine flour and salt by pulsing 3 to 4 times. Add butter and pulse 5 to 6 times until texture looks mealy. Add lard and pulse another 3 to 4 times. Remove lid of food processor and spritz surface of mixture thoroughly with water. Replace lid and pulse 5 times. Add more water and pulse again until mixture holds together when squeezed. Cut dough in half, then place each half into separate large zip-top bags. Squeeze together until it forms a ball, and then press each into a rounded disk and refrigerate for 30 minutes.
Place 2 metal pie pans in the refrigerator to chill.
Remove one of your bags of dough from fridge. Cut along 2 sides of the plastic bag, open bag to expose dough, and sprinkle both sides with flour. Cover again with plastic and roll out with a rolling pin to a 10 to 11-inch circle. Open plastic again and sprinkle top of dough with flour. Remove pie pans from refrigerator and set first pan on top of dough. Turn everything upside down and peel plastic from bottom of dough. Place second pan upside down on top of dough and flip again. Remove first pan from atop dough. Trim edges if necessary, leaving an edge for meringue to adhere to. Place in refrigerator for 15 minutes.
Method For Cherry Pie Filling
Place cherries in medium saucepan and place over medium heat. Cover. After the cherries lose considerable juice, which may take a few minutes, remove from heat. In a small bowl, mix the sugar and cornstarch together. Pour this mixture into the hot cherries and mix well. Palm sugar takes a bit of time to dissolve, so be patient. Add the almond extract, if desired, and mix. Return the mixture to the stove and cook over low heat until thickened, stirring frequently. Remove from the heat and let cool. If the filling is too thick, add a little water, too thin, add a little more cornstarch.
Preheat the oven to 375 degrees F.
Pour cooled cherry mixture into the crust. Dot with butter. Moisten edge of bottom crust. With a rolling pin and the remaining bag of pie dough, roll out flat to make a top crust. Place top crust on and flute the edge of the pie. Make a slit in the middle of the crust for steam to escape. Sprinkle with sugar. Bake for 45-50 minutes. Remove from the oven and cool.

Reviews