Massaman Curry Paste, Maesri
Massaman Curry Paste, Maesri
Add to cart
4oz - $2.89

Massaman curry from Maesri is similar to other brands of massaman curry paste we carry.
For a quick delicious Thai dish using this product, stir fry one can with 1 1/2 cups of coconut milk, and cook for about 5 minutes over medium heat. Add 3/4 lb chicken or beef, then add two cups coconut milk, and stir until it boils. Add 1/3 lb potato (diced), a small amount of diced onion, and heat until meat is tender. If preferred, add 2 tablespoons roasted peanuts. Serves 4-5. Serve with jasmine rice.
Ingredients: garlic, sugar, soybean oil, dried red chilies, tamarind juice, shallot, salt, lemongrass, spices (corriander seeds, cumin, cardamom, cinnamon, bay leaves, galangal, cloves), kaffir lime, galangal, citric acid.
Product of Thailand.
Maesri Brand is recognized in Thailand as a high quality export product with rich taste and authentic flavor. The convenient and inexpensive 4 oz can is enough for 6 large servings, and we ship this in case quantity to many restaurants who depend on Maesri to make their restaurant Thai meals. Chances are good that your local Thai restaurant uses Maesri as the base for their massaman curry.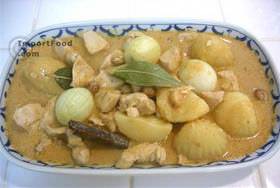 Thai Masaman Chicken, 'Gaeng Masaman Gai'
The 'massaman' indicates that the recipe is of a 'musselman' or islamic origin. It probably owes something to early Portuguese influences, and is similar in concept to the 'sour and hot' Goan style vindaloo dishes.
By Thai standards this is usually a fairly mild curry, so we find it's a good starting point.
This version is a guaranteed winner but takes a bit longer to make than our other Massaman recipe:
Classic Thai Massaman Beef
In a CNN story, Massaman curry was declared "World's Most Delicious Food"
Also see our Ready-Made Massaman Soup Can
---
We offer the following premium quality Maesri products