Thai Mangosteen, 20 oz can
Thai Mangosteen, 20 oz can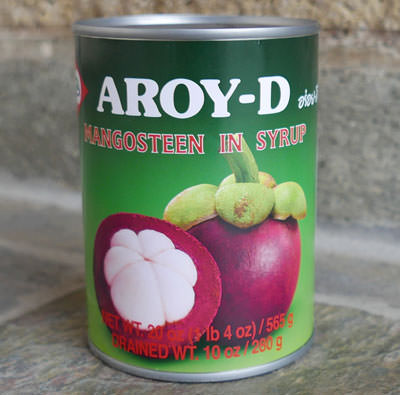 Add to cart
Temporarily Out of Stock

Mangosteen from Aroy-D has been very difficult to get, sometimes we have to wait two years until the harvest is adequate to put them in cans. It's a very expensive fruit and known to have health benefits.
Flavor is elegant, silky consistency, and not overly sweet.
Mangosteen has what many people say is the most delicious flavor of all Thai fruits. In the 19th century Queen Victoria loved it so much that she offered a knighthood to anyone who could bring edible mangosteen to England, but in those days long transit and spoilage prevented anyone from getting the prize.

Mangosteen is great served in a large bowl full of ice cubes. Also found in bars as a popular ingredient in various cocktails.
Product of Thailand.

Ingredients: mangosteen (49.5%), water, sugar, citric acid.
Our selection of Thai canned fruits