Thai Noodle Bamboo Shoot Stir Fry

Thai Noodle Bamboo Shoot Stir Fry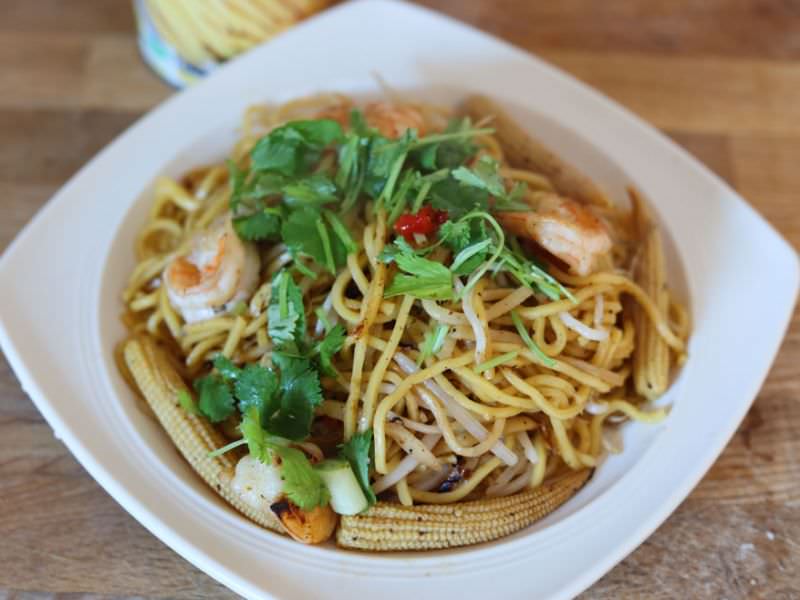 This recipe combines the unique flavor and crispy texture of matchstick bamboo shoots, baby corn and noodles in a stir-fry with oyster sauce. Essential Asian dish you may not have thought you could create at home.
Method for Thai Noodle Bamboo Shoot Stir Fry
Start with a 16 oz pack of fresh yellow egg noodles which are widely available in supermarkets. Rinse the noodles, boil, then rinse again and set aside.
Rinse bamboo strips in cold water and set aside.
Place sliced shallots into your wok over medium heat with a tablespoon of vegetable oil, and fry briefly then add shrimp and cook for a minute. Turn up the heat slightly and add baby corn, bamboo & black peppercorn.
Add noodles, oyster sauce, soy sauce, salt, and sugar. Mix lightly, reduce heat to medium/low, and let cook for a few minutes as you stir the ingredients together. Add bean sprouts and stir fry a bit longer.
Top wth Maggi Seasoning by shaking the bottle which releases drops at a time. Just shake it so a few dozen drops come out, add sliced fresh Thai chilli peppers (or use pickled Thai red chilli). Serve with a garnish of fresh cilantro. Optional: crushed peanuts as shown below.
Serve hot and watch it get devoured quickly.

Reviews