Fresh Thai Eggplant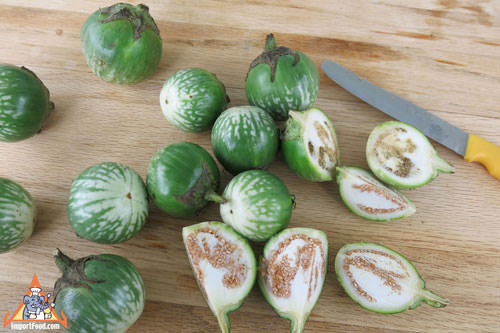 Add to cart
Out of Season

There are various kinds of eggplant ("makua") grown in Thailand. We are pleased to offer fresh Thai eggplant known as "makua pot" in Thai language.
Grown in California, each eggplant is about the size of a golf ball, appearance as per photograph below. These are perhaps the most common eggplants found in Thai markets. It's eaten as a fresh vegetable with various kinds of namprik (any flavor). Each fruit has small brown seeds in the core, and those seeds are used to make namprik kapi. This type of Thai eggplant is also used in all kinds of Thai curry, as well as kaeng par -- simply cut into quarters and add to the dish.
You get 16 ounces, and has about 20 eggplants.
We ship fresh Thai eggplants via quick delivery within 2-3 days straight to your mailbox. They are packaged well and should be refrigerated promptly, and will remain fresh for about 5-7 days.
We recommend fresh Thai eggplant in the following ImportFood.com Thai recipes: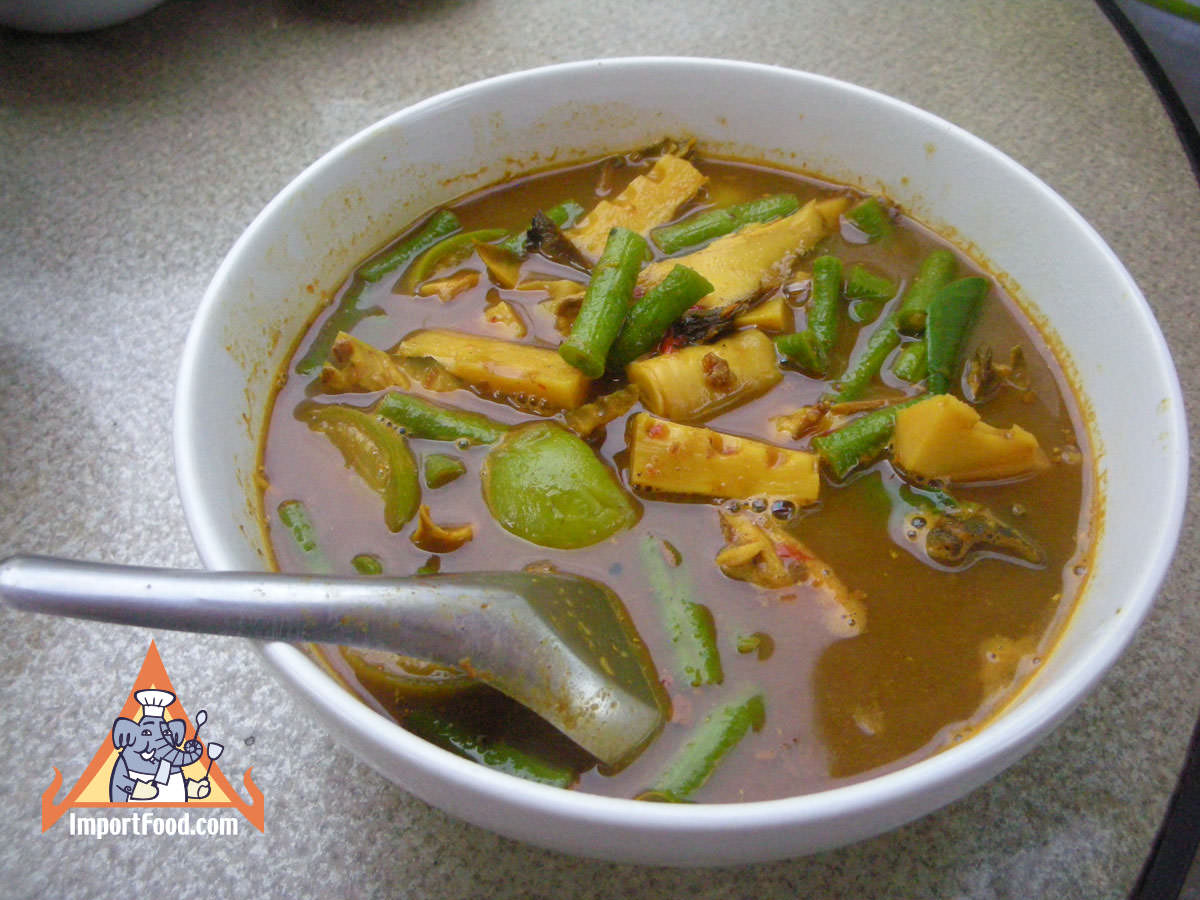 Gaeng Tai Pla
Gaeng Tai Pla is a legendary recipe developed by people in the fishing communities of Southern Thailand. They wanted to find a way to use the fish guts rather than toss them out, so they developed a pickling process of the fish bladder. The pickled fish bladder (Tai Pla) is used to make this soup using a heavy dose of local spices and large chunks of dried fish meat.
Lately people all over Thailand crave the Tai Pla that comes from various regions, and packed in different brands. In this recipe we show you every step in the process, also see our video feature of a chef from Trang in Southern Thailand making Gaeng Tai Pla. As authentic as it gets, and we do offer a high quality imported Tai Pla so you can make this at home using the best ingredients. Please enjoy this feature and share your comments below.
---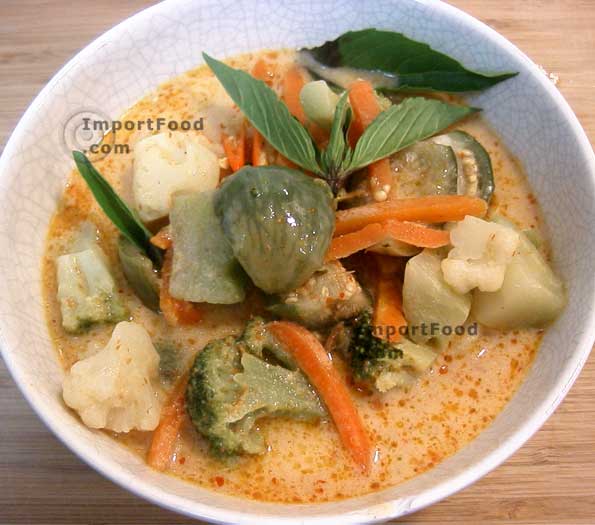 Thai Vegetable Eggplant Curry
This Thai curry dish uses unique Thai eggplants, which are golfball-sized and soak up the flavor of the dish. We use red curry for this recipe but you can adjust to suit your taste, and the choice of vegetables to use depends on whatever you like or what's in season
---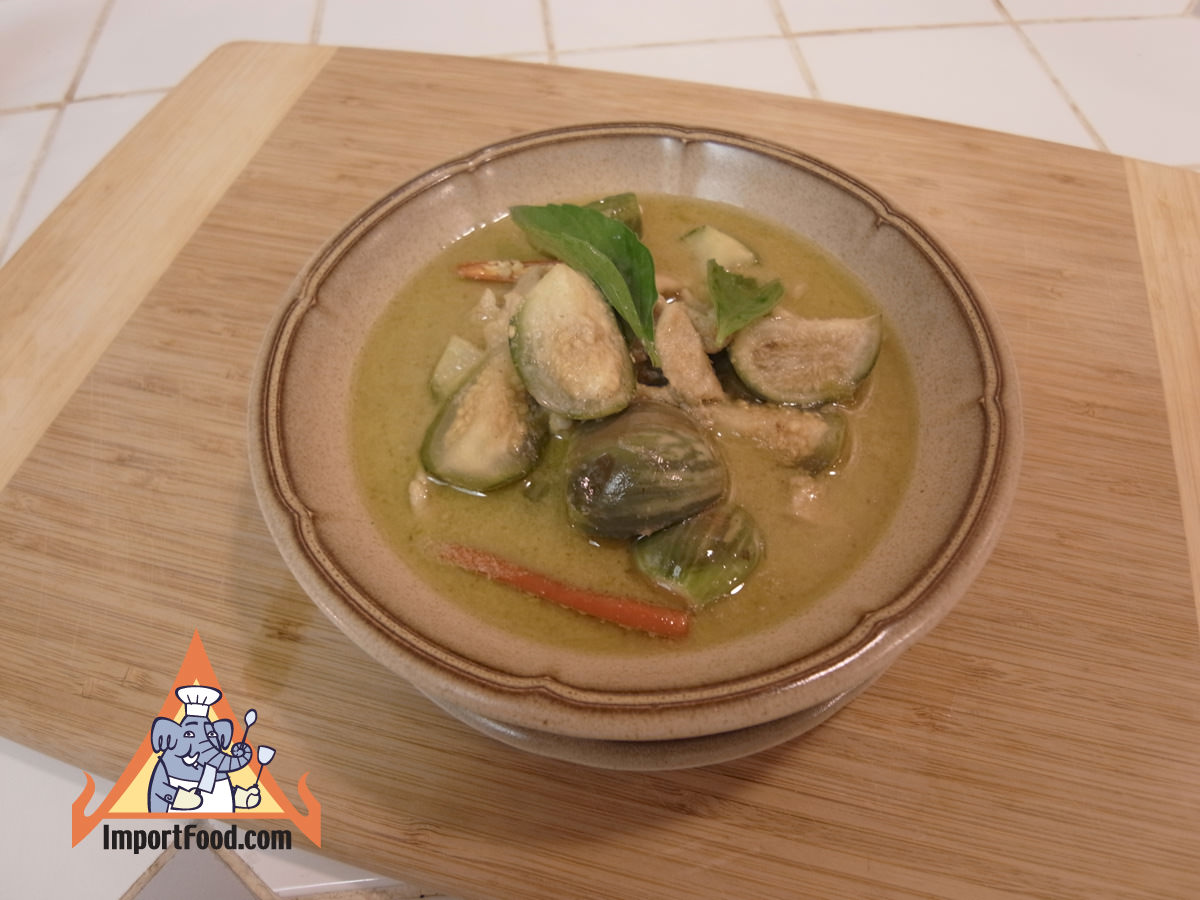 Green Curry with Fresh Chile, Chicken, Eggplant & Kaffir Lime, 'Gaeng Khiao Wan Gai'
This recipe highlights the delicious Thai mini eggplant and it's a common recipe throughout all provinces of Thailand. The advantage of this recipe is that you pound fresh chiles into a high quality green curry paste, resulting in a more bold, fragrant and spicy final result. We also have another recipe for gaeng khiao wan gai.
---
And more from our Recipe Collection!