Tom Kha Kit


"Tom Kha Gai" is one of our favorite Thai recipe, and it's been a favorite of our customers for years. Here's everything you need to make several large servings of the best fresh home-made authentic Tom Kha. A thoughtful mix of fresh Thai herbs with all ingredients. Expedited to your door via 2 day shipping to ensure fresh delivery. You'll also be able to make other Thai recipes. This is a great value and includes one Amazing Elephant Tom Kha. Checkout with Ground shipping and we'll upgrade it to expedited 2 day at no extra charge.
---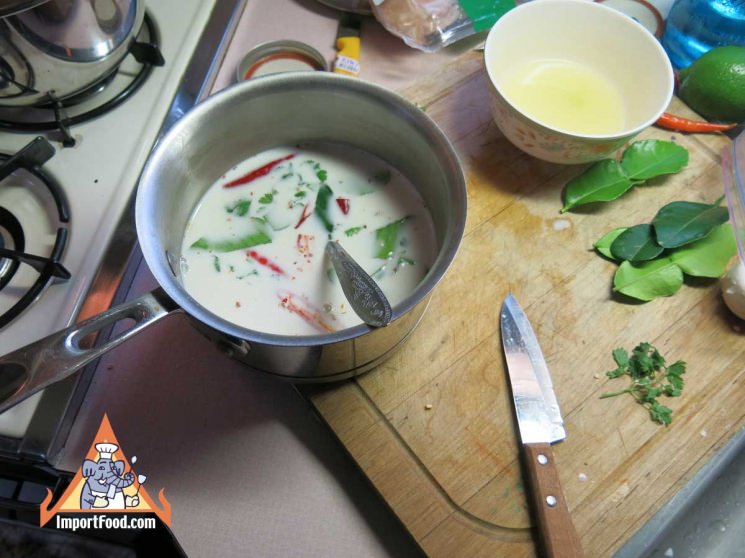 Thai Chicken Soup with Coconut Milk, 'Tom Kha Gai'
This is a mild but spicy chicken soup (it can also be made with shrimp, pork, beef or mushrooms), flavored with the unique flavor of galangal ('kha' in Thai) which creates a heavenly taste when combined with hot chile peppers, coconut milk, lime leaves and lemongrass.
We famously started manufacturing Amazing Elephant All-natural Tom Kha with authentic flavor so be sure to get a few pouches to compare with what you make at home.
---
NEW: Amazing Elephant brand "Tom Kha" Soup -- It's All In The Pouch. After years of development and investing in America, we are happy to introduce this. Ready-to-eat, premium quality, authentic and delicious Tom Kha soup made in small batches using the highest quality ingredients. Amazing Elephant brand puts everything in the pouch and cooks it to perfection.
Even If You Are New to Tom Kha, You Will Love This Soup!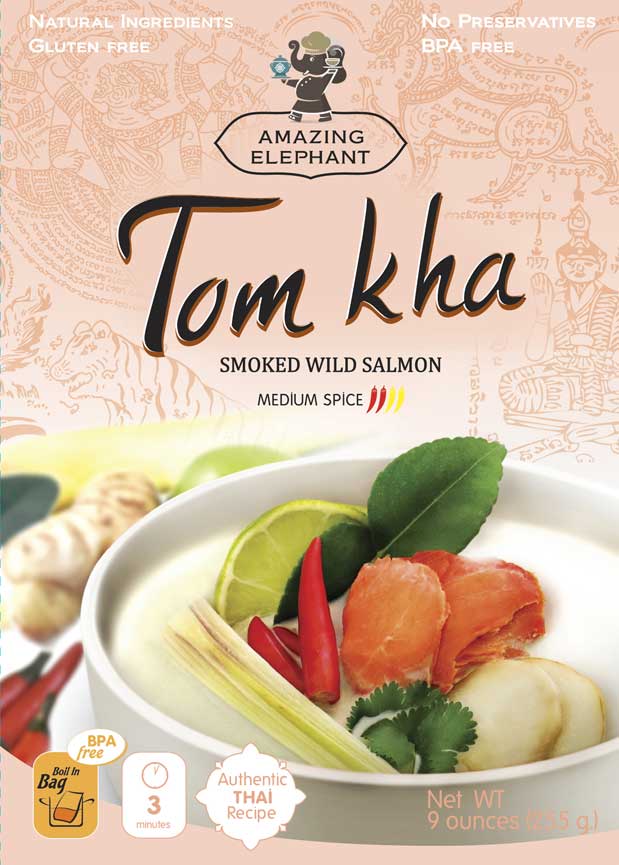 To heat, simply put the pouch in boiling water for 3 minutes then open and serve alone or over rice. You can also microwave it for 90 seconds. It's all inside, so you don't need to add a thing.
This all-natural, gluten-free, preservative-free soup is precooked in a modern BPA-free pouch that's shelf stable for two years but tastes like it was just made fresh in a Thai grandmother's kitchen. Premium ingredients and sophisticated preparation ensure that this rivals anything a Thai restaurant serves.
We offer two versions:
1. Tom Kha Smoked Salmon: Tom Kha served with smoked Alaskan wild salmon is a combination made in heaven. If you're familiar with Tom Kha chicken, you must try it with smoked salmon. It's "Out of This World" delicious. Each pouch contains a generous 2 oz portion of smoked salmon.
Ingredients: coconut milk, smoked Sockeye or Coho salmon (Sockeye or Coho salmon, salt, natural alder smoke), water, lime juice, fish sauce (anchovies, salt, sugar), cane sugar, galangal, carrots, celery, Thai chili peppers, onions, lemongrass, kaffir lime, shallots, tapioca starch, garlic, dried chiles, kaffir lime leaf powder.
2. Tom Kha (no meat). If you like Tom Kha over rice, or with chicken or shrimp, here's a large (9 oz) serving. Simply heat and serve alone or add meat of your choice. Also very good with fresh mushrooms.
Ingredients: coconut milk, water, lime juice, fish sauce (anchovies, salt, sugar), cane sugar, galangal, carrots, celery, Thai chili peppers, onions, lemongrass, Kaffir lime, shallots, tapioca starch, garlic, dried chiles, Kaffir lime leaf powder.
Contains: Fish (anchovy), Tree Nuts (coconut)
Add to Cart
Tom Kha (no meat) - Temporarily Out or Stock
The Recipe. For this particular finished product, we're not sharing the recipe (it took years to perfect); but there is no question that it tastes authentic, otherwise we woudn't do it. Our soup rivals anything made from scratch in any famous Thai restaurant (it's *that* good) and simply blows away the existing competition from the likes of Lobo or Por Kwan in their premade Tom Kha instant mixes -- there is no comparison. Once you've tasted this, you may not order Tom Kha at a restaurant again. Here is a good recipe for tom kha if you really do want to make it at home from scratch.
For 15 years we've specialized in demonstrating truly authentic Thai recipes, with Tom Kha being one of our website's most popular, for good reason. The combination of coconut milk, galangal, lemongrass, lime juice and chile peppers creates a sensational flavor that somehow transcends taste preferences around the world. Everyone, everywhere, it seems, loves the flavor of Tom Kha.
Premium Ingredients, Sophisticated Technology, Artisan "Small Batch" Method. We're passionate about delivering a premium product, and confident that after years of experience dealing with the finest growers and purveyors, nobody can do it better. Our process involves preparing relatively small batches. The founder of ImportFood.com literally chooses every fresh ingredient that goes into each batch, and is in the facility personally watching every step of the process.
Everything is Fresh -- None of the Ingredients Have Been Frozen.
Galangal. The galangal we use is sourced from Hawaii, chosen at the perfect stage to ensure excellent taste and aroma. It comes out of the ground and into our facility within 3 days. We slice the fresh roots by hand just minutes before it goes into the soup. It would be nearly impossible for anyone to make this soup with a fresher galangal.
Lime Juice. We carefully select the best fresh limes from a wholesale market in Seattle and squeeze the limes on location. No prepackaged lime juice--just the real thing, fresh-squeezed. This is very time-consuming but we wouldn't have it any other way. One of the highlights of our soup is the rich taste of fresh lime.
Chiles and Lemongrass. We use the perfect mix of fresh red Thai chiles and lemongrass sourced from the market in Southern California. Every stalk and every chile is selected with our own eyes and cut by hand the same day our soup is made.
Garlic and Shallots. We use the highest quality fresh shallots, which come from a small farm in Washington State, and our garlic is a special variety grown in Oregon.
Coconut Milk. We use ONLY fresh-pack, all-natural, preservative-free, 100% pure coconut milk. As a direct importer from Thailand for many years, we've established ourselves with what we believe is the best producer of all-natural coconut milk. You are getting the "best of the best" in our soup.
Fish Sauce. We use only Tra Chang Gold Label premium fish sauce.
Why is it in a Pouch? This is no ordinary pouch--it's the highest quality pouch available anywhere in the world. The pouch is modern, BPA free, simple to use, relatively inexpensive, and far easier on the environment than cans. Our soup is cooked entirely in the pouch in a modern facility using high heat and a relatively long cooking time, under high pressure. The final result is not just a superb product, but one that is shelf-stable for two years. Store the pouch at room temperature, no refrigeration required.
State Of The Art Facility
Fresh Lemongrass, Prepared Just Right
The Wild-Caught, Alaska Smoked Salmon.
Inside every pouch is a generous handful (2 oz net weight) of premium wild Alaskan smoked salmon.
Our salmon is soaked in our own simple, natural brine formula then put into a modern smoker, burning real hardwood.
After it comes out of the smoker, we hand-cut it into chunks perfect for the Tom Kha. The freshly-prepared salmon is then added to the pouch and sealed up.
Sockeye salmon is a quality, lean, healthy fish that comes at a relatively high price, but we wouldn't have it any other way.
The combination of flavors here is not just irresistible to your tastebuds; served over steamed rice, this soup is one heck of a meal, offering plenty of healthy calories to carry you through the day.
MADE IN THE USA. There's no need to wonder where your food comes from with our soup. This product is produced under the watchful eye of American regulatory authorities who set strict guidelines on food manufacturing. Our soup has already gone through a rigorous analysis, the process has been approved, and everything has been registered with the US FDA.
Rest assured that you're also supporting American jobs. This soup is packed in the great Pacific Northwest in a new facility that rose from nothing and is now creating jobs for hard-working people. We're doing our part to not just support the local manufacturing economy, but also American farmers & fishermen.
As business grows, employment is expanding and some workers are getting plenty of overtime: wage income that spreads throughout the community. Furthermore, when it comes to sales, ImportFood.com is an experienced global trader, so your support of this product will help us to create export markets--thus expanding American production.
Why Is The Price So Low? Compare the price of our pouches to the salty, msg-laden Tom Kha spice pastes from Thailand that require you to add your own coconut milk & other ingredients. Our product tastes far better and generally costs less. Also, the retail price of 9 oz all natural cocont milk is close to what we're charging for the entire pouch of finished soup. Assembling all of the ingredients in your own kitchen to make Tom Kha from scratch would likely cost more. The explanation is that we import the coconut milk directly, and we deal directly with growers, all of this keeps cost down. Also, we have our own retail store (ImportFood.com) AND we manufacture the soup ourselves, so we can sell it directly to you for near our production cost. You get a great deal, and we enjoy delivering a superior product.