Karee Curry Paste, Maesri
Karee Curry Paste, Maesri
Add to cart
4 oz - $2.89

Karee is Thai for "yellow curry" so this is similar to the yellow curry paste we offer in different brands.
For a quick delicious Thai dish using this product, stir fry one can of karee curry paste with 2.5 cups of coconut milk for about 5 minutes. Add 2 lb chicken or any meat and 3/4 lb diced potato, and 1.5 cups coconut milk. Gently simmer, adding a bit of water if you prefer, for about 25 minutes, and serve with jasmine rice.
Ingredients: dried red chilies, shallot, garlic, soybean oil, sugar, salt, fresh turmeric, lemongrass, spices (corriander seed, curmin, cardamom, cinnamon, bay leaves, galangal, cloves), galangal, curry powder (whole mustard, funugreek, wheat flour, chili powder, fennel, black pepper), kaffir lime.
Product of Thailand.
Maesri Brand is recognized in Thailand as a high quality export product with rich taste and authentic flavor. The convenient and inexpensive 4 oz can is enough for 6 large servings, and we ship this in case quantity to many restaurants who depend on Maesri to make their restaurant Thai meals. Chances are good that your local Thai restaurant uses Maesri as the base for their yellow curry.
See our recipe for Thai Yellow Chicken Curry
See our Thai Street Vendor Video for Southern Style Yellow Curry Soup
---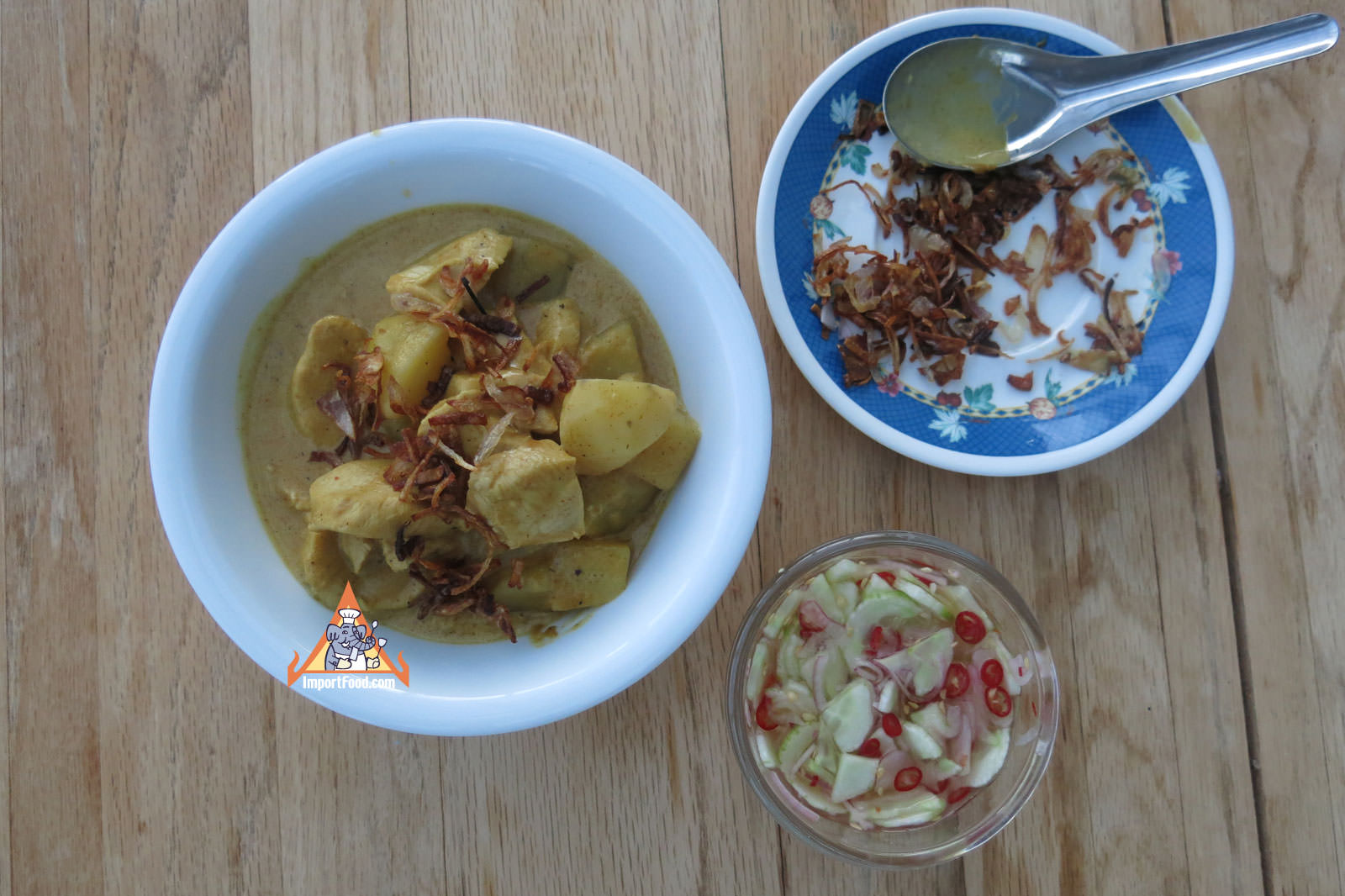 Thai Yellow Curry Chicken, 'Gaeng Karee Gai'
The flavor of yellow curry paste is not much different than red or green, however we've recently discovered how much we like yellow curry. Yellow curry makes vegetables taste great in our opinion, and we've been eating more vegetables and less meat these days. Here is a basic Thai yellow curry with chicken and potato. It's also good with bell pepper, butternut squash, or any seasonal vegetable of your choice. Serve a generous portion and watch it disappear.
---
---
We offer the following premium quality Maesri products