Thai Fried Chicken Batter Mix, Mr Hung
Thai Fried Chicken Batter Mix, Mr Hung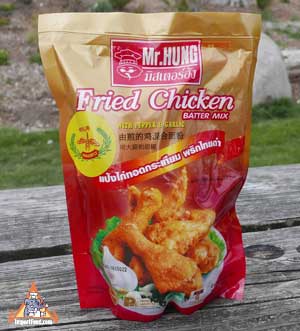 Add to cart
17.5oz - $5.89

Leave it to the Thais to create the best fried chicken in the world. This batter perfectly coats your chicken (or vegetables, as we made fried mushrooms and onions that turned out excellent). Simply mix this with water and sugar (see mix below). You really can't go wrong, and it's just excellent batter.
We fried drumsticks and breast slices, then used world-famous Thai sweet chile sauce as a dip. 17.5 oz is a nice large package so you can make several big batches.
We also offer 'Hot and Spicy' version
We also use this batter to make Hoi Tod, and see recipe below for Tom Yum Fried Chicken.
Ingredients: wheat flour, rice flour, corn starch, baking powder, garlic powder, black pepper powder, msg. Packed by Mr Hung.
Product of Thailand.
Follow these instructions as they yield better results than what is written on the package:
Mix 1.5 cups fried chicken batter with 3/4 cup water, then add 2 teaspoons sugar. Put an inch or so of vegetable oil in a frying pan and heat at medium-high. Fry chicken or vegetables until golden brown, then flip and cook the other side. For chicken, cooking time is about 15 minutes total. Less for vegetables. See our recipe and detailed instructions.
Hi - I had to laugh at your last email where you noted the popularity of the Mr Hung Chicken Batter mix - I've been ordering that from you for years. It is probably the best batter for deep frying fish (walleye) I've ever used! It has an amazing flavor with fish - thicker than breading but not as heavy as beer batter. I've used it as several large family fish fry's and never had any fish left over. I don't use sugar with the mix with fish - just mix it up with water and off you go. Not sure why other people have been ordering this lately but I was probably part of the last "surge" so that's why I'm buying it from you. It's also good with chicken btw but I'd suggest trying it with fish. It's amazing!

Regards, Mike, Grand Forks North Dakota


We have been using your products and recipes for a couple of years. All is excellent and authentic. To date I have never tasted better fried chicken than with your batter mix. The khao Padt is also perfect. I lived in Pattaya for about 2 years back in the 1970's and your food brings me back there. Many thanks.

Mark and Jeannie Rogers
---