Thai Fried Pork Strips, Moo Kratiem Chup Paeng Tod

Thai Fried Pork Strips, Moo Kratiem Chup Paeng Tod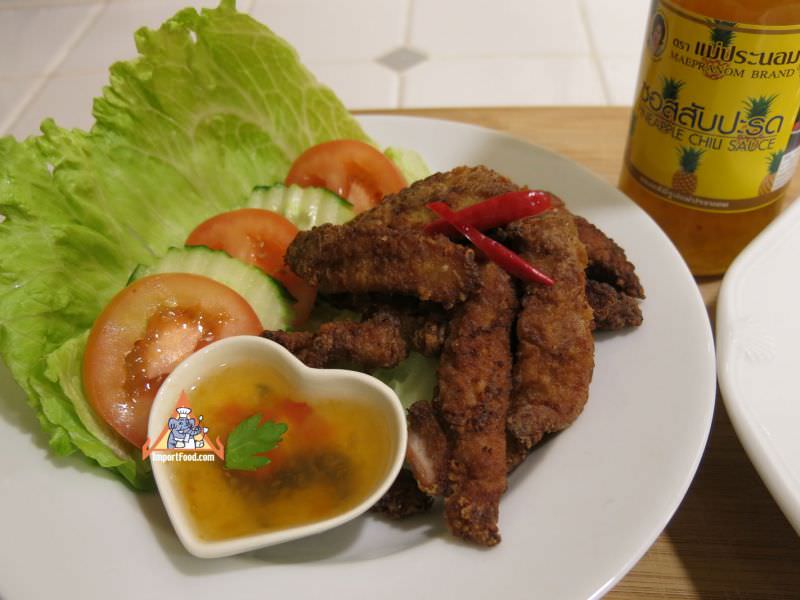 This is a marvelous Thai fried pork thanks to the marinade and special flour, and the pork is perfect paired with Thai pineapple chilli sauce. You might be also interested in our recipe for Thai-Style Fried Chicken. Moo = Pork. Kratiem = Garlic. Chup = Dip. Paeng = Flour. Tod = Fried. So this is Garlic Pork Flour-Dipped and Fried. Our Thai batter mix perfectly coats your pork. Our recipe is easy to follow and doesn't take long to make.
Method for Thai Fried Pork Strips, Moo Kratiem Chup Paeng Tod
In a mortar and pestle, pound garlic and coriander seeds, then mix with oyster sauce, thin soy, Golden Mountain sauce, and sugar. Add this to your pork strips and marinade for about 20 minutes. Dip each pork strip in the batter flour, and shake off any excess. Fry the strips in oil at medium/low heat for 3 minutes per side. Serve with jasmine rice and Thai pineapple chilli sauce.
Serve with thai pineapple dip
Pound coriander seed and garlic

Reviews