Thai rice flake, 8 oz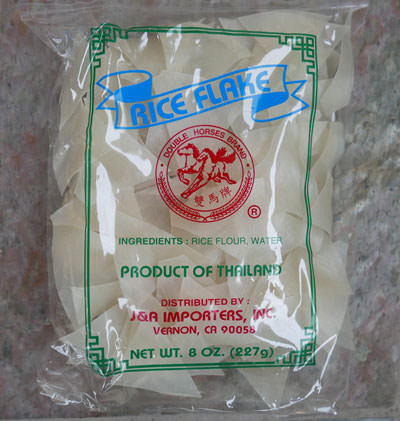 Add to cart
$4.89-8oz

This item is very popular and hard to keep in stock so please don't order more than half dozen packs.
Similar to chantaboon rice stick, just a different shape.
Rice flake is all natural, made from rice flour, and we sell cases of this to some higher end Thai restaurants.
Becoming more popular for their unique shape and appealing presentation. See below our recipe using Rice Flake:
RECIPE:
Boil the rice flake for about 3 minutes then drain and set aside. Then fry a bit of sliced yellow onion in oil, add some sliced beef and shrimp and cook. Add rice flake to the frying pan then add seasonal greens such green beans and spring onion. At this point you can add some soy sauce if you like. We added just a 1/2 teaspoon of fried chilli paste which greatly improved the flavor.
Season with coarsely ground black peppercorn. Add a bit of crushed peanuts if avaiable. Mix well and serve (see photo below).
RECIPE:
We also enjoy rice flake with Pho (see photo below)
Also called 'kua chap chips' because they are mainly used to make kua chap (Thai Five-Spice Soup).

Ingredients: rice flour, water.
Product of Thailand.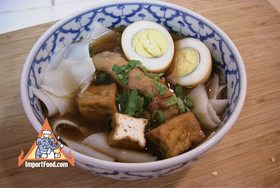 Thai Five-Spice Soup with Rice Chips, 'Kua Chap'
Kua chap is a rich, healthy soup loaded with flavor and nutrition. We often take it camping, and more than once people have come by to mention the wonderful aroma. We also offer an instant kua chap soup from Mama.
---