Thai Fried Chili Paste, 10.56 oz
Thai Fried Chili Paste, 10.56 oz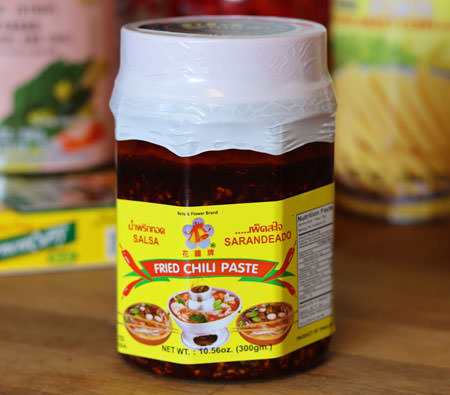 Add to cart
10.56oz - $6.89

Extremely spicy. The hottest chile peppers in Thailand are dried and roasted, pounded into a paste and mixed with garlic, shallot and oil. That's all there is to this paste, and it really packs a punch.
Dab it over steamed jasmine rice for a quick snack, put it in any soup, especially Tom Yum for which this was made.
See below, in our recipe Thai baby corn stir fry, this adds the perfect spicy finish.
Notice in our Tom Yum Street Vendor Video she is adding this mixture to the soup, making the chile flavor strong and deep. It doesn't take much, as you will discover. This paste is the hottest we have ever offered, and caution you to use it sparingly.
Comes in a 10.56 oz plastic jar with double sealed lid. Lasts a long time. This is extremely high in spice heat which is a natural preservative in it's own right.
Shipping Bells & Flower Brand as shown.
Ingredients: chile, garlic, red onion, vegetable oil. All natural.
Product of Thailand.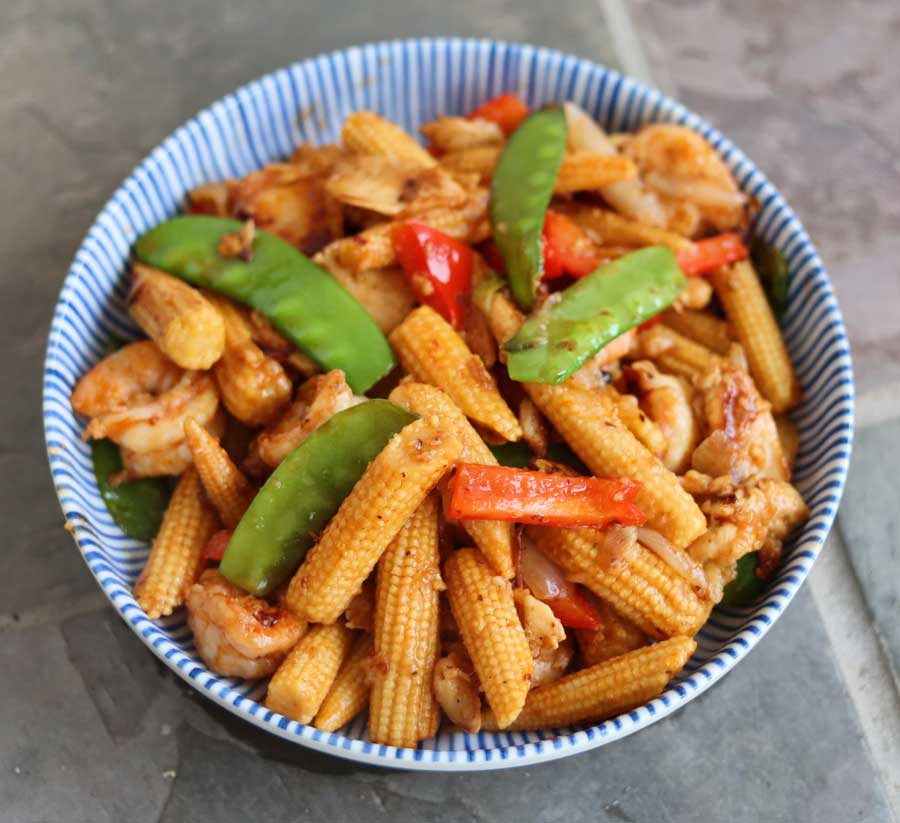 Thai Baby Corn Stir Fry
Our Thai baby corn is crisp, full of flavor, and perfect for stir fry with meat and seafood. In this recipe we share the important simple tricks so you can do it all in your own kitchen quickly. Adding tapioca starch at the end ties the flavors together and gives it an elegant finish glaze.
---
---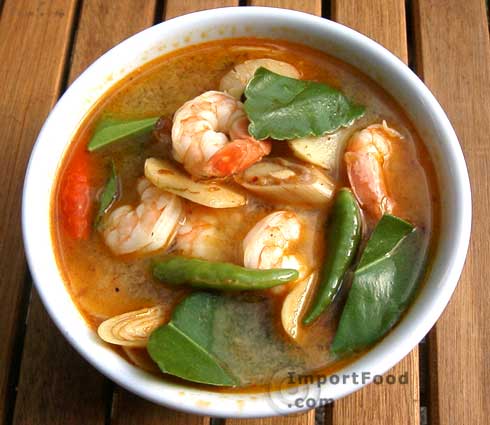 Thai Prawn Soup with Lemongrass, 'Tom Yum Goong'
Tom Yum is both hot and sour, and it's one of the main signature dishes that defines Thai flavor. We've perfected this recipe and assure you it tastes great.
Typically a chef will use a pork or chicken stock then add the basic fresh staples to create the tom yum, as in our video: Railroad Chef Prepares Tom Yum. We like to start with a simple vegetable broth instead, so our recipe starts with the broth instructions then continues with how to make the tom yum.
It's important to use "prik pao" in your tom yum and we have several brands, with slightly varying tastes depending on your preference.
Also -- See Our Thai Street Vendor Video: Thai Street Vendor Prepares Tom Yum.
---