Sweet and Sour Plum Sauce, Mae Ploy Thailand
Sweet and Sour Plum Sauce, Mae Ploy Thailand
Add to cart
Temporarily Out of Stock

This sauce is especially tasty with crispy (fried) food such as fried spring rolls, sugarcane shrimp, fish cakes, even french fries.

Packed in a large glass bottle. Medium consistency (not think like water, but less thick than ketchup), bits of plum flakes. Lovely flavor.
Product of Thailand.
---
---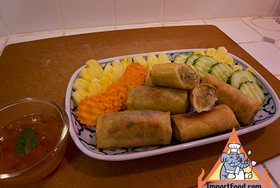 Thai Fried Spring Rolls, 'Poh Pia Tod'
Fried spring rolls are on the menu at Thai, Chinese, or any Asian-style restaurant, and we think this style using genuine Thai beanthread noodles is the best. This is classic snack food that can also fill you up. Make a large batch if you'd like. After cooking the rolls, set them out in the open air without covering them up, and they'll stay crispy.
We also have
Recipe for Fresh Salad Rolls
Recipe for Fresh Spring Rolls
Recipe for Fried Spring Rolls
---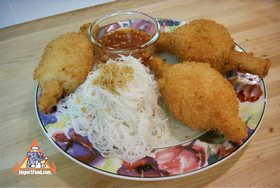 Thai Sugarcane Prawns, 'Goong Pan Oi'
We first discovered sugarcane prawns 15 years ago in Bangkok at a delightful Vietnamese restaurant called Sweet Basil, which is apparently still in business but at a new location.
It's not spicy at all, and the sugarcane adds a nice touch of sweetness to the prawns. Aside from the wonderful taste of this recipe, just the unique appearance of prawn cakes on a sugarcane stick is enough to make your friends marvel at your cooking prowess. We know you'll like this special recipe if you give it a try.
---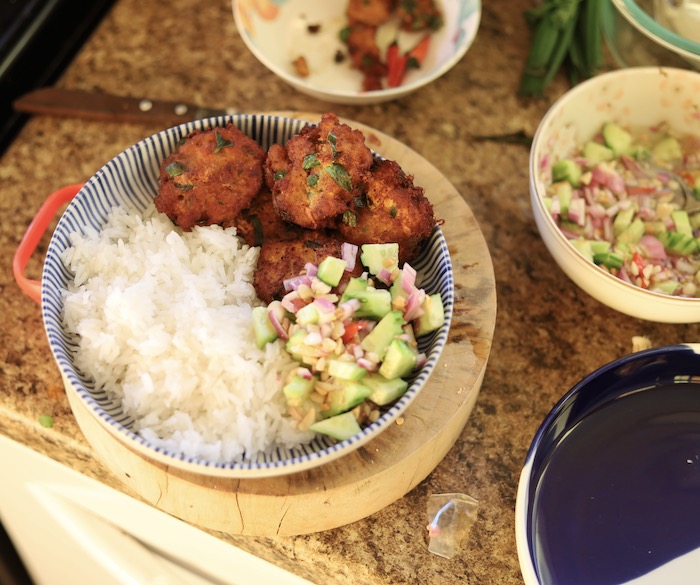 Spicy Thai Fish Cakes, 'Tod Man Pla'
Tod man pla is one of the most famous Thai dishes but seems to be rarely offered on the menus of Thai restaurants in the United States. We're happy to show you how to make it, step-by-step, with great results.
Here we just used cod pieces which can found at local supermarkets.

Also see our Thai Street Vendor video for detailed guidance.
---